If there's one thing I can say with confidence, it's that South Africans are proud to be South Africans. After transplanting here to Canada, us South Africans still long for the foods we grew up on and we go to great lengths to make or purchase these missed foods.
So here you have it a brief rundown on the baie lekker (very good) stuff that I grew up on, South African food.
South Africa, like Canada, is made-up of a great mosaic of people and cultures which is evident in their diverse cuisine. South African food not only includes the simple yet tasty meals enjoyed by the native African people, but also the complex spice's of Indian Cuisine, the sweet curries of south-east Asia, the piri-piri prawns and langostines inspired by Portugal and neighbouring Mozambique, and the home-style cooking of the farmers. South Africa's diverse terrain, geographic location, and climate only add to its unique cuisine. A variety of locally grown fruits and veggies are readily available all year round, as well as an abundance of seafood from the local waters.
Now of course I can't describe all of our local specialities to you (as much as I would love to), but here is a little rundown of some of our local produce, ingredients, and dishes just to give you a little taste.
Meat
Meat, meat, meat, meat, meat, mmmm meat! OK maybe that's a slight exaggeration, but really I emphasize the word 'slight'. What can I say, South Africans love their meat. It tastes great, it's affordable, and readily available. If you ask any South African I bet they'll argue that South Africa has the best tasting meat. I don't know maybe it's the grass, the water, the climate, what ever it is it's working. More recently a variety of game meats have become available at most butchers such as Kudu, Springbok, and Ostrich. However, more traditionally we eat beef, lamb chops, boerewors, and biltong. Don't worry about these terms, be patient we'll get there.
Braai
No it's not a food, but it's an essential part of South African cuisine and therefore deserves a very honourable mention. A braai is a barbecue. My family grew up using a charcoal braai, and as my dad would argue, it gives the meat the best taste. However, gas bbqs are popular now too. Due to South Africa's mild climate braais can be enjoyed all year round and, in true South African style, they often turn into big social events with family, friends, and of course beer.
Boerewors
Directly translated it means 'farmer sausage' and is a staple at every braai. This sausage is made from a blend of beef, pork, and spices (but not spicy). I find it's a dryer type of sausage in the sense that it's more mealy in texture. I currently buy mine from Country Grocer who sells Boerewors from Galloping Goose Sausage Company.
Biltong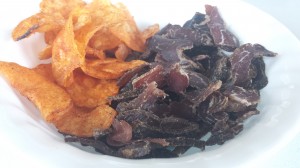 This is a dry meat similar to beef jerky in texture. It is made by first brining steaks of beef in a mixture of salt, vinegar, and spices, such as coriander. The meat is then hung to dry naturally or by using a fan, but no heat. The salt and the vinegar work to preserve the meat and kill any bacteria. Once the meat is dry it is either sliced thinly or left in bigger chunks. Biltong is enjoyed as a snack and goes great with potato chips, but I'm warning you now it is highly addictive, and if there is one thing us South Africans crave when away from South Africa it's biltong.
So do you believe me now about the meat thing?? OK you get the idea, I'll move on….
Mielie Pap
This is a traditional African dish made from corn meal and is also a staple at every braai. Similar to gritz or polenta, pap is made by stirring corn meal or mielie meal (can be purchased at Aubergine) into boiling salted water. The consistency is very stiff and thick and it tastes great with stewed tomatoes and onions or, as my brother likes it, with warm milk and sugar for breakfast.
Kingklip
This is a fairly firm white fish very much like our halibut. I mention this fish, because not only does it taste great but it is available everywhere in South Africa no matter where you are.
Melk Tarte (Milk Tart)
For a little sweet ending to our mini food tour, a milk tart is a sweet baked custard tart. More traditionally it is very soft and moist with a crust and sprinkled with a generous amount of cinnamon. However, milk tart can be crustless too, this method means the custard is slightly firmer but still moist and still topped with cinnamon.
Nando's
Some of you may not know but this franchise, specializing in Portuguese style spicy grilled chicken, started in South Africa. Nando's has since gained popularity around the world, even right here in Victoria. Their sauces can be purchased either in-store or they are available at most grocery stores in Victoria.
Well that concludes our very brief culinary tour. I would really love to tell you more but I would just ramble forever.
I do encourage you to check out some of these tasty foods if you have the chance by searching some of your local food stores or by making it yourself. Below I've included some sites you could check out for recipes too. Enjoy!
Here are some great South African eats you should also check out:
Rusks (like biscotti), droewors (dried sausage), bobotie (baked curry), piri-piri (chilli sauce), rooibos tea (red tea), South Africa's famous wines, haddock, kippers, Marmite, fish paste (anchovy paste), langostines, Mrs. Balls brand chutney, Vetkoek (deep-fried bread, like a pita, served with something sweet or savory), and koeksisters (a sticky sweet dessert pastry).
Where to buy?
For a great place in Victoria, BC to buy biltong, boerewors, droewors, and lots of other great South African products check out 'Aubergine' in Fernwood, it's where we always like to go http://www.auberginefoods.ca/index1.asp
Galloping Goose Sausage company in Metchosin (owned by a South African) makes and sells Boerewors, Biltong, and Droewors. They have a list of outlets on their website http://gallopinggoosesausage.com/
You can also order South African meats and products on-line at  http://www.serengetionline.com/
For more info and recipes:
http://www.exploresouthafrica.net/culture/food.htm
For a recipe for bobotie:
http://www.foodtv.ca/recipes/recipedetails.aspx?dishid=7443