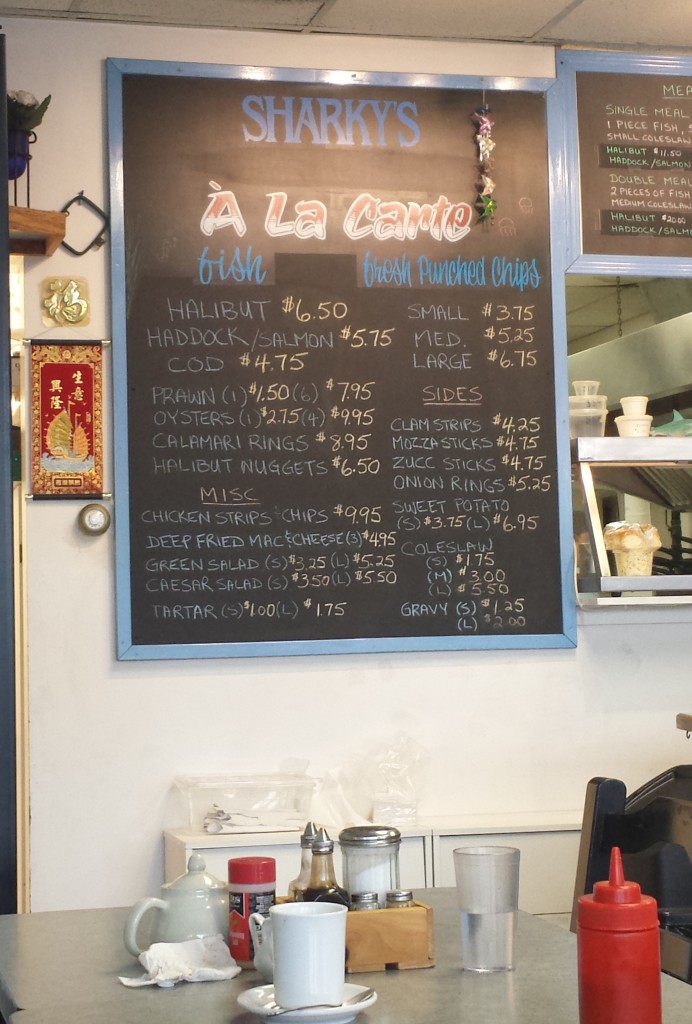 I've never really been a big fan of battered English style fish and chips. My mom owned a fish and chips restaurant when I was in middle-school and I distinctly remember eating more chicken strips than fried fish. This isn't saying her fish wasn't good (love you mom), in fact it was fantastic, I just found the batter too filling and rich for my taste.
Anyways enough about me and more about the food. I bought some take-out the other night from Sharky's just down the road from me. The owners were really nice and promptly took our order. If you're wanting to dine-in there are a few tables to sit at but it seems that most people ordered take-out here. We ordered the 4 piece halibut dinner ($36.50) which included four dinner rolls, coleslaw, and chips. We also ordered deep fried mac and cheese ($4.95)
Even though the fish and chips sat wrapped up for my 10 minute ride home the fish batter was still super crispy by the time we were ready to tuck in. The batter on the fish was something even I could enjoy. The fish has a light batter coating so it's not too heavy. The batter is crispy with a slight chew to that that I really liked. The fish too was nice and fresh and cooked perfectly so it was fluffy and moist.  Now for the fries. I find fries to be extremely subjective and everyone likes their fries a certain way. I personally really enjoyed Sharky's hand punched fries. They were really fluffy on the inside while crisp on the outside. My mom and dad said they would have preferred their fries cooked a little differently, but hey, each to their own.
The mac and cheese came with three to an order. They were nice and moist, unlike other restaurants where the fried mac and cheese is stiff and dense. They in fact were so moist I was wondering how they held together in the deep fryer?! The mac had a good cheddar taste to it too, even though I prefer something stronger like gruyer for my mac.
The fish and chips here are really great and believe me it takes a lot for me to say that. The batter is light and crispy and the fries, I thought, were perfectly done. Not a seafood lover? There's other items to choose from like the mac and cheese, chicken strips, and burgers. I should also note though that the prices here are extremely reasonable. $36.50 for all our food was a great deal or $6.50 for a single piece of halibut! I highly recommend this place as I do think it's some of the best fish and chips in town.