Even after being in Seattle for two years, it's surprising how I can still find more hidden gems I've yet to hear about in this city. Salumi is a spot I heard about from a coworker at my summer internship. Thinking I had all the Seattle hot spots cased, I was shocked to hear that the family of all-star Food Network chef Mario Batali owned an unassuming little sandwich shop in Pioneer Square. Further research told me that on retirement, Batali's father decided to take off to Italy for 2 years, learning everything he could about curing meats and making his own salamis. Obviously I had to go see what it was all about, however their hours of operation (Monday through Friday, 11:00-3:00) make it incredibly difficult to get there if you don't already work in the area.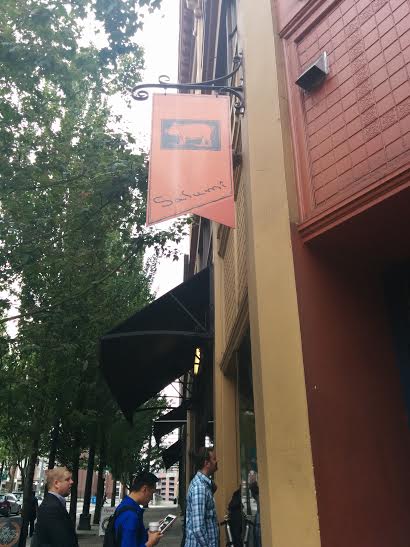 When I heard that my fellow FancyFrites Janine and Felix were coming into a town for a brief stopover before their epic kayak adventure, I knew that was the perfect opportunity to escape school for a few hours and venture down to meet them for lunch. On getting there around 12:30, it was clear this place is too popular for it's own good; the line was about 40 people deep, maybe more, and more were lining up behind us. After a solid 45 minute wait, we were finally inside getting our first glimpses of this little sandwich shop.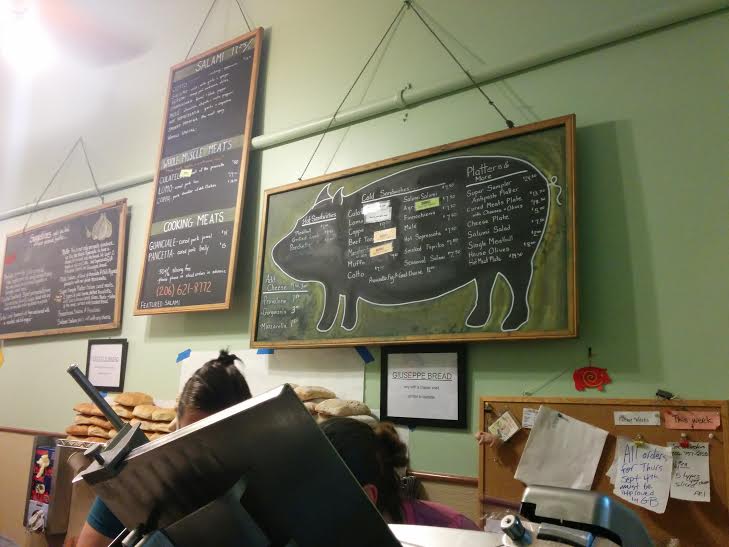 The menu has a decent variety of items on offer; everything from your basic salami and cheese, to hot sandwiches with grilled lamb, or even just salami by the pound that you can take home. Felix ordered the grilled lamb sandwich, Janine ordered the Muffuletta sandwich, and I got the proscuitto with fig and chevre sandwich. We also got the salumi platter to go, so we would have the chance to try a sampling of all the cured meats they make.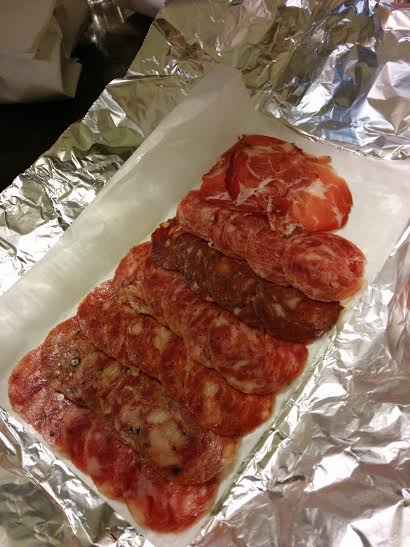 So here are the pros: the grilled lamb sandwich was unbelievable; it was definitely Felix and Janine's favourite. The Muffuletta that Salumi makes themselves on Janine's sandwich was also really great, with tons of flavour and good texture. I also loved my proscuitto fig chevre sandwich, they weren't stingy on any of the three ingredients. The Salumi platter is a must-order, it's a great sampling of everything they make in house. Perhaps the most interesting item was the Mole Salami, it was a bit spicy and had an interesting depth from the cocoa they add in. The service is also very friendly and efficient, which they have to be with how busy they are.
The Cons: we only had two complaints, (1) a lack of seating inside the actual establishment, especially since Pioneer Square isn't really abound with nice places to sit outdoors and enjoy your lunch; and (2) there was too much bread in comparison to how much meat was in each sandwich. Usually you'd expect a solid inch-thick layer of cured meats in a salami sandwich; however, we only received one layer of the good stuff. As amazing as all the flavours were, we all wished there was more of it and less of the bread.
Would I go back to Salumi? Absolutely. Even with the overload of bread, the flavours were still fantastic. I would probably go to get some salami to take home, as well as a sandwich for lunch (probably Janine's Muffuletta sandwich next time).
Salumi Cured Meats, 309 Third Ave South, Seattle, WA 98104
(206) 621-8772
http://www.salumicuredmeats.com/