Pintxo has been on my must-do list for probably over a year. I am a sucker for authentic Spanish tapas, and have been ever since visiting Barcelona back in 2010. I'm the type of person who gets bored halfway through a meal if all I have is a giant plate of the same thing in front of me, so I love the idea of having a variety of smaller dishes to share around and sample. While roaming the streets of Belltown with FancyFrite Janine looking for a good happy hour, it dawned on me that we were just blocks away from Pintxo.
The happy hour menu is an abbreviated selection of some of their more popular items from their regular menu, but luckily it featured almost everything we wanted to order anyways. The drinks on happy hour special were excellent, Janine and I shared 0.5L of sangria for $8 – it was enough for about 2 glasses each, so at $2 a glass you can't beat that deal.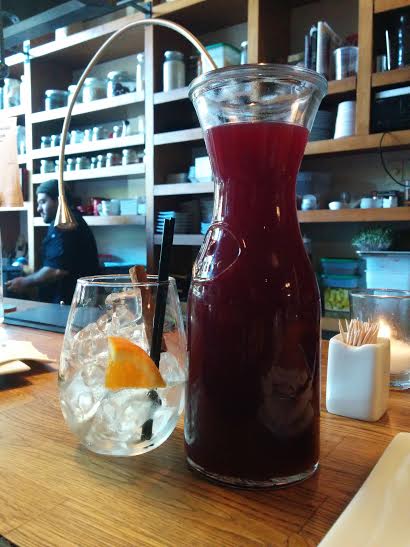 We started with an order of their chorizo sauteed in honey, which was so delicious we had to get a second order. It's approximately 8 little sausages sauteed in honey and garlic, and it had a really delicious balance of the strong savoury spice in the sausage with a sweet garlicky sauce. I ordered the patatas bravas, fried potatoes tossed in sea salt with brava sauce (like a spanish ketchup) and aoli. These were also pretty good, nothing that stood out though. I've had patatas bravas at Ox and Angela in Calgary, AB, and I really like that they coat each potato in brava sauce instead of a small drizzle, and add a hearty dollop of aoli on top. As far as potatoes go, the Pintxo ones were good, but I wouldn't order them again. We also ordered the beef and pork meatballs, which came in a tangy tomato sauce with tons of cheese grated on top.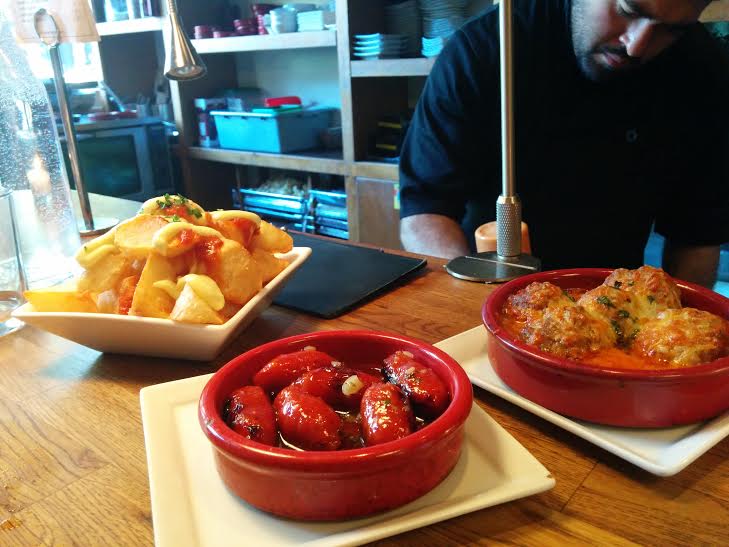 Janine really wanted to order the octopus skewers, and I've been told by other sources that it's some of the best octopus you'll ever eat, so I got adventurous and tried some too (if you haven't met me, I like to call myself a meatetarian, so seafood rarely makes the grade for me). It was surprisingly really good, the octopus had that typical briny seafood taste but the texture was very tender and meaty – like something between tuna and pork. That may be a really weird description, but that's what I've got. I would definitely recommend the octopus here and I'd probably order it again.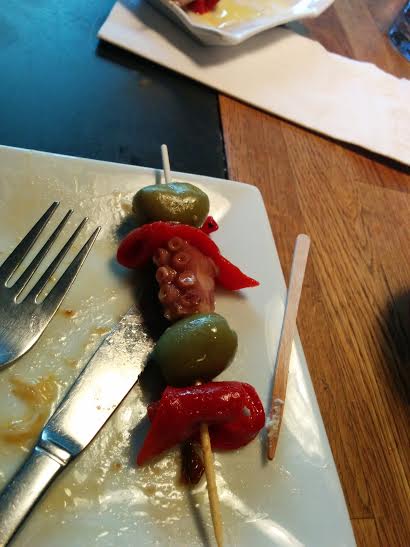 Finally, we ordered the crab-stuffed peppers….which I didn't eat, so Janine can explain what they were like.
Janine here! I appreciated the amount of crab they put in these peppers and the taste of crab was complimented by the sweet roasted pepper instead of being distracted by it. My only complaint was that the crab was much too salty almost overbearingly so. I would order it again because it might have just been seasoned with a bit of a salt heavy hand this time, because if it wasn't for that this is a great dish.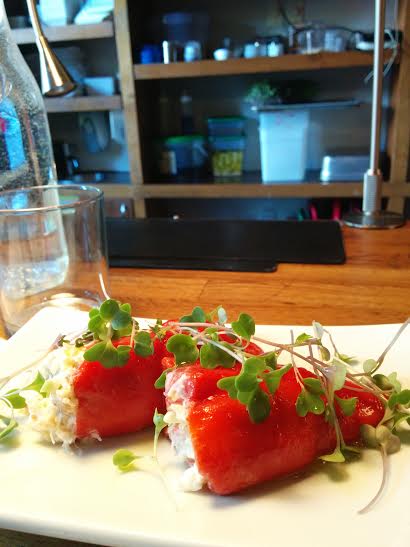 I'd definitely come back to Pintxo, and I'd easily recommend it to friends and visitors to Seattle. The menu items are classically Spanish and each one was executed well. The service was friendly and not too overbearing.
Pintxo Seattle, 2207 2nd Ave, Seattle, WA 98121