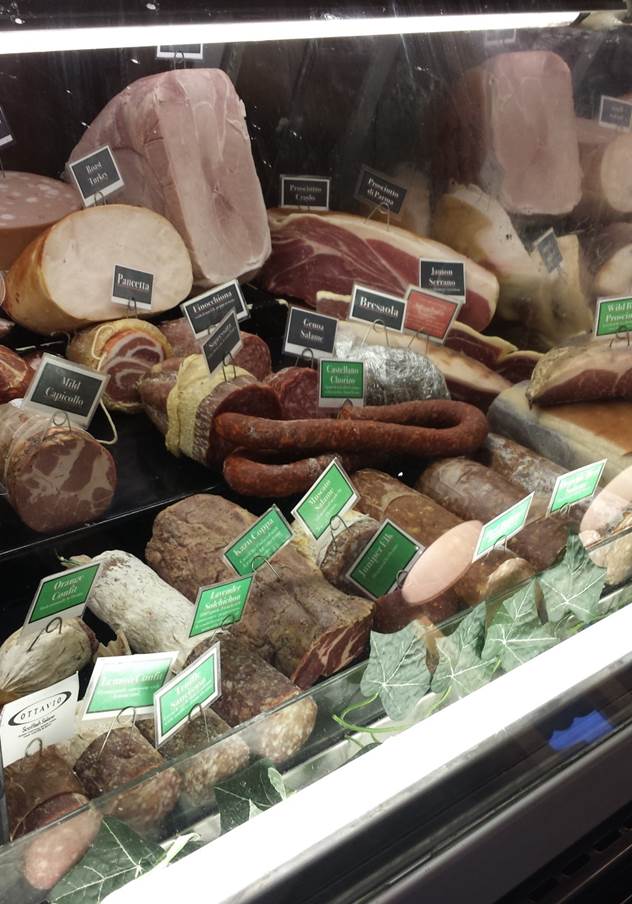 If you were to ask me to describe my perfect summer day here in Victoria it would probably involve some sort of trip to Ottavio to purchase some delicious meats, cheese, and a baguette to take as a picnic to a nearby beach. Before leaving though I would be sure to enjoy a chocolate affogato (gelato with an espresso shot) on their patio because you simply can't say 'no' to that.
I've been going to Ottavio for years now. It's a great Italian deli on Oak Bay Ave. that boasts a wide selection on deli meats, cheeses from around the world, fresh baked breads, olives, as well as Italian groceries and harder to find gourmet ingredients like fresh Foie Gras (by this I mean not in a can). A trip to Ottavio is sure to bring out your inner foodie and you're bound to never leave empty handed. They have great lunch and dessert options too like pastries, gelato, coffee, and Paninis.
Charcuterie Board
A Charcuterie board is a selection of meats, pates, sausages, cheeses, and complimentary accompaniments. This is the easiest thing you could ever bring to a dinner party and it is most likely to be the most popular dish there. For my birthday I chose to have a cocktail themed party so I rushed over to Ottavio with my friend to pick up some charcuterie items.
Meat: We purchased four different deli meats about 60grams of each: juniper elk salami (didn't quite taste the juniper as much as I would have liked to), spicy capicollo (not too spicy at all), a german Schinkenspeck (a smoked ham similar to prosciutto) and Kazu coppa (a cured beef infused with sake, it was divine!). I figured that this was a good variety of meats. I would say that if you're going to also add pate and cheese to your charcuterie board then I would probably only do 3 meats as you don't want too much variety, instead a bit more of each kind.
Cheese: For cheese I would recommend perhaps one soft and one hard or one light and one bold type of cheese so that once again you offer some variety. For example, a brie and a sharp cheddar, or an Oka and stilton. I personally prefer serving with crackers instead of bread as bread is more filling and sometimes can distract from the delicate flavours of the cheeses and meats.
Accompaniments: To go with the meats, a mild mustard is a great accompaniment as well as olives and cornichon (small French pickles). For the cheeses, often a sweeter pairing will do the trick. For blue cheeses, a local wildflower honey is a great match; for brie, some kind of fruit compote (blueberry, saskatoon, etc.); for sharper hard cheeses, thinly sliced apple, quince, or jelly provides a great flavour profile. You can also sprinkle some roasted nuts here and there, such as hazelnuts or walnuts.
Cracker: A regular cracker and a gluten free option is a good idea. Choose crackers that once again compliment the meats and cheese instead of distract from them like flavoured crackers tend to do. Neutral crackers like water crackers, stoned wheat thins, and triscuits are great, and you could always throw in a few Raincoast Crisps for variety. For a gluten free option Nut Thins are great they have a very neutral flavour unlike some brands of rice crackers.
Presentation: The best presentation is on a large wooden chopping board with mustard and olives in small ramekin style dishes. Keep the accompaniments near the meats or cheeses you are pairing them with. Charcuterie boards are obviously totally customizable to suite your guests tastes. Have fun with it and introduce them to meats and cheeses that they wouldn't have otherwise tried!
Ottavio | 2272 Oak Bay Ave. Victoria, BC