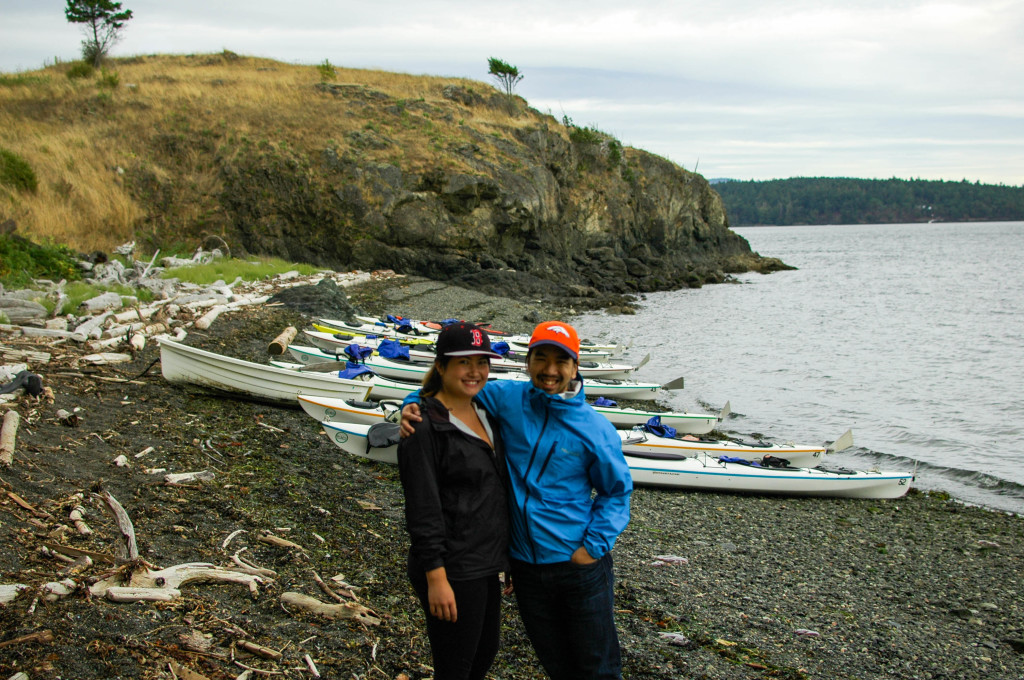 The two things I think about all the time are travel and food (okay and maybe shoes but that's a whole other blog) so what better way to combine my two passions than to go on a 3-day gourmet kayaking trip!
FancyFrite, Felix Chen, and I signed up for the Gourmet Kayaking Trip put on by Savour Seattle Food Tours ($850). They are offered on a few weekends during the summer and it's a 3-day all-inclusive guided kayaking/camping trip around the San Juan Islands (Northern Washington State).
The Beginning
The tour sets out in the early afternoon from Friday Harbour which turned out to be a bit of an ordeal for us considering I was flying in from Edmonton at the time and Felix was flying in from San Francisco. We ended up meeting each other in Seattle, taking the bus up to Anacortes where we spent the night then took the morning ferry to Friday Harbour. What lots of others did was spend the night before in Friday Harbour which would have been a great option too. Upon meeting the 13 other people in our group along with our 3 guides we were given a quick run down of how to pack our kayak, how to get in and out etc. We were stoked. The weather wasn't the best but the people in our group were great, our guides were so friendly and we were excited for all the delicious food we were about to eat.
After a quick lunch off we went. Our guides made sure everyone stuck together as a group as we kayaked along. After a few kilometers we made a stop to explore one of the little islands to stretch our legs and take in some of the scenery and to eat a granola bar of course. The next stop would be our home for the night.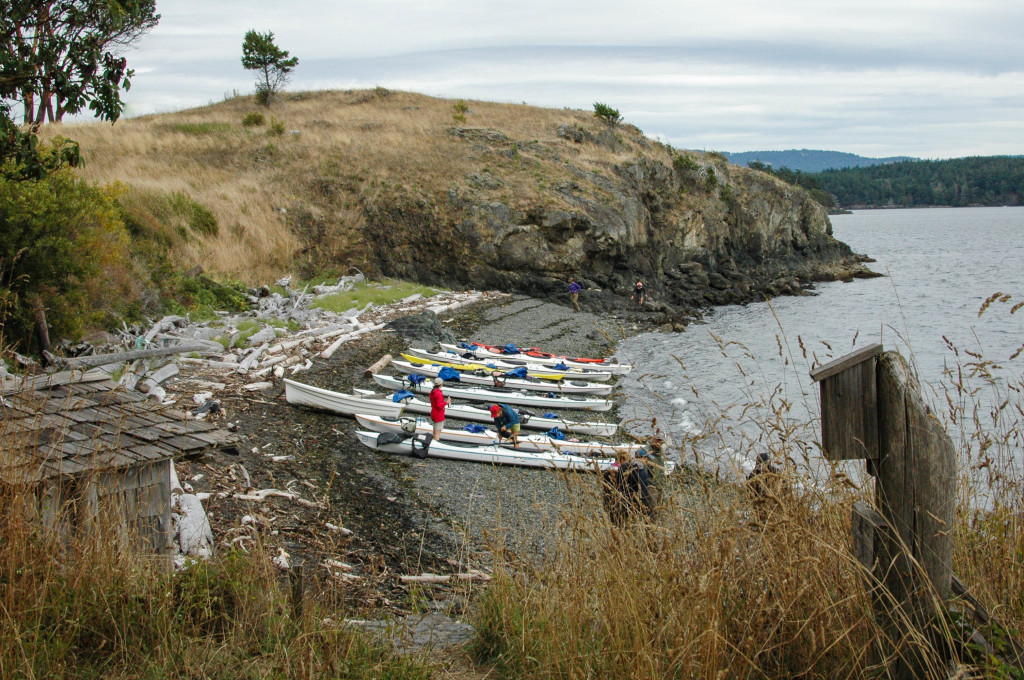 The Camping
Upon arriving at our stop for the night we all worked together to haul all the food and camping gear out of our kayaks. I didn't even know we were lugging around tents and sleeping bags this whole time. Those kayaks sure held a lot of stuff! Anyways we were responsible for setting up our tents (all provided) which we didn't mind doing but admittedly some others in the group felt it should have been something that should be done for them considering the price of the trip. Anywho, once everything was set up we got ready to chow down on some happy hour treats.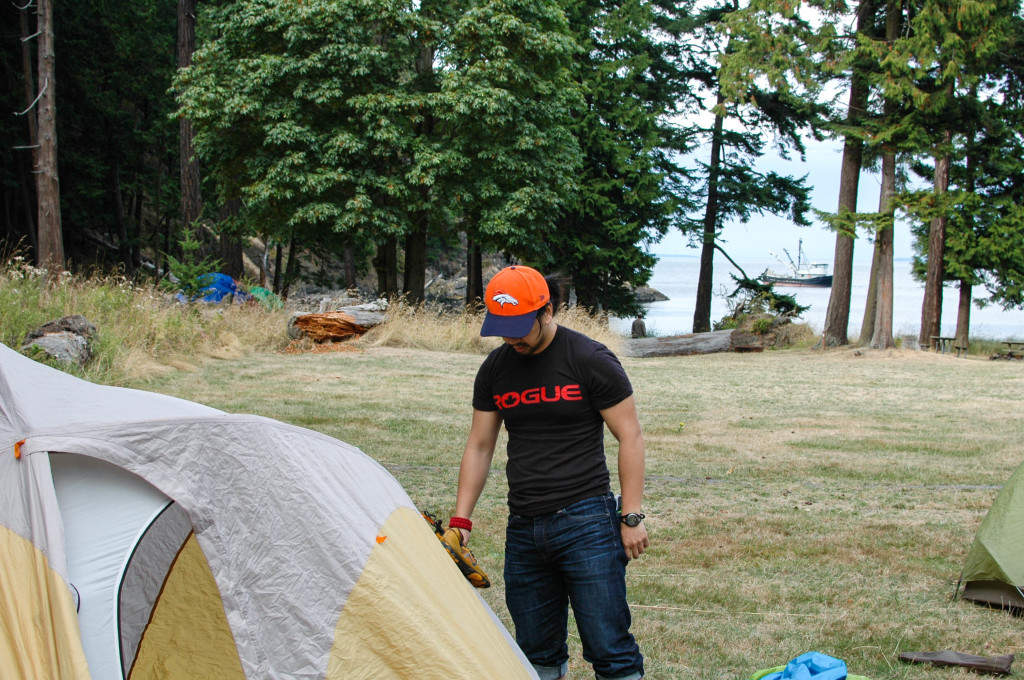 The Food
Around 5pm it was happy hour time. This is where the fun began and this is where this trip becomes truly gourmet. Laid out on a table cloth covered table were sea salt caramels from Fran's Chocolates in Seattle, along with fresh cheeses from Beecher's, nuts, fresh fruit and of course lots and lots of Vino from vineyards around Washington State. As we munched on these delicious treats our guides began to prepare our food. Grilled salmon for dinner with salad and for dessert an olive oil cake. Everything was really delicious! Off to bed.
Early the next morning we woke up to the aroma of freshly brewed coffee waiting for us along with tea and hot chocolate. For breakfast a sausage and egg scramble.
All the food on this trip was truly amazing! We were well fed throughout the whole trip making regular stops for lunch and snacks. The next night we enjoyed happy hour again followed by a dinner of braised beef short ribs and cheesecake for dessert from the Confectional in Pike Market. I couldn't believe we were hauling around cheesecakes all this time! Really amazing.
Luckily for us we had some wine reps on our trip who brought additional bottles of wine because we quickly ran out. If you 'enjoy' your wine it's a really good idea to bring an extra bottle or two to share with the group. Even though wine is provided the supply may not last the whole trip.

If you have any food allergies or food dislikes it's best to let them know ahead of time and they will accommodate for it.

Lastly, if you have a very healthy appetite like my dear friend Mr. Chen then you may want to pack a protein bar or two for a midnight snack. Even though there's plenty of food to go around it's not exactly an all-you-can-eat buffet. Felix really was THE ONLY person in the group still hungry after dinner.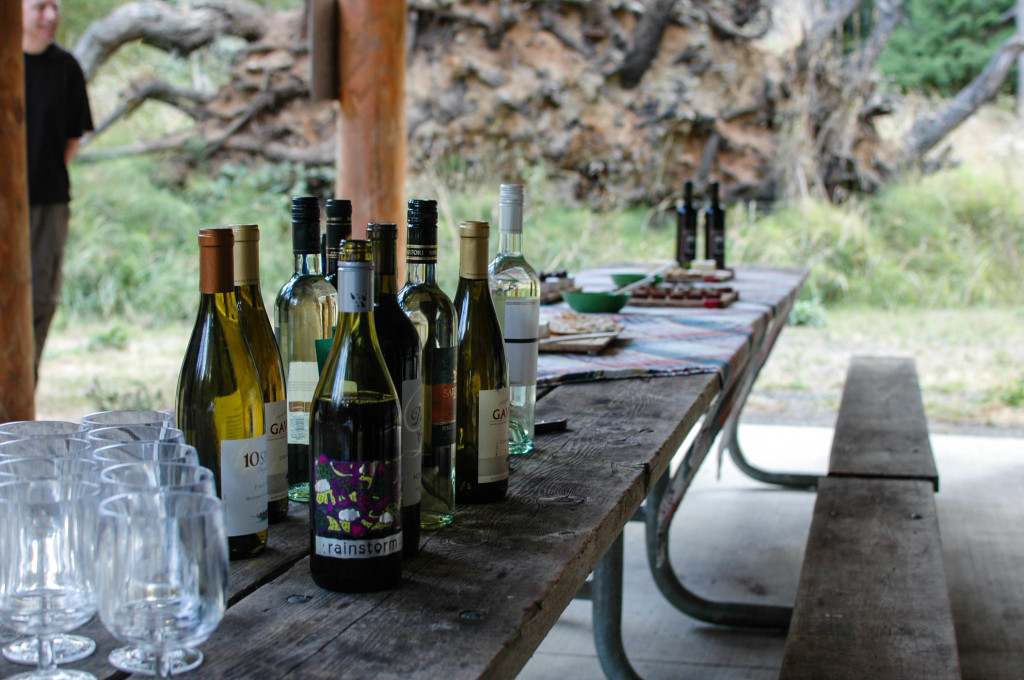 The Kayaking
All the kayaks are three person kayaks but the middle part is used to store food etc. so two to a kayak. I believe we kayaked a total of 39 kilometers over a span of about 18-20 hours in three days. All of the kayaking was easy and at a steady pace with the exception of the last day where we had to a very challenging channel crossing into head on winds (lets just say it took a few hours of intense paddling) but it really all depends on the weather.
You don't require any previous experience but I do recommend kayaking a little here and there before your trip or else you'll end up with some very sore muscles after the first day.
What To Bring
I lived in my lulu lemon capris most of the time and added extra layers at night. The weather was too cold for shorts unfortunately.

I am glad I had gloves of some kind because calluses will form pretty quickly on your hands.

Sunscreen and bug spray are a must

Watershoes are another must. You're getting in and out of the water and your kayaks all day so your feet are gonna get wet.

They do provide a helpful list too of items to bring.
Overall
Overall I loved this trip. The West Coast scenery is absolutely breathtaking as usual and the food which was provided for us was truly gourmet. I think the price is very reasonable considering the calibre of food you're served and the time it takes to prepare each meal. I love kayaking but I didn't want to go on some hard core kayaking adventure. This trip for me was the perfect balance of glamping and kayaking and everyone else in the group had similar fun loving (and food loving) attitudes. I would recommend this trip to any of my friends and I truly would do it again!
http://www.savorseattletours.com/tours/gourmetkayak/