Just getting ready to leave Houston for Austin. Didn't really know what to expect upon arriving in this city, just a lot of BBQ I suppose? I soon discovered that Houston is almost everything but. The diversity of this city is really reflected in it's food from Mexican tortillas to Kimchi fries everywhere you turn (even at the Rockets game last night). We stayed in the area of Montrose so most of the food places we tried was within this quaint neighbourhood
Anvil – Bar and Refuge
Upon reading great reviews about this little bar we decided to try it on our first night here. Anvil has a buzzing atmosphere and a menu of over 100 craft cocktails all done the way a cocktail is meant to be made with fresh citrus peels, egg whites to create froth, and homemade tinctures too. The bartenders truly deserve their title of mixoligists! Drinks are around the $10 range and they have some great food dishes too. To drink I had the Bourbon and Brandy milk punch which tasted like a grown-up milk shake. If you're not sure what to get ask one of the friendly bartenders to make something up for you, It'll be a great way to try something new and maybe unusual. For food I highly recommend the pork belly tacos, which my friend described as the best thing she's ever eaten. The BLT sandwich was also fantastic as it has an extra thick piece of bacon in it. The beef carpaccio left a little to be desired and I didn't enjoy it as much as the other two dishes. Happy hour from 4-5pm Monday – Friday all drinks half price.
Anvil – 1424 Westheimer Rd. Ste. B. Houston, Texas
Brick and Spoon
Our host told us about this place where you could choose ingredients for your customized Bloody Mary, I was sold! True enough if you decide to create your own Bloody Mary you're given a note pad of categorized ingredients to choose from. First your own alcohol (2.5oz of it) from bacon vodka to Grey Goose, there's lots to choose from. Then you can choose your meats, your vegetable, and even to rim or not to rim. This Bloody Mary is no small drink. It comes in a goblet sized glass with a plethora of vegetables and meats-on-sticks prodding out of it. It was delicious although they did mix up some of my ingredients in my friends drink.
The food here was good, average breakfast fare with a nod to the South with dishes like Shrimp and Grits etc. I had the shrimp mac and cheese which was tasty but too greasy and rich for my liking.
Oh I have to mention the service. Our server was so great and attentive. Probably one of the best servers I've come across in a long time!
Hugo's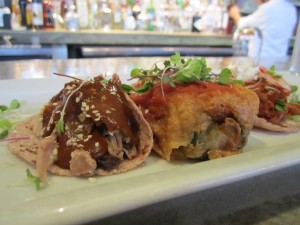 Also read great reviews about this place and actually it's voted 'Best Mexican Restaurant' in Houston by Houston Press. No greasy nachos here this is real deal Mexican fare made from spices and ingredients imported from Mexico. They have an extensive lunch and dinner menu but unfortunately I was so full from breakfast that I could only bring myself to order a few small dishes. I had the three tacos plate with the chorizo stuffed jalapeno being my favorite! I then took the manager's advice and tried the grilled octopus. It was perfectly cooked, tender, and seasoned well. We were also given a sample of grasshoppers. If you're feeling adventurous give it a try! They were slightly crispy and salty. You would never know it's a grasshopper.
As with most other places in Texas the service here was fantastic! The manager went out of his way to answer all our tequila questions and he made some great recommendations (with some tasters to go along with it) of both Mescal and Tequila. My only regret was not being able to try more of their food. Great restaurant.
Hugo's – 1600 Westheimer Rd. Houston, Texas
Underbelly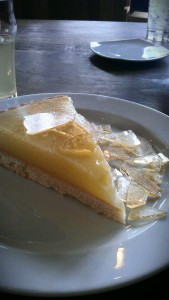 Yet again I was really too full to fully enjoy what this restaurant had to offer. Came here at around lunch time and was led, by a very un-enthusiastic hostess, to a very full open concept dining area with view of the open kitchen. Their slogan is "the story of Houston food" and the menu was exactly that, a variety of dishes showcasing the diversity of Houston food: Vietnamese and Korean style dishes, seafood dishes, as well as BBQ and other Southern classics. I had the vinegar pie. A dessert with a shortbread style crust and a custard filling that was tart and citrusy with a mild vinegar flavour. Delicious, especially with the bottle of crisp cider I enjoyed with it. On our way out the restaurant the Chef/Owner chatted with us for a few moments about our meal which I really appreciated.
Underbelly – 1100 Westheimer Rd. Houston, Texas