This is one of my first Thai dishes I've ever tried and it has remained a restaurant favourite of mine. The heat level is just right for me, I love the fragrant aroma of the spices and the sweet coconut taste which makes the curry. When I took a cooking course in Chiang Mai, I learnt how to make the pastes from scratch old school style with a pestle and mortar. I always thought it was way too much effort to make in small batches and I would have no idea how to store it. A few weeks ago, I bought a can of coconut milk with the intention of making some sort of coconut curry and I thought "Why not try some Yellow Curry?"
Game on.
I searched for a recipe and ended up at this place at Rachel Cooks Thai.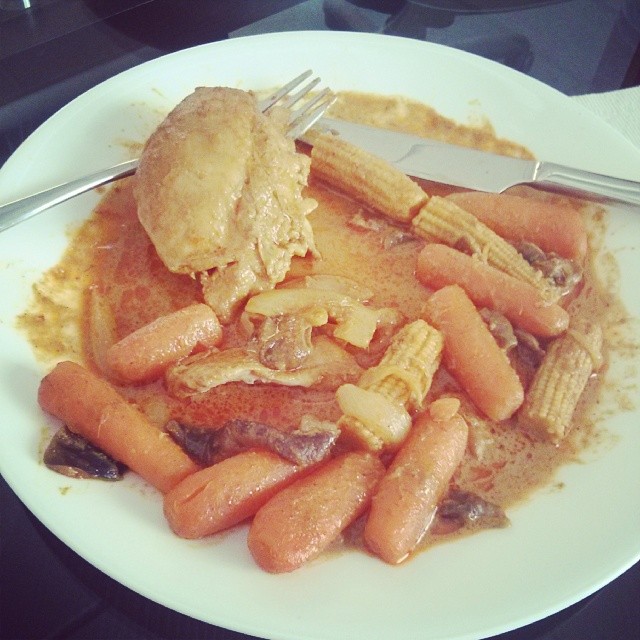 It turns out there are pre-made curry pastes! Duh. My mind was absolutely blown. I went to May Wah on Clement Street in San Francisco to hunt for it as it is the best stocked Asian grocery store in San Francisco. I found it at the market and the best part about it is its only about $4 for like 30 servings!
The recipe is dead easy to make and it maybe only takes 1 hour of time to cook from prep to finish. The fantastic part of it is it tastes like a very respectable restaurant quality yellow curry and has just the slightest bit of heat which I like. I used 3 tablespoons and 1 can of coconut milk. Next time I'm going to up it to 4 tablespoons. Instead of potatoes, I dumped in a whole packet of baby carrots, 1 can of baby corn and 1 can of straw mushrooms.
Very paleo and delicious meal. I highly recommend it.