Like Pintxo, The Walrus and The Carpenter has been on my to-do list for Seattle for over a year now. Google "best steak tartare in Seattle", and this place is one of the top hits that comes up. Having a friend in town who really wanted to try some oysters was just the motivation I needed to make the trek over to Ballard to try it out.
We arrived right at open – 4:00pm on a Sunday, thinking we'd be smart, get in early, and have a relaxing meal. What we found was a massive line of people already waiting at the door. Turns out we were JUST shy of making the first seating, but no problem; W&C has a sister bar right next door, Barnacle. We put our name on the waitlist to get the next table, and went into Barnacle for some pre-dinner drinks and snacks.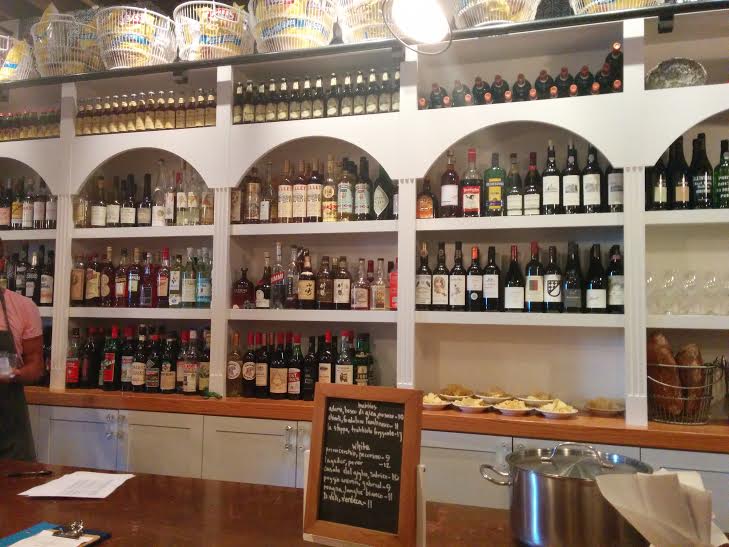 Barnacle is a great spot for pre-dinner nosh if you've missed the first seating at W&C.  The server working the bar was polite, not overbearing, and didn't seem to mind all my questions about how everything was made. 
As we sat down our server told us they were having a "caviar happy hour", which to me seems like the most genius thing on the planet. They had 3 different items on offer for $6 each, so my friend went for the Oyster with creme fraiche and and smoked trout roe.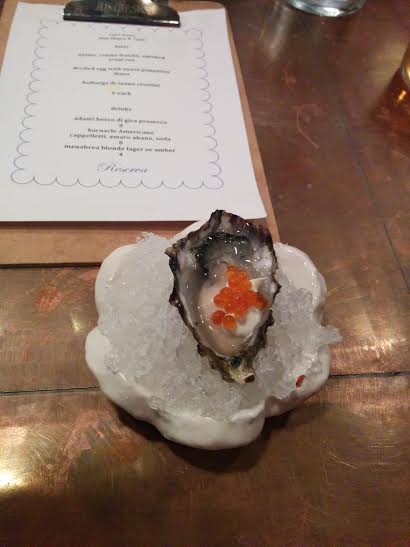 The presentation was beautiful, and my friend described the flavours as very fresh, briny like the sea, and thought it was one of the best oysters she'd ever had. The roe and creme fraiche was such a decadent addition, and really makes it feel like you're treating yourself. I went for the Bottarga di tonno crostini, which was simple crostini with a smearing of ricotta, and shaved Bottarga on top. Because I had no idea what Bottarga was, I had to find out exactly what it was. 
The server explained that Bottarga is the whole roe sac of a Red Mullett fish, which is removed and cured/aged. Once it has dried and cured, they take it and shave it with a rasp over the crostini. All caviar and the Bottarga were sourced from the Seattle Caviar Company, which I had previously visited for a special introductory caviar tasting. I was told that Dale at the Seattle Caviar Company works with both W&C and Barnacle for all their caviar needs, and is especially skilled at sourcing out some of the more unusual items, like the Bottarga and even escargot caviar.  
Next it was time to head over to W&C for dinner. We were seated up at the bar, which in the past hasn't typically been my first choice, but being in the US for two years now I've learned that sitting at the bar is a far more interactive and entertaining experience than it is in Canada. We got a prime spot right where the oysters are kept and shucked, and got to chat with the guy who was shucking them that night, who incidentally is another Calgary transplant like myself!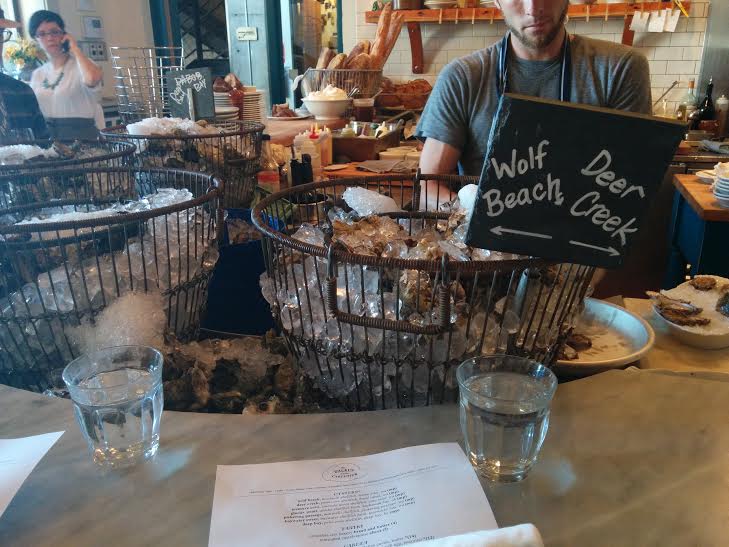 I encouraged my friend to order a few more oysters from here, they were so undeniably fresh and she was never going to have the chance in Calgary to have anything that good. She ordered one from Washington and one from Alaska, the Alaskan oyster being from a persistent recommendation from our server. 
The oysters are served with some fresh grated horseradish and a house-made champagne mignonette. My friend loved both of them, and after some peer pressure from the oyster shucker and my friend, I tried one of the Alaskan ones. I have NEVER eaten a mollusk and enjoyed it, but I absolutely loved this oyster. He explained that the Alaskan oysters are raised in such a cold environment that they have a high protein content, which explains the meaty texture and clean flavour.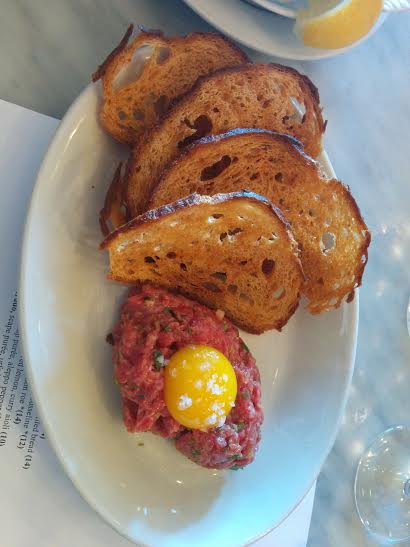 The steak tartare was really nice, they keep it pretty simple and uncomplicated. There are times where I like a heavier hit of flavour from caper and moustard, and times when all I want is to taste the real beef flavour, and this was the latter. It's tough to order something meat-based from a place where the oysters are the star of the show, however I think they executed it fabulously. I will definitely order it again if I return.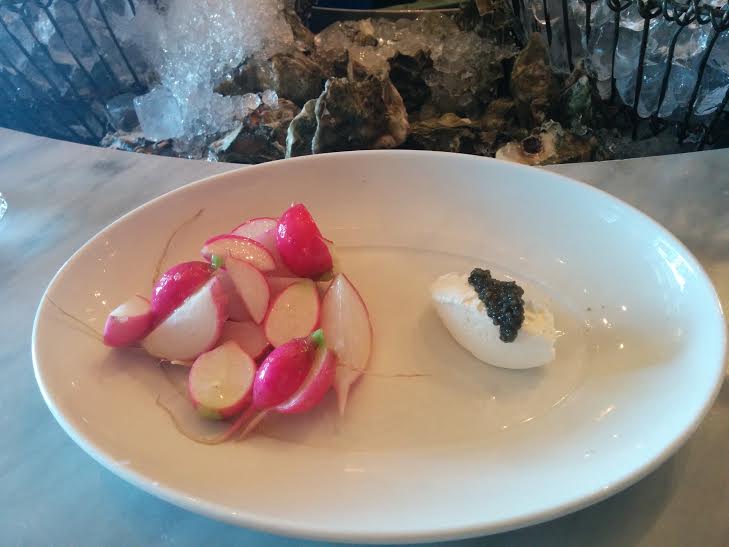 Lastly, we had the radishes with creme fraiche and paddlefish caviar. The radishes had been marinated and were served crispy and fresh with the creme fraiche and caviar on the side. It was a perfect accompaniment to cut through the heaviness and decadence of the oysters and steak tartare.
I would definitely return to The Walrus and The Carpenter again, though if I go on a weekend, I will plan to be there even earlier to make it for the first sitting. I would definitely opt for sitting up at the bar, the staff are super friendly, knowledgeable, and great to chat with while gorging yourself on decadent food.
4743 Ballard Ave NW Seattle, Wa 98107