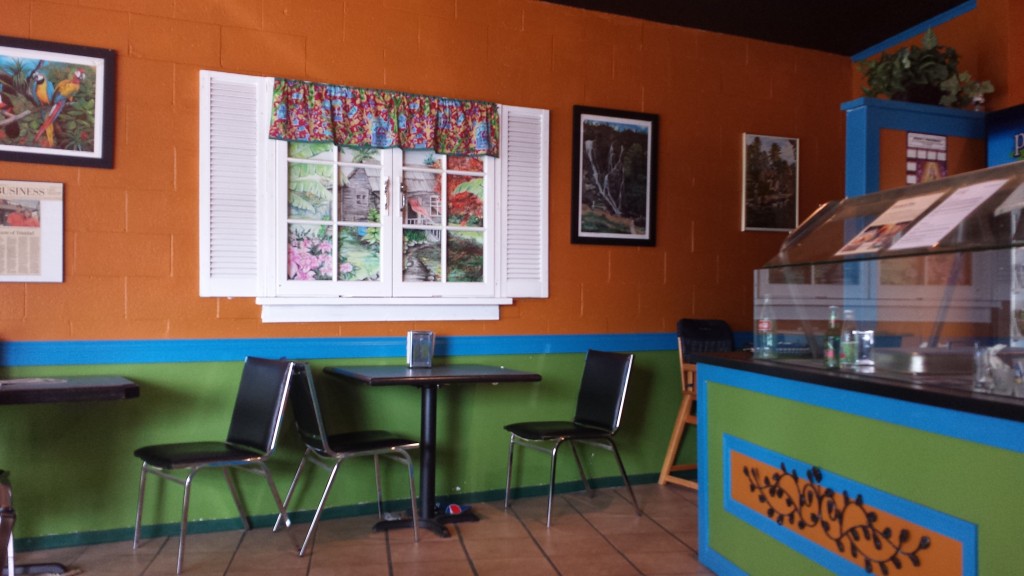 I was driving along Burnside the other day and this restaurant caught my eye. I quickly looked it up on-line (not while driving of course) and found loads of great reviews about this place. My first visit to Trini was last Thursday. The inside of the place is decorated in Caribbean colours with only a few tables to sit at, it's counter service, and the plates and cutlery are all disposable but I came here for the food! That's what's important.
I ordered the shrimp roti wrap ($10.50) which is shrimp combined with a curry mixture, made up of potatoes and chick peas, all wrapped in a freshly made roti. I asked for mine extra spicy (if you're not a fan of spice don't worry the curry itself isn't spicy, they just add hot sauce to it if you want extra heat). This wrap was hefty in size and had some weight to it. The roti itself had a good texture. It was soft but had a good amount of chewiness to it too. The curry was really flavourful with a good balance of spices. There were about 7-8 small shrimp in the wrap which were also cooked well but for me the shrimp kind of got lost in the curry mixture so I would probably order pork next time. The hot sauce they use is a habanero based hot sauce (really common in the Caribbean) which tingles your taste buds and leaves you with amazing euphoric head rush. Mmmmm hot sauce. Overall the roti wrap was great. It was a good size meal for even the hungriest of people so I'd say it's a good value for money. Next time I'll be trying a pork or pulled pork roti wrap instead though.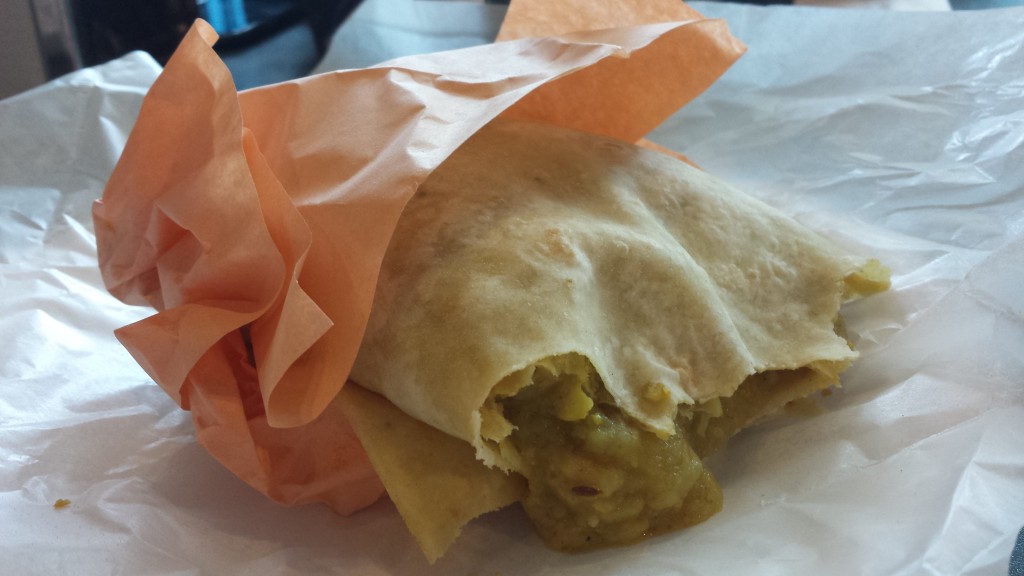 Soooo I loved this place so much that we re-visited again on the Friday for lunch. This time they had the goat curry ($14) on offer so I tried that as well as a side of fried wings. The goat curry is served bones and all in a rich dark curry sauce with a side of potato and chick pea curry and a 'buss-up-shut' on the side. The 'buss-up-shut' supposedly meaning busted up shirt is a type of flat bread similar to Indian paratha/parata, buttery and flakey. The goat meat was so flavourful and melt in your mouth tender. Even though I wasn't that hungry I used the flat bread to soak up ever bit of that curry.
I wasn't wowed by the fried chicken. Even though the meat was flavourful and juicy the breading was a little soggy and the wings weren't quite fully cooked so I was a little scared off.
Overall I absolutely love the food here. The curries are extremely flavourful and the roti is delicious. I would definitely be back again and again for the goat curry (only available on Fridays and Saturdays) as well as for the roti wraps.
TriniToDBone | 650 Burnside Road West, Victoria BC