If you're a student like me, you rely almost exclusively on Netflix (and perhaps some less legit sources) for your source of TV shows, movies, etc. And, if you're a student like me, you're probably weasling your way into someone else's account (thanks Dad) so you don't have to pay for it yourself. Without my regular hit of Food Network to get me through the week, I've resorted to finding the best food flicks on Netflix to satisfy my deepest cravings. That being said, here are my top picks of food documentaries every foodie should watch.
Jiro Dreams of Sushi is perhaps the most focused examination of one man's mastery of the art of sushi in existence. It makes even the most unlikely fans of sushi (I definitely avoid anything with raw fish) want to start appreciating it. Needless to say after watching this film I immediately informed my boyfriend that some day we would be traveling to Tokyo and splurging on a dinner at his 10-seater sushi bar.
Jiro's claim to fame isn't just being THE sushi master of Japan. As the oldest recipient of 3 Michelin Stars, and the first sushi chef to accept the award, his incredibly humble nature draws the viewer in to his story. From perfecting how the rice is cooked to forcing an apprentice to spend the first year of his apprenticeship learning how to correctly wring hot towels, it is clear Jiro earned his place as the best sushi chef in Japan. What's more surprising is the location and nature of his restaurant – a tiny 10-seater sushi bar located in the underground subway network of shops and restaurants. Charging a minimum of $300 per person (and increasing based on cost of ingredients that day), Jiro's sushi bar books a month at a time in advance and always fills up. So, if you ever plan a trip to Tokyo, save up some money and book your seats in advance to experience sushi from the world's best.
Now that my boyfriend is planning to take courses towards a sommelier's certification, we thought this film would provide some insight into the arduous task of taking your love of wine to the extreme, and passing a Master Sommelier's exam. Somm follows 4 guys out to pursue the dream that less than 200 people before them have achieved. With so few Master Sommeliers out there, we were curious as to what it takes to make it to the top. Watching these 4 guys study relentlessly, poring over maps, reviewing flashcards, conducting practice tastings almost made me feel like law school wasn't so bad. Almost. Not only does this film provide insight into the depths of what wine is really all about (who knew there were so many ways to describe just the colour of wine??), but it lets the viewer peek into one of the most exclusive organizations of individuals dedicated wholeheartedly to wine.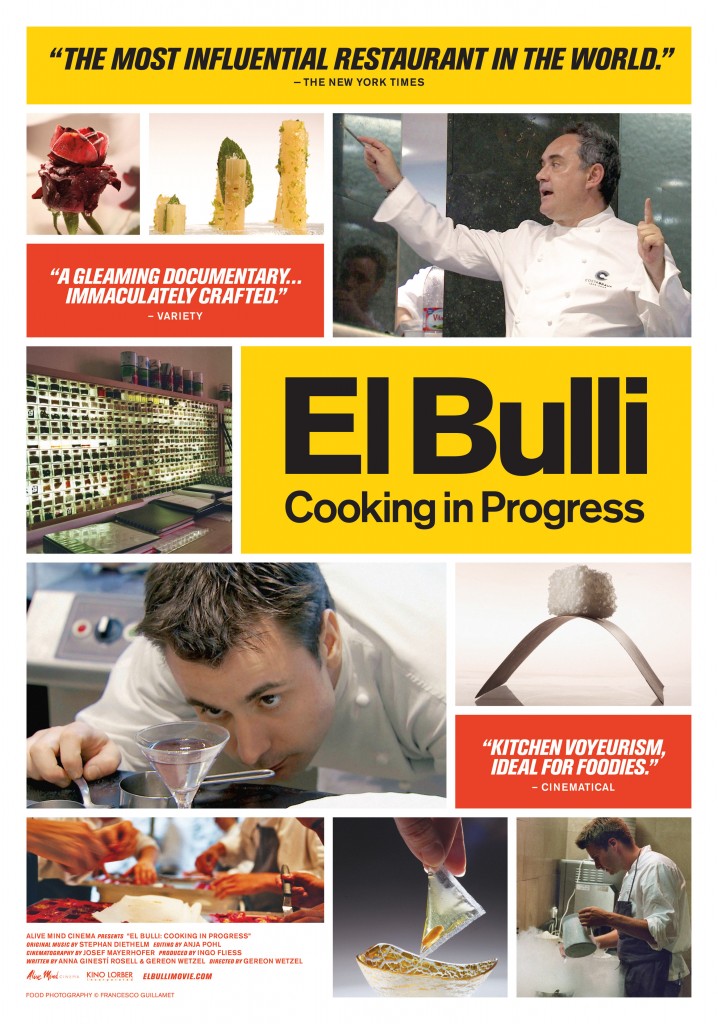 El Bulli, at one time the #1 restaurant in the world under the direction of Ferran Adria, is an oasis for innovation in molecular gastronomy on the coast of Spain. Though the restaurant now has shut down (Ferran and his associates have since launched a centre for research and education in the culinary arts and molecular gastronomy), this film shows it at the height of its popularity, open only 6 months of the year (spring and summer). The remaining 6 months are spent in Adria's workshop in Barcelona, researching and developing new techniques and recipes to be used in the restaurant for the upcoming operating season. This film is definitely geared towards the artist in every foodie; there isn't much open discussion about the techniques and recipes, but rather is a subtitled look into the daily process of creating, developing, executing, and serving each recipe to the patrons. As an avid enthusiast and student of this area of cooking, I could watch this film every day as a sort of odd background porn playing while I go on with my daily life.