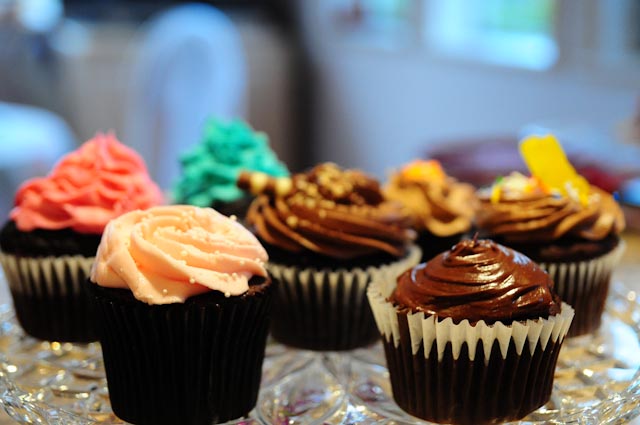 Ah… the ever elusive question. A rather touchy one at thats well… what are the best cupcakes that money can buy? Everybody swears by a certain mix, a recipe passed down, a certain store, or if they're lucky enough – specialty places where they can purchase delicious cupcakes to consume. Which is the best though? Sometime, somewhere a few months ago, a group of us decided it would be a great idea to just buy some cupcakes and see which ones are the best that money can buy. Our crew of 4 – Katie, Taylor, Janine and Felix… decided to do the ultimate sacrifice. We donated our palates, taste buds, and figures in the name of cupcake science to see which cupcake is worth of being crowned "The most yumtastic cupcake in Victoria".
The Contenders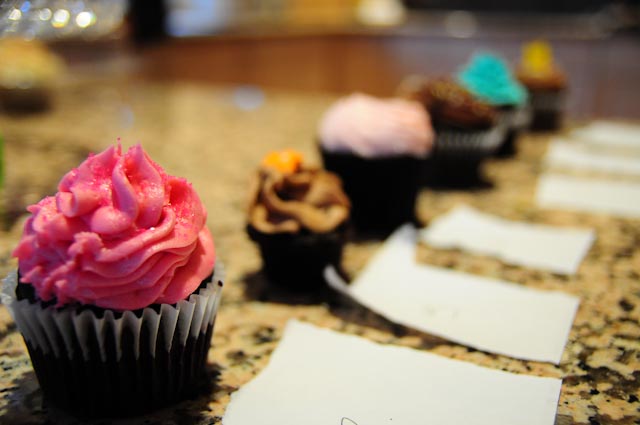 I can't quite say too much about this because personally I was at work at the time.  I would say more about the decor and the ambiance of the places… but I think that's an article that the girls will have to write.  Without further ado, here are the contestants: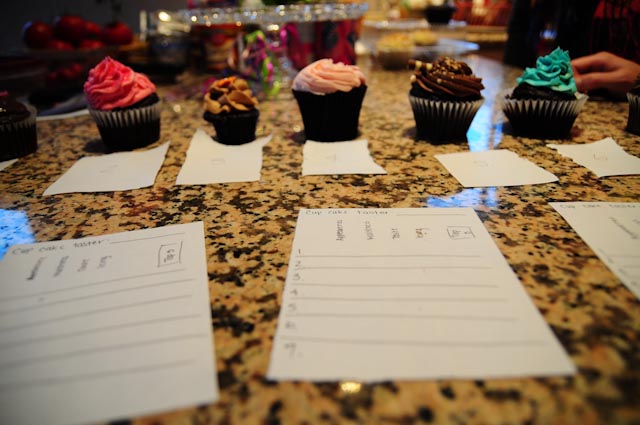 Pink Sugar – (2) Pink icing, blue icing

Pink Sugar has since closed down

Thrifty Foods

cupcake mix/frosting from a tin – made by Taylor (1)
store made cupcakes (1)

Starbucks (1)
Ooh La La Cupcakes (1)
Crumsby Cupcake Cafe (1) – mini cupcake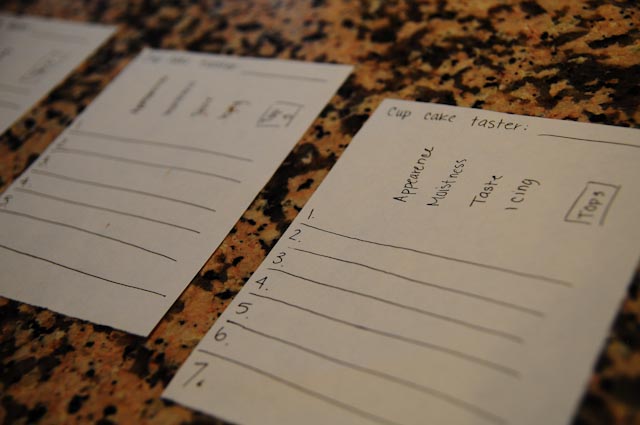 Some may argue with our scoring method and question its validity, but we felt that these were fair scoring criteria.  It is as follows:
We tried to use all chocolate cupcakes as possible.  Ultimately, there are some variations between taste and the choice of icing… but that's the way it goes.  Plus every respectable cupcake shop has chocolate, right?
We assigned each cupcake a number which sort of lets it become anonymous…. You might be asking how?  More on that later.
Made a little matrix, 1-7 for rows, and each column were the criteria: Appearance, Moistness, Taste, Icing, *total score*, comments
Rating 1-5, where 1 = really terrible, and 5 = totally awesome
Each cupcake would be rated in each category and given an total score.  Biggest score wins.
The Tasting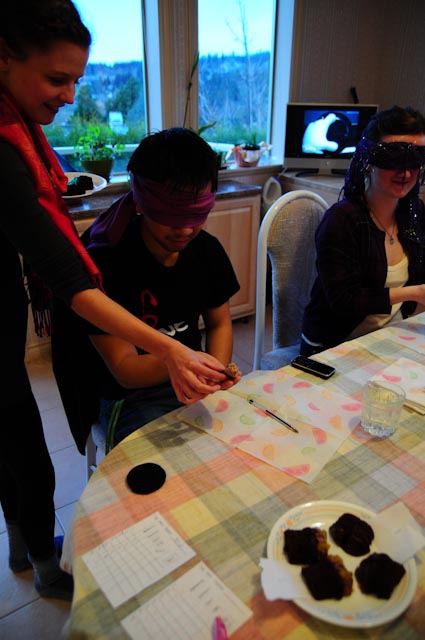 The three girls went to buy the cupcakes, and I just joined them at the end of the day with my camera to snap pics and test these cupcakes out.  We rated appearance first to find the most attractive one. Katie and I were "volunteered" to be blindfolded to keep the test as unbiased as possible.  The cupcakes were separated into quarters by Janine and Taylor.  They both sampled and scored it.  They also fed us the cupcakes, and we gave feedback verbally while they scored it for us.  And let me tell you, it is pretty freaking weird being blindfolded and tasting things.
Between each cupcake, we were given water to cleanse the palate.  At the end… yea, it got pretty gross after eating so many cupcakes in a row.
The results (Maximum score of 20)
Overall best cupcake:
*the order is in order of: Katie, Felix, Taylor, Janine.. overall scoring and average score:
Homemade: 15/7/15/11 = 12
Pink Sugar – Pink Icing: 12/9.5/7/11 = 9.875
Crumsby – Mini cupcake: 8/7/8/9 = 8
Starbucks: 14.5/14.5/12.5/12 = 13.375
Ooh La La: 14/11/11/12 = 12
Pink Sugar – Blue Icing: 11/13.5/12/10 = 11.6.25
Thrifty Foods: 7/7/6/6 = 6.5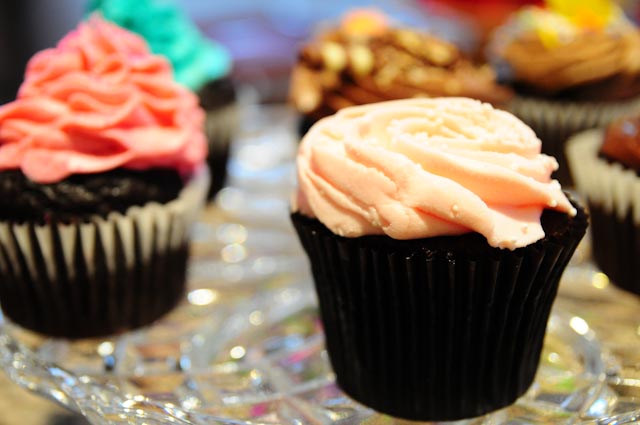 Best in each category:
Appearance aka most seductively looking food porn worthy cupcake: Ooh La la (4 votes)
Moistness: Pink Sugar – blue (1 vote), Taylors-homemade-from-a-box-cupcake (3 votes)
Taste: Starbucks (3 votes), Homemade (2 votes)… there was a tie from one of the judges
Icing: Pink Sugar – pink (1 vote), Starbucks (3 votes)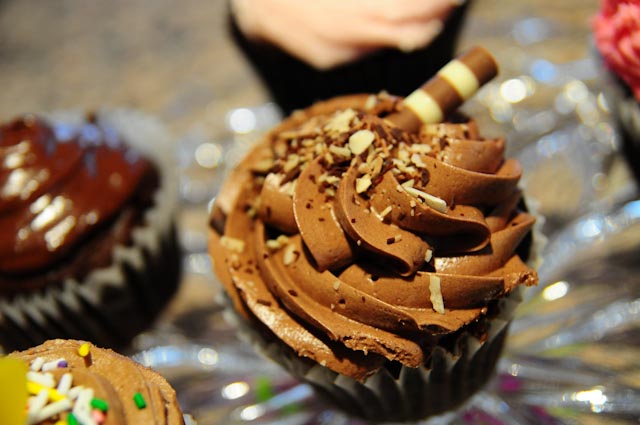 By all means…. this means that…. STARBUCKS wins the cupcake contest!!!!!!! Which is pretty ridiculous and crazy. They make a pretty okay cup of coffee, and their pastries are nothing special. But damn, they seriously have some good well manufactured cupcakes from that factory in the Delta. I remembered it being pretty moist, has a nice light balanced chocolate flavour. It had a butter cream icing that was okay, but it was light and matched the lightness of the cake. Balance was the key differentiator here. Most of the other ones were too dry, too sweet, too dense of a cake etc. Starbucks actually had it figured out.
Tidbits and Comments:
Homemade cupcake: "This tastes homemade"
Starbucks: "Mmm… buttercream."
Thrifty's: "This cupcake is offensive… the gummy bear thing on the top of the cupcake was the best part"
Pink Sugar – Blue: "Icing tastes like fruit, cake was bad"
Pink Sugar – Pink: "Icing too light, cake too heavy"
Thoughts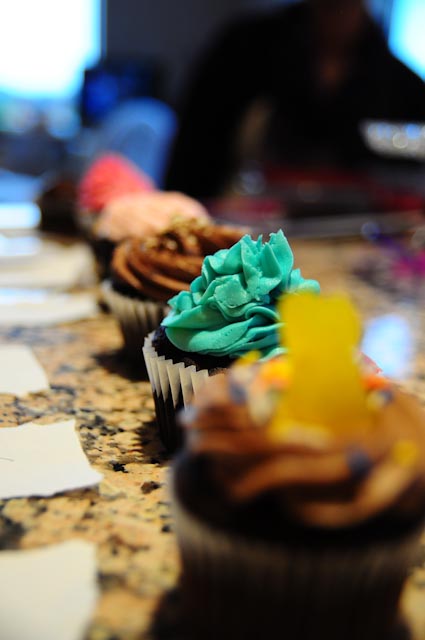 Extremely surprising that Starbucks won the contest. I know for a fact Janine wasn't pleased… but her tastebuds don't lie to her though. Even she rated Starbucks as the best. I worked there before and I knew they had solid cupcakes. I was pretty surprised it won. Remember I was blindfolded. That aside, it seems that homemade from a box cupcakes are the 2nd most favourable cupcakes! I guess everybody loves that signature taste that they grew up with eating mom's cupcakes. I personally detest the taste and can definitely identify that taste any day… but I suppose it's like instant noodles/mac and cheese/comfort food – there's just something about it that makes you happy. Plus… for value, they are definitely the cheapest. We made a batch of like 20 or so, works out to be about 25 cents a cupcake. Starbucks was $2.36 including tax. Ooh La La was $3.15 each including tax. Not sure what Pink Sugar was, but I'm sure it's in that price range. And Crumby's was $1.51 per mini cupcake including tax.
Do the cupcake shops offer value? For one, they definitely have the most enticing looking cupcakes around with their enticing and inviting bright colours. The icing is typically piped out and ties to be inventive with the flavour, which may be a hit or miss. There's the convenience factor… want a cupcake? Just go buy some! But at the same time, at $3 per cupcake, I personally think it's a little expensive… cupcakes really aren't that hard to prepare. You too can make it look equally as cool with a bit of tender love and care.
But for sure, if you want a bit of flair at your party and want something different… hit up the cupcake shops. I don't think they're the best, but they're consistent, and they're attractive to look at. Certainly will have all your guests gush over it. But if you want some really solid tasting cupcakes – apparently Starbucks is the way to go!