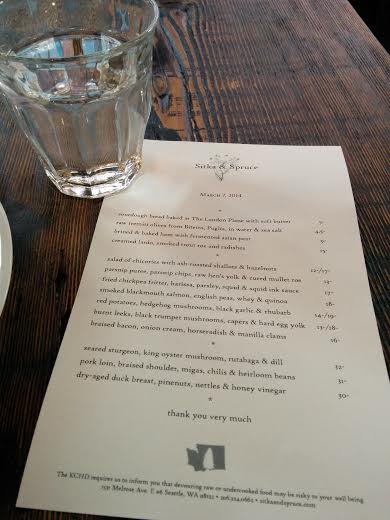 This is the third time I have been to Sitka and Spruce, and 3/3 experiences have been excellent. Located in the back corner of an old industrial building converted into an indoor marketplace, this restaurant embodies the exact personality of Northwest cuisine in Seattle, demonstrating how a truly cohesive partnership between suppliers can exist under one roof. Your first steps into the Melrose Market reveal a butcher, a sandwich cafe, cheese shop, and espresso bar. Further back, a feminine floral and gift shop, and a home goods store on the upper level. At the very back corner surrounded by windows that look out onto the market is Sitka and Spruce.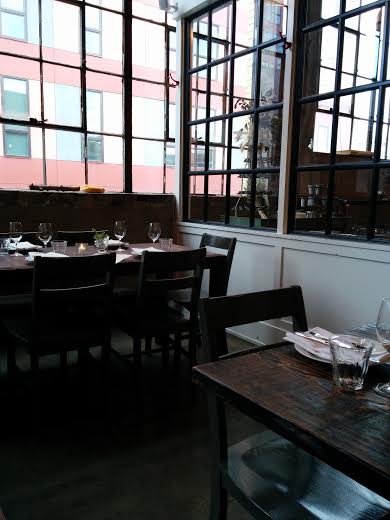 The menu at Sitka and Spruce is consistently creative, combining ingredients the average person wouldn't even consider using in conjunction with some more conventional dishes. The first time I ate here we shared a salad of endive, proscuitto, and young almonds (they were still green, and crunchy like a snap pea). The second time I had sauteed mushrooms on toast with raw egg yolk. This place definitely doesn't shy away from taking risks with less conventional ingredients and techniques.
On my third visit, we started with a salad of chicories, roasted hazelnuts, and shallots. It was a bit basic, but I liked the fact that they roasted the hazelnuts to bring out the flavours, and the use of chicories was fairly unique, they lent a bitterness/spicyness to the salad overall. It didn't stand out, but it was a good clean-flavoured starter to our meal.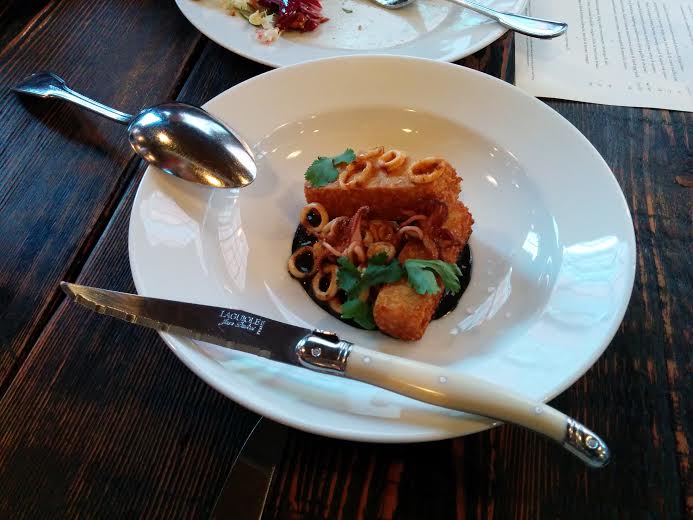 Our next dish was a chickpea fritter with baby calamari in a squid ink sauce. The chickpea was less fritter and more like a fried polenta; my guess is that they pureed and seasoned chickpeas, cut it into rectangles, coated in panko, and fried them to what you see above. The calamari was very fresh and tender, not chewy at all and an interesting compliment to the chickpea. The star was definitely the squid ink sauce, as my first time eating squid ink I it added a lot of visual interest, and it had a solid lemon element that added a freshness and cut the richness of the chickpea fritter in a pleasing way. The dish was finished with harissa oil which tied in all elements of the dish nicely.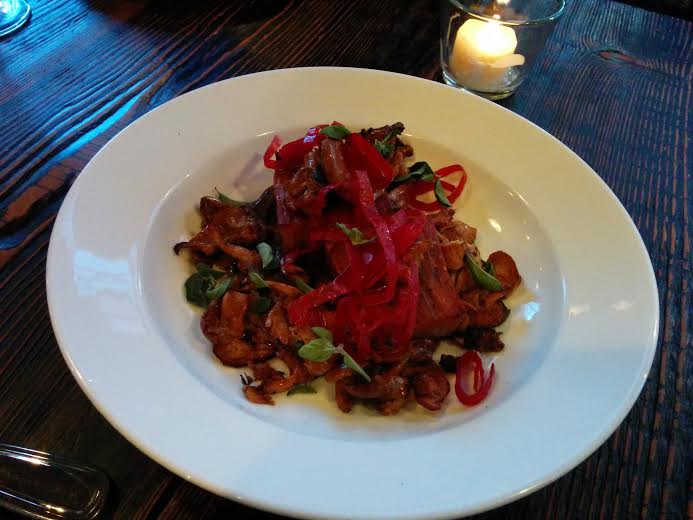 We took a leap of faith and on the recommendation of our server, we tried the red potato with roasted hedgehog mushrooms, black garlic, and rhubarb. This was definitely the dish of the night, it blew us all away with how creative and perfectly balanced it was. We had to get our server to explain just how this dish was constructed, it was obviously complicated and labour-intensive to create. The chef first sliced the red potato nearly paper-thin on a mandolin, layering the slices into a stack and pressing the whole thing down every few layers, as if painstakingly making phyllo dough. After being baked in the oven, the chef then heats butter in a pan and fries one side of it to a crispy golden brown, adding textural interest. The potato was then placed atop a creamy black garlic butter sauce, with scattered roasted hedgehog mushrooms, and topped with strings of homemade rhubarb fruit leather which added a well thought out acidity to the dish overall.
Being the absent-minded person I sometimes am, by the time our duck main came out I had forgotten to take pictures. We ordered a roast duck breast with sauteed nettle, nettle pesto, and a honey-citrus vinaigrette drizzle with roasted pine nuts. The duck breast was roasted to a nice medium-rare, my only complaint being that I wish they had included sharper knives to cut into it. It wasn't overly chewy, but it also didn't necessarily cut like butter. The nettles were a nice flavourful green to accompany the duck, and the pesto paired great with all elements on the dish.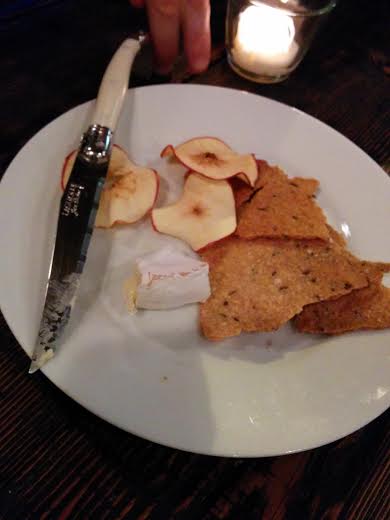 We finished everything off with a cheese plate from the dessert menu, featuring Dinah's soft cow's milk cheese, homemade crackers, and dehydrated apple chips. I thought the cheese portion was pretty small, and they could've had a more interesting pairing than dried apple. I did like the cracker, it was definitely homemade which I appreciate. I think ordering one more dish with our main and leaving off the dessert would've been the smarter choice though.
All in all, Sitka and Spruce is a classic representation of the forward-thinking cuisine of the Pacific Northwest. Our service was great, the waitress was knowledgeable about all the cooking techniques and ingredients used, and checked in on us often enough without being overbearing. For anyone visiting Seattle who doesn't want to get stuck at a seafood or steakhouse tourist trap, a little trip outside of the downtown core will lead you to this hidden gem.
http://www.sitkaandspruce.com/index2.html
Sitka and Spruce | 1531 Melrose Ave Seattle, WA 98122