I must admit I've been to some prominent wine regions all around the world but I've neglected to explore what's in my own back yard. A friend organized the whole day long tour for us and on a Friday morning (with already 2 sangrias in my system) nine of us were off to explore the vineyards of Saanich!
Symphony Vineyard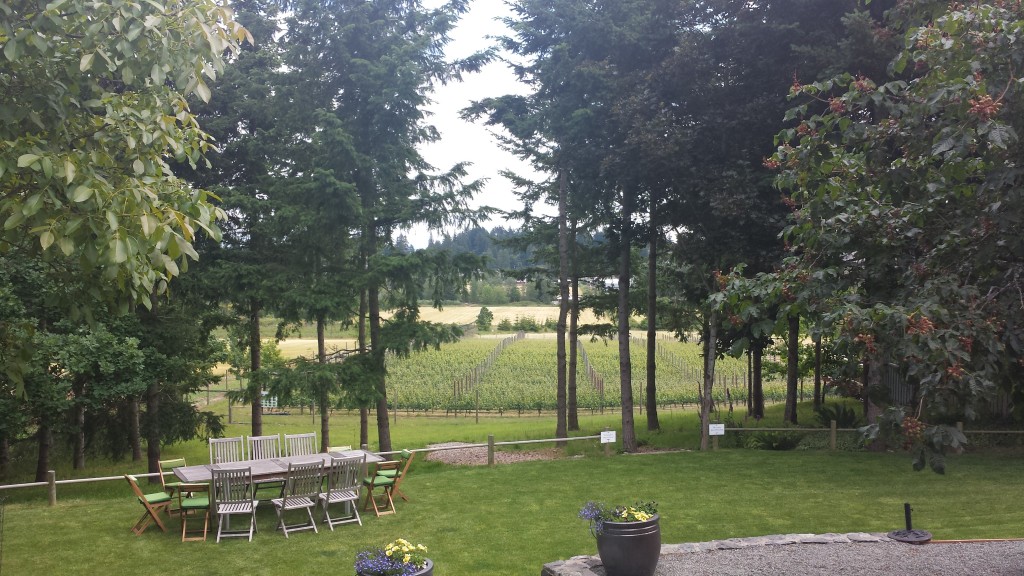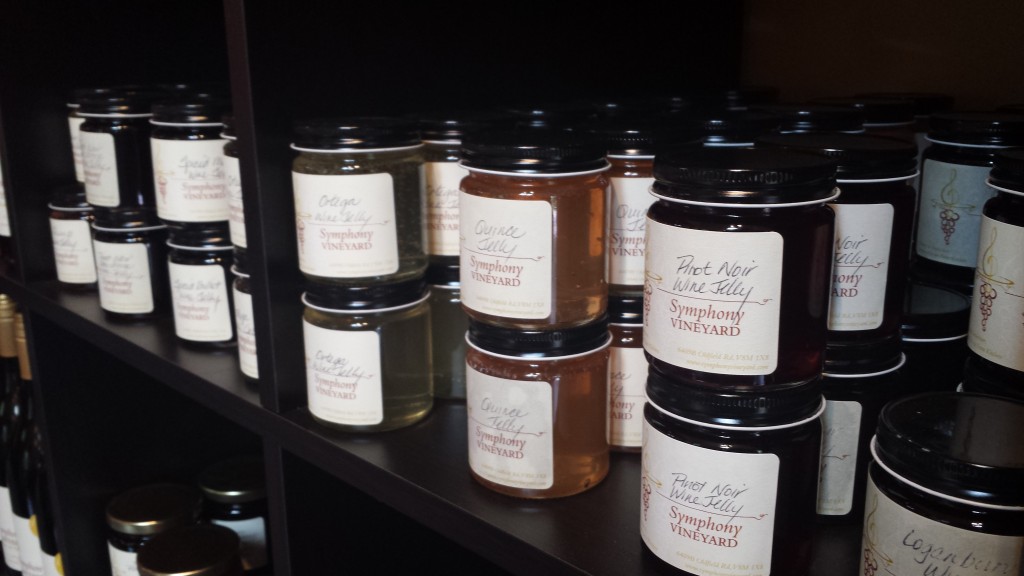 Located on Oldfield Rd., set amongst the many fruit and vegetable farms that this road is known for, is Symphony Vineyard. Symphony is a quaint little vineyard with tasting tables located both inside and out. We were seated outside overlooking the rows of grape vines and were given four tasters of wine (I think) the Ortega, the Blanc de Noir, the Foch and that's all I can remember. It's always interesting to learn from the owners about the local grapes and the local wines. As you probably have noticed we don't have California climates here so the grape varieties here have to be suited for our climate so they're often varieties of grapes you may have never heard of before. For example the Blanc de Noir which is a  dry white made from a locally grown Champagne clone of Saanich Pinot Noir. I've heard that symphony also offers a variety of meats, cheeses, and jellies that you can try during your wine tasting. Didn't seem like they had any while we were there though. All in all our tasting came to a whopping $3. Well worth it!
Dragonfly Hill Vineyard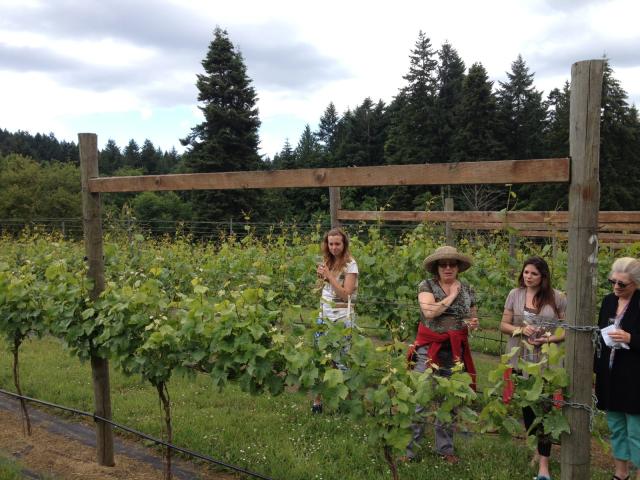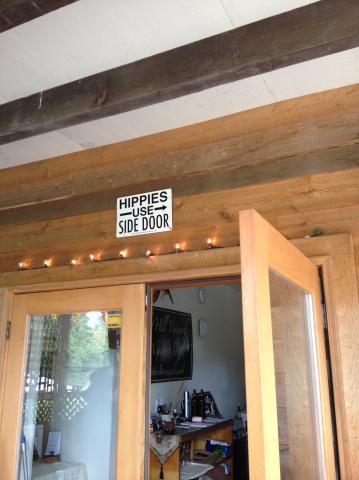 Just a short drive away, on Old West Saanich Road, was Dragonfly vineyard. This vineyard wasn't actually open but the owner was kind enough to make an exception for us (check open times before visiting). We were given our first taster of wine, the Ortega, which we sipped as we were given a tour of the vineyards by Carol the owner. We were also told about her fruit trees which she uses to make wine too. We enjoyed two more tasters the Merlot Cabernet and the Bumbleberry with the Bumbleberry being my favorite! It's technically a dessert wine but it wasn't as sweet as most dessert wines and instead was more on the tart side. I bought two bottles of it ($24/ea). The tasting here was $5 for three different wines. Still good value for money.
http://www.dragonflyhillvineyard.com/
De Vine Vineyards

 
This vineyard is literally around the corner from Dragonfly. It's up on a hill and offers breathtaking views of the Saanich peninsula. This vineyard is reminiscent of a Napa vineyard, it has a lot more 'glam' than the first two. We received quite a few tastings here all for $5. I believe they've been effected by a few bad seasons so the wines were not my favorite but it's worth it for the view.
http://www.devinevineyards.ca/
Sea Cider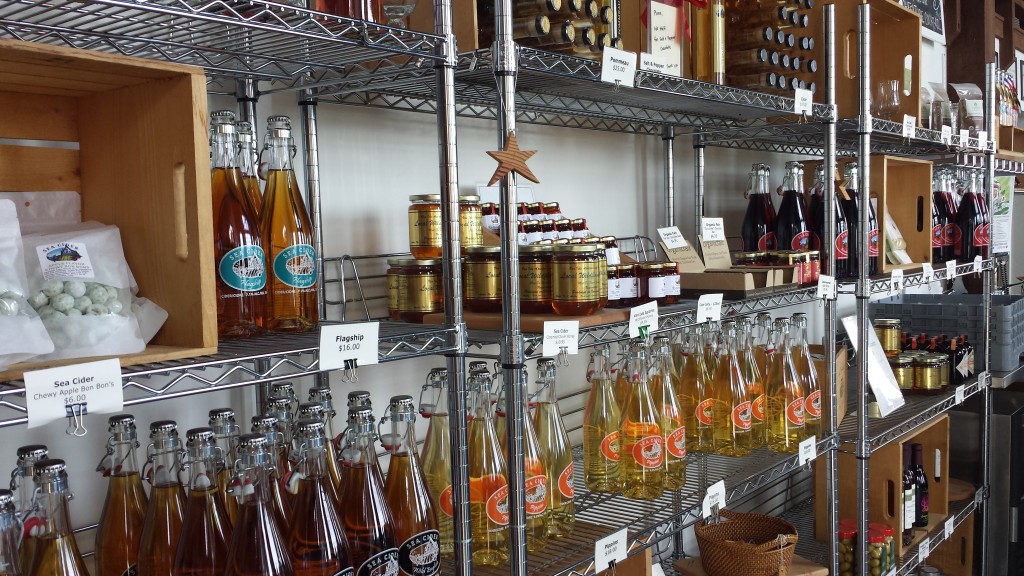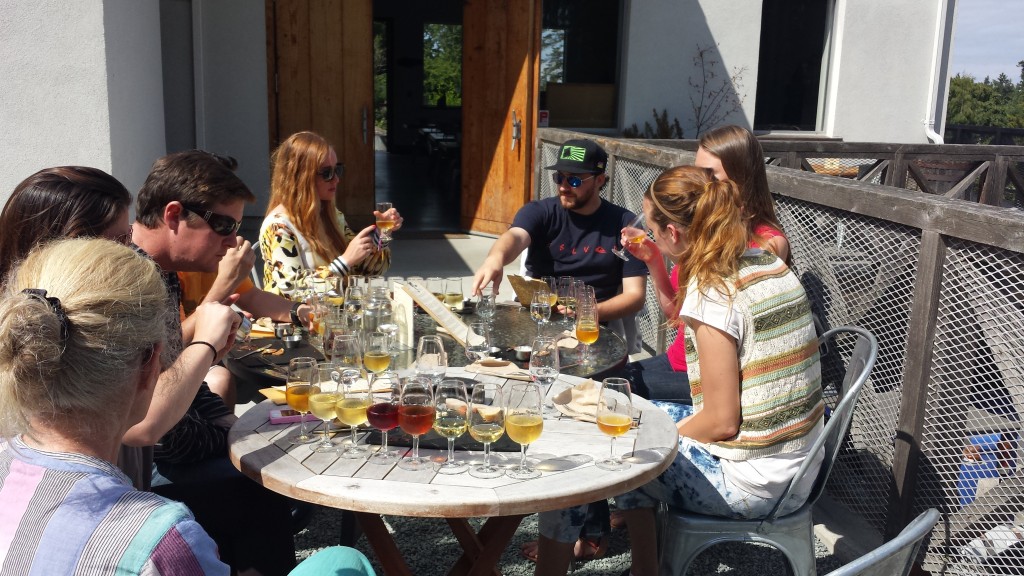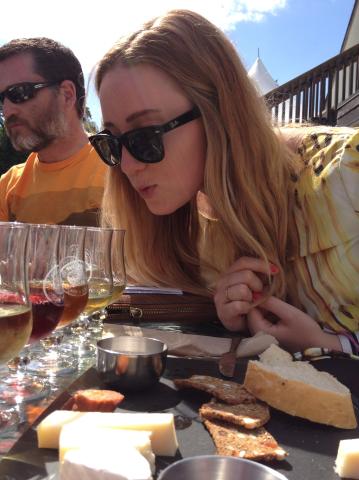 Mmmm I love Sea Cider and I always have. This was probably my 6th tasting at Sea Cider. You can sit either inside or outside on their deck overlooking the apple orchards and the Saanich Peninsula in the distance. We did the long flight which includes 8-9 tastings for $16. It's highly recommended that you share the flight especially if you plan on driving afterwards. We also purchased a few meat and cheese platters to share which were a nice touch. I think they're a good size for two people to share. Usually Pippins is my favorite but I left with a bottle of Bramble Bubbly this time. It's a seasonal cider but definitely the best of the lot in my opinion. I've always loved that Sea Cider offers a very wide range of ciders from dry to sweet to dessert ciders. For me these ciders almost drink like a wine and pair with food like a wine can which isn't something you often find with ciders.
All in all we had a great time on our wine tasting. I did just do a Napa Valley tour a month ago, but these two experiences can't be compared. Napa is large scale and impersonal for the most part. Doing a wine tour of Saanich is like hanging out at a neighbour's house. You're able to chat with the owners and walk around their beautiful and rustic vineyards, it's a true Saanich experience. Albeit the quality of wines are not the same calibre as Okanagan or Napa wines but the tastings are more affordable and it's still very much worth the visit.