A couple weeks ago, after months of not cooking any proper meals for myself, I decided enough was enough. I hopped in my car and drove to Whole Foods to get the necessary ingredients. I have adapted a recipe given to me by someone else, with of course a few requisite alterations.
Recipe:
1 Tbsp butter or olive oil
1 to 2 large leeks, thinly sliced
3 or 4 cloves crushed garlic
2 tsp freshly grated ginger
1 head of cauliflower
1 large sweet potato, peeled and cubed
3 tsp cumin
3 tsp coriander
2 tsp tumeric
1 tsp chili powder
cayenne, to taste [add by the 1/2 tsp up to desired spicyness]
salt and pepper, to taste
4 cups low sodium chicken or vegetable stock
1 cup cooked wild rice blend (I used quinoa because I was out of rice)
1 can 2% evaporated milk (next time I might experiment and try coconut milk)
1/2 cup packed shredded swiss cheese
I started by first cutting up the cauliflower, then coating it with olive oil and sea salt and roasting it in a 400 degree oven for about 30 minutes, removing after 20 minutes to flip the browned sides. Once the Cauliflower was nearly finished roasting, I began heating the butter/oil in a large pot over medium heat. I then added the leeks, garlic, and ginger, and sauteed until the leeks and garlic softened, about 5 minutes.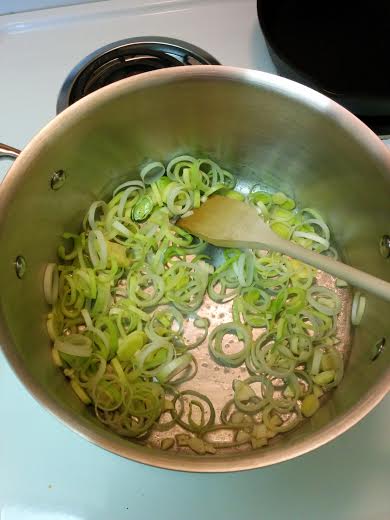 Next, I added the roasted cauliflower and cubed sweet potato, and all the spices. I continued to stir the ingredients for another 5-10 minutes to let the sweet potato start to cook.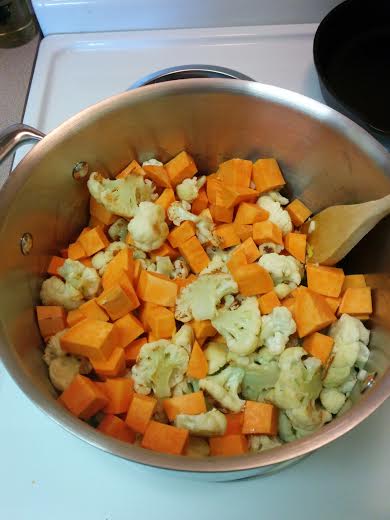 Once the ingredients had cooked down a bit, I added the 4 cups vegetable stock, and let simmer for about 25-30 minutes. Once the sweet potatoes were fully cooked through and softened, I whipped out the immersion blender and blended the soup until velvety smooth.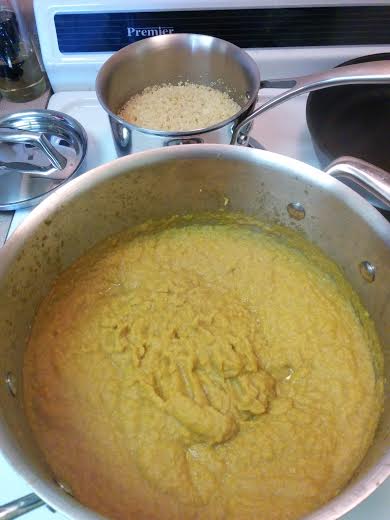 At this point the consistency was still a bit thick, so I added more vegetable stock, then the evaporated milk and cheese, and finally the cooked quinoa. I left the soup on low for a few more minutes to allow the flavours to meld.
One note on the cheese – I actually skipped using swiss, and while at Whole Foods I headed over to the secret basket of joy that is the cheese end basket. Whenever their cheeses get down near the ends, or whenever they have bits left over that are too small to sell in their regular cheese case, the deli wraps them up and puts them in a little basket off to the side. I love checking out what little treats are in there on each visit to Whole Foods, and especially if you're having guests over and want to put out a little cheese sampler tray, this is a really great way to get a wider variety for a lower cost. For the soup I selected a scrap of cave aged gruyere, a bit of asiago, and some other unknown soft cow's milk cheese that melted in really nicely.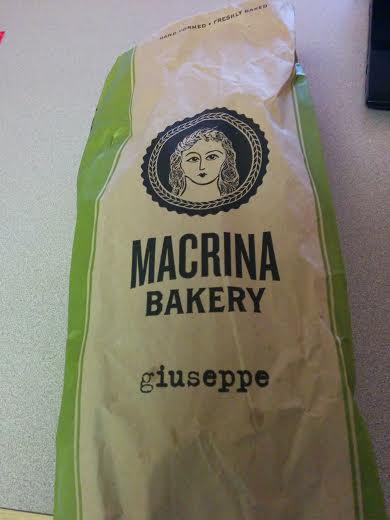 While at Whole Foods I also picked up this loaf of bread, made by the Macrina bakery here in Seattle. For hardcore foodies in Seattle, you'll know that Macrina bread is pretty sought after, and is served in many great restaurants in the area. I think rustic bread pairs perfectly with a warm curry soup on a cold day.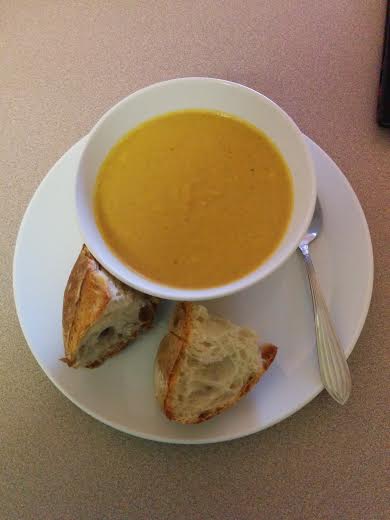 And finally, the finished product! I was pretty much in heaven eating this soup, with the perfect balance of roasted cauliflower with the sweetness of the sweet potato, a bit of bite from the quinoa, and that curry-based warmth that heats the back of your throat.