Recently a friend from back home came to visit me down here in Seattle, and we floated the idea of a romantic ladies dinner date for the Saturday night she was here. Most of my go-to spots I'd eaten at fairly recently, so I knew it would be a good opportunity to check out somewhere knew I hadn't been to yet. I've walked by Restaurant Zoe many times en route to Skillet Diner (they're across the street from each other), and based  on online reviews and photos of their dishes, I knew I had to try it out.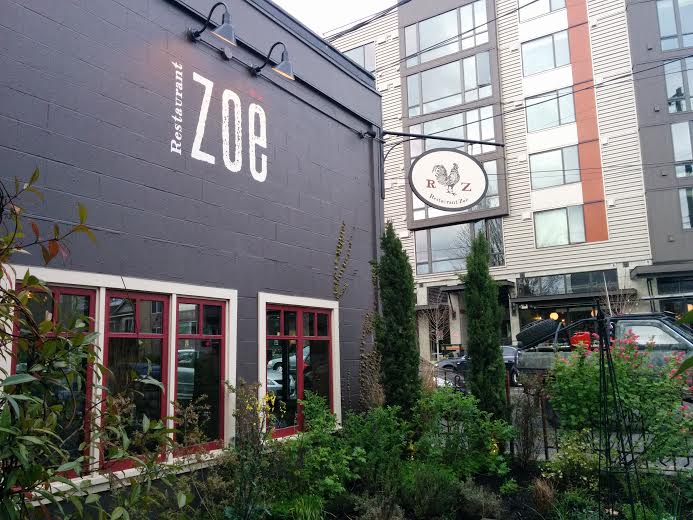 Restaurant Zoe is another one of those few restaurants that takes reservations during the weekend peak hours, something that isn't so easy to find around Seattle. We arrived for our reservation at 7:00 pm and were greeted by a very friendly hostess who hung our coats up for us. One thing I appreciated was that our server came and offered us the choice between "house water" and tap water, so we were able to choose tap water and avoid the hidden charges. Our server was knowledgeable and was able to point out a few highlights on the menu, helping us to narrow down the choices for what we would order.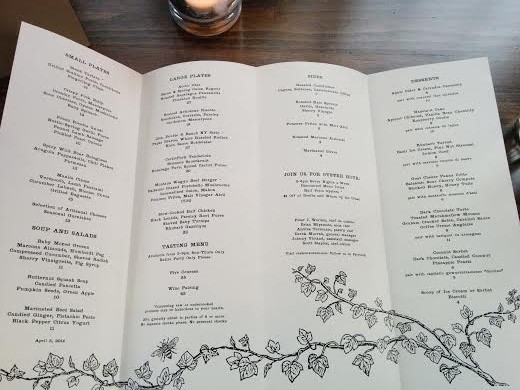 The items on the menu are all fairly reasonably priced, and I felt like there was a good variety of dishes to share. We ordered the Marinated Beet Salad, the Wild Boar Bolognese, and the Wagyu Beef Burger, and our server quite accurately confirmed that this would be enough for the both of us to be full. We also ordered a half-bottle of Chianti (what with all the red meat we were eating) to split between the two of us.
The first thing we noticed when our plates started coming out is that the kitchen had taken the liberty of splitting each item for us into two smaller portions on separate plates. This really stood out for us, because a) nobody likes ruining such a beautiful presentation by scraping their half onto another plate, and b) nobody likes picking off the same plate as someone else. It just added an extra element of care and consideration, and made us feel like we were being accommodated without any extra hassle.
The beet salad was delicious, the beets were mildly marinated, and placed on top of a pistachio pesto with arugula, candied ginger, and a black pepper citrus yogurt. The highlights were definitely the candied ginger which added a spicy sweetness, and the citrus yogurt, which definitely had a hint of orange zest flavour in it. Overall, we both really enjoyed the presentation and flavours of this dish.
Next we had the Wild Boar Bolognese, served with an arugula pappardelle and shaved parmesan. The Bolognese sauce was rich and hearty, with a delicious depth that sufficiently differentiated it from a typical bolognese. We could tell the pappardelle was made in-house, and was cut really wide which served well as a vehicle for the sauce. I kind of wished this dish could be served as a larger main plate instead of a small plate, because I'd order it just for myself sometime.
Finally, we finished our meal by splitting the Wagyu burger. Again, they elected to split up the portions, making it really easy for the two of us to share without making a mess of our table. Another thing I liked about this restaurant was the fact that they make their burgers to order, so we were able to request that it be cooked to a nice medium (pink in the middle). My friend is a fan of more medium cooked burgers, whereas I prefer medium rare, so this was actually a perfect balance between the two. The meat was melt-in-your-mouth, and topped with balsamic glazed portobello mushrooms, caramelized onions, cheese, and lettuce. The fries were served with a malt aoli, and from the taste of the burger, they added some of the aoli to the bun. The bun itself was fantastic, something similar to what I imagine Janine raves about in her review of Pink Burger (I believe they use brioche buns).
All in all, we really enjoyed our visit to Restaurant Zoe. The waitstaff was really friendly and attentive without being overbearing, and the prices are actually quite decent. The two of us ended up splitting the bill, and our food plus a half bottle of wine came out to about $35 per person. Not bad at all for the quality of food we enjoyed. I'd definitely recommend it as a go-to spot for a nicer, quiet evening out.
Restaurant Zoe, 1318 East Union Street Seattle, WA