There are so many Seattle institutions that I see all the time while walking around, and yet often never bother to investigate further. Rachel's Ginger Beer is one of those places, which I see more often than I'd like to admit due to it's proximity to Sur La Table and Beecher's down in the Pike Market. Finally, after having nearly an hour-long conversation with someone at school about different types of ginger beer, I decided there was no point sitting around any longer, and took off for downtown.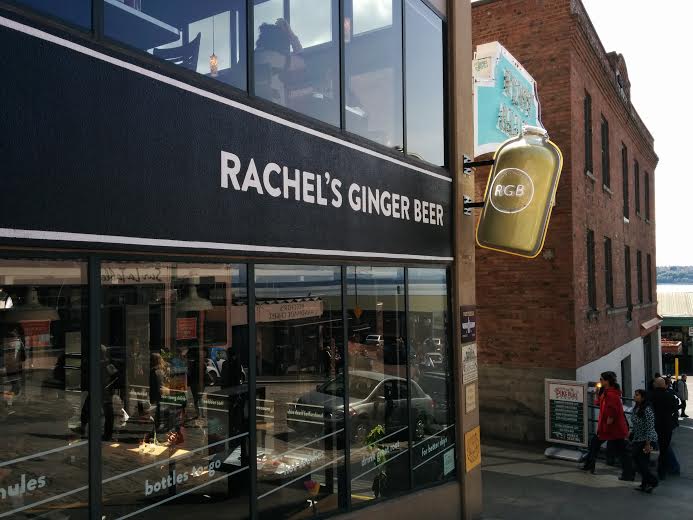 Located directly below the Steelhead Diner, Rachel's Ginger Beer faces into Post Alley. The store itself is aesthetically pleasing, like a cool, hip, (and air-conditioned) oasis away from the sweaty crowds of the Pike Market (key: I was there on a very warm day). RGB offers a solid variety of ginger beer flavours, from their original ginger beer to blood orange, guava, and even white peach ginger beer. I went with their seasonal special of Strawberry-Rhubarb ginger beer in a to go cup, and also grabbed a small growler to take home.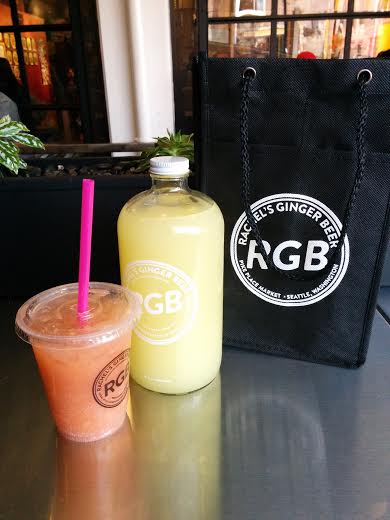 The strawberry-rhubarb ginger beer was definitely rocking my world; not only is it my all-time favourite flavour combo, but it wasn't overly sweet (you can tell they don't just dump sugar haphazardly into their drinks). The original ginger beer was also really fantastic, although I do wish the ginger flavour was stronger. I like a good lingering heat in my throat when I drink ginger beer, this was a bit tamer with a strong hint of lemon, which I'm guessing is for preservative and flavour purposes. It seemed more akin to a gingery sparkling lemonade, but whatever it was, it was delicious.
One thing I like is that if you buy a growler, it's $13 for the initial purchase, but only $8 if you bring the bottle back for a refill. I may be doing that soon, as I'm currently in the midst of final exams and one's immune system is worth more than every diamond on the planet. I also really like this idea for parties, it makes a special beverage for people who want to stay sober for the night, and also serves as a killer mixer.
Rachel's Ginger Beer, 1530 Post Alley, Seattle, WA 98109 http://rachelsgingerbeer.com/
(206) 467-4924