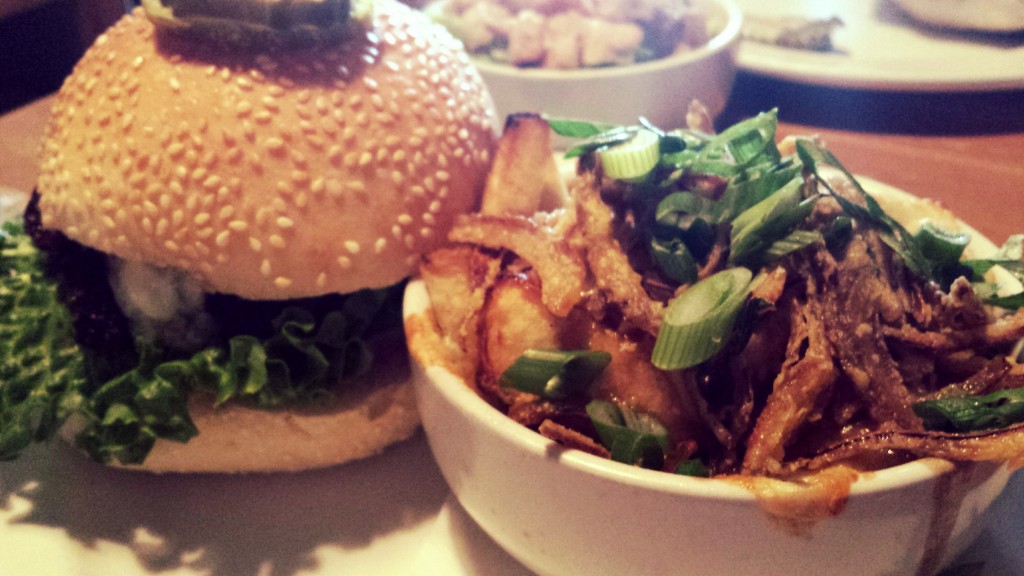 April 2014 – When it first opened Pink Bicycle was the talk of the town and the crowds were lining up out the door. So what's it like now?
I admittedly haven't been to Pink Bicycle for years so last night I suggested to my friend that we check it out to see if it's still the great burger institution it once was.
As soon as I sat down I quickly realized that not much has changed in this restaurant in the past few years (but not in a good way). The cushions in their rickety chairs were non-existent and the menus were 'well used'. The menu here is quit extensive with a great emphasis on customization. Choose one of their gourmet burgers and customize with additional toppings, sauces, and even upgrade to poutine for a side if you like.
I ordered the lamb burger with blue cheese ($15) with a side of poutine (extra $3). The service was great and our food arrived quickly. As I've said before, their burger buns (from Bond Bond's next door) is what makes their burgers! The rest of the burger ingredients were a little lacking for my liking and my lamb patty was dry. The blue cheese taste was prominent though which I really liked. My side of poutine was delicious; flavourful gravy and the added fried onions and green onions on top were a nice touch, adding both flavour and texture.
I've had mixed feelings about this place since it opened (see previous post) and I still do. Pink Bicycle could use a bit of polishing up here and there if it wants to be restored to it's former glory. The ingredients are mostly local though which is always a plus in my books and the burgers are tasty, not the best I've ever had, but they are good quality burgers. Love the poutine.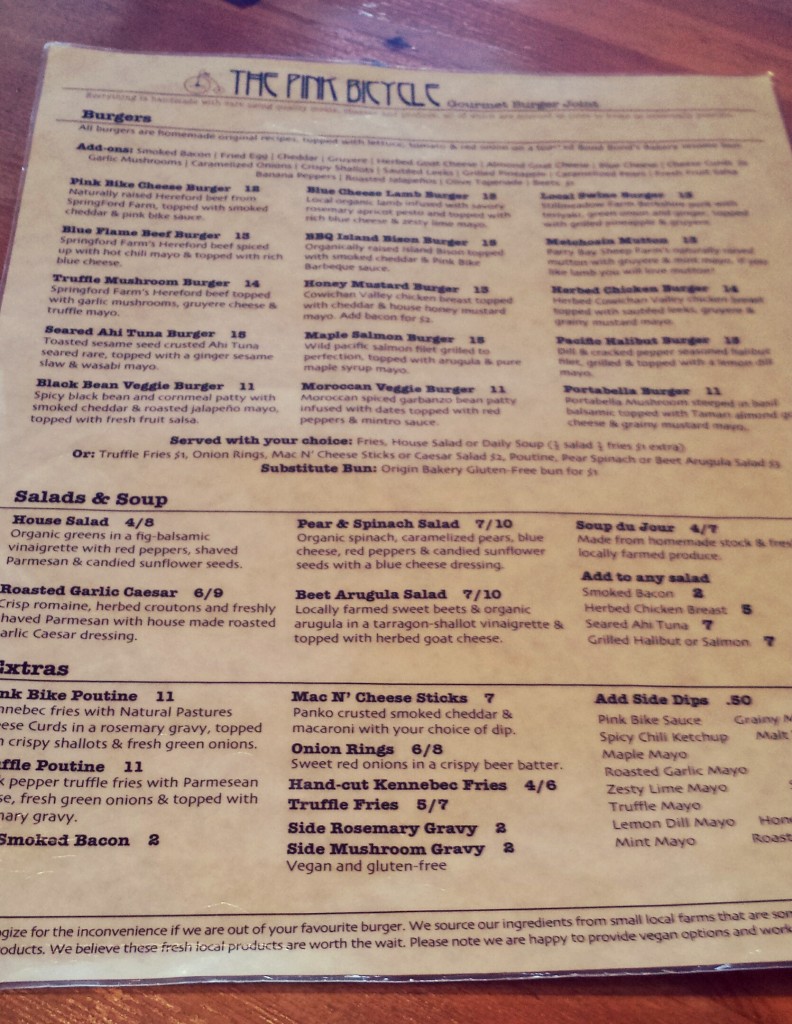 March 2010 – I finally had a chance to check out Pink Bicycle, a gourmet burger place, after much anticipation. I suppose something went well because I went back again a few days later.
It's a small casual place in the heart of downtown Victoria that rocks a laid back sort of indie vibe. They use gourmet (and i use this term lightly) ingredients sourced locally when possible. Yay for local! The presentation of food is taken into consideration and you can even enjoy a glass of wine with your cheeseburger if you like. So are these gourmet burgers worth the gourmet prices?
Firstly, be ready to wait! On any given night around dinner time (6-7pm) expect a wait of about 30 minutes for a table.
The first time I went it was on a Saturday night around 6pm and we were informed there would be a 20 minute wait for a table for two. Let's just say I was surprised when a group of five who were placed a few names down the list from us received a table before we did. I'm no hostess so that's all I'm going to say about that.
The menu has a little something for everyone from the traditional cheeseburger, to vegetarian burgers, to seafood burgers. The burgers can be ordered as is, or with soup, fries, or salad. For a bit extra you can sub in onion rings or truffle fries (fries tossed in the much coveted truffle oil) too. For something lighter or to share there is a great variety of sides such as salads, poutine, and macaroni sticks.
I ordered the mutton burger with truffle oil fries ($13). We waited about 15-20 minutes for our food. The burger was really good! The serving size is massive and I didn't even make a dent in my fries I was so full. I do have to say though the bun makes the burger. If anyone really puts their mind to it they can make juicy tasty burger patties at home, but to get your hands on some tasty buns like that is no easy task 
 I believe they get their buns from Bond Bond's Bakery right next door. They're soft, yet chewy, but in the greatest way possible. The mutton patty was good too, nice and juicy and the other burger ingredients complimented each other well. The fries were amazing too. Really crisp on the outside and soft on the inside. The truffle oil added a great flavour, it's worth the dollar if you like truffle oil.
I went back again the other night. Waited about 30 minutes again. This time I went for my beloved favorite fish ever, Ahi tuna burger ($15) plus a side of poutine to share with my brother ($9). Ahi tuna is a very delicate fish with a subtle flavour so I was worried how it would fair surrounded by all that bread. It wasn't the greatest. The piece of fish was small, but very tender. I know Ahi is an expensive ingredient, but I probably wouldn't have minded paying a buck or two more for a more substantial piece of fish. The taste of the fish was lost and to make matters worse the wasabi mayo in the burger attacked my nasal passages, once again taking away from the taste of this awesome fish. The poutine was just okay too. Within a few minutes the fries became really mushy and the cheese formed a tough sort of rubbery cheese blanket that was hard to eat. I then shared a dessert with my brother. It was an apple and pear pie feature that night, which came with ice-cream. Presentation on the dessert was great. Ice-cream was creamy, and the pie was good too but the crust was a little raw still at the bottom.
On my last visit I tried a couple of different items that I wasn't too impresed by. I would definately go back to Pink Bicycle again, but sticking to the meat burgers and the fries or salad next time, which I feel are worth the price considering the large portion size and the use of fresh local ingredients.
Pink Bicycle | 1008 Blanshard St. Victoria, B.C.