It's Cambodian, it's Vietnamese, just a little Korean and it's in China Town. Not really sure what this place is supposed to be but I guess none of that matters as long as the food is good. My cousin had read my chicken wings post and said I had to try the wings at this place in Vancouver's China Town called Phnom Penh! Before going there I read the reviews and everyone seemed to agree that this place had some terrific chicken wings. Fun fact: This place has been blogged about 136 times on urban spoon (soon to be 137)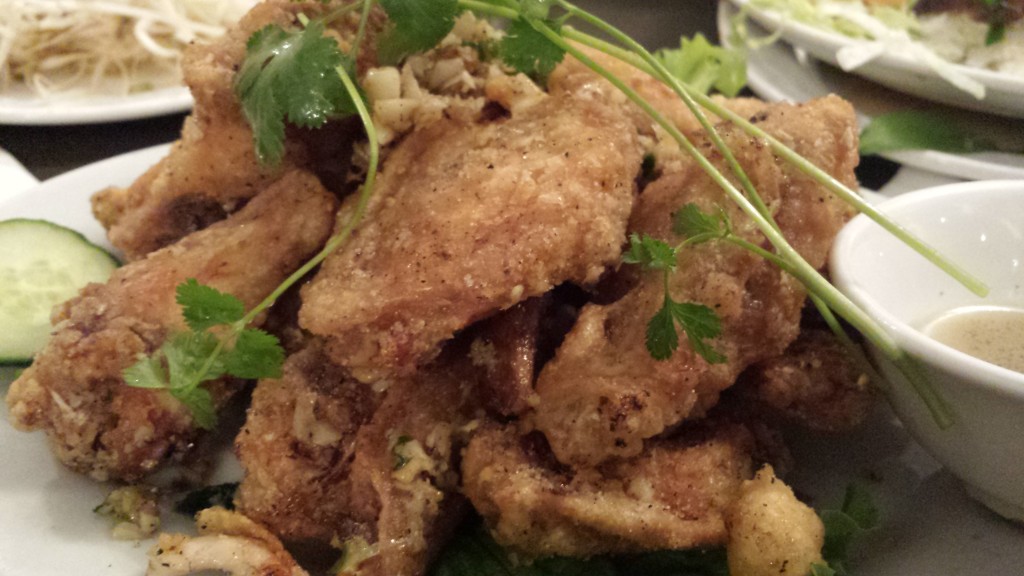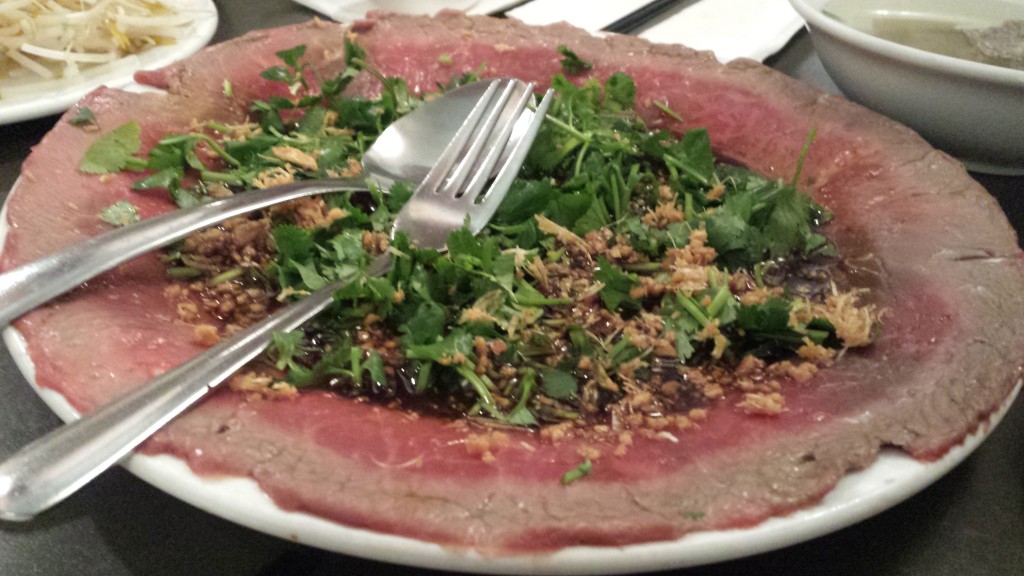 Arrived around lunch time on a Saturday afternoon and this place was packed with a small line-up snaking out the door. I heard this is the norm for this place. We ordered a number of different dishes so we had some variety. The butter beef was a large thin piece of very rare beef which had been smashed thin, it was served with a tangy sweet sauce and some parsley and garlic. The beef itself wasn't as good as some reviewers had said it to be or maybe I just got a tough piece. There were some pieces of sinew in the meat which wasn't pleasant to chew but the sauce at least was excellent. We also ordered a noodle dish which came with a variety of meats. This was really good, the noodles were fresh and perfectly cooked. Then the pièce de résistance, the garlic wings! These are Asian style chicken wings which are quite different from the usual pub style chicken wings. Asian style wings are extra crispy because they're dredged in corn starch instead of flour (or a cornstarch and flour mixture). They're then often served dry, not tossed in any sauce. These wings truly lived up to their grand reputation. The meat was moist and tender and the coating was extremely crispy and not bready at all. You can dip into the provided sauce but I liked them best as is.
Some dishes here were better than others so I'd like to come back to try some of their other menu items, but I would definitely order the wings each time.
For more chicken wing recommendations check out my 'best wings in town' post, which is always being updated as I go.