I've been to Osteria La Spiga twice now, the first time over a year ago, and again recently. Located in Capitol Hill in yet another converted industrial building-turned-restaurant, La Spiga is an excellent moderately priced italian restaurant. The service has been consistently friendly, knowledgeable, and attentive without being overbearing both times I've been, which shows that this place really hasn't slipped in their standards of service over the last year. It's a great spot to take out of town guests, parents, and it's intimate enough for a nice date.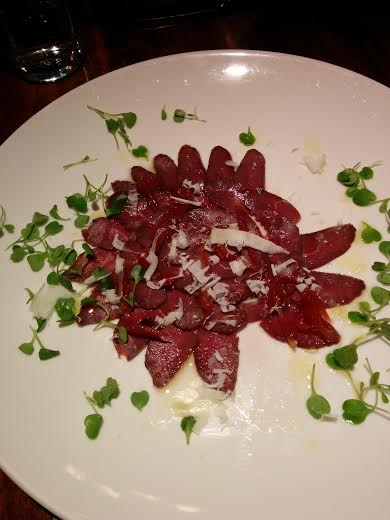 On my most recent visit (with my parents who were in town for a few nights) they asked me to make a reservation at a nice restaurant, and oddly enough La Spiga is one of very few spots that actually takes reservations on Friday and Saturday nights. We started our meal with a few appetizers, the venison carpaccio (above) and the beet salad (below). The carpaccio was delicious, I'm down for anything involving red meat and this fit the bill. It was nicely cured, could have been sliced a little thinner for people who aren't as in love with red game meats, but I didn't mind it at all. It was topped with shaved parmesan, young microgreens, and a pomegranate grapefruit preserve. My dad and I shared it and it was a great portion split between two people.
My stepmom ordered the beet salad for herself, and this was also another delicious starter option for those who don't want to start their meal with meat and eat more meat. With roasted beets, microgreens, and orange segments, this dish has a lot of bright flavours and visual interest. It's a great option for vegetarians or those who want to begin their meal on the lighter side.
In typical fashion, I got too into my meal and totally forgot to take photos of the main and dessert, so I'll just have to paint you a picture with my smooth words. I ordered the I Basot, something I had at my first dinner at La Spiga, and it was so delicious I had to order it again. The I Basot is angel hair pasta, rubbed in sage, butter, and parmesan cheese, and pressed into a dish and baked. The sauce is this intoxicating sage, butter, and chicken liver sauce. The chicken liver doesn't impart a strong flavour, but instead creates a unique depth of flavour. I recommended it to my dad and he loved it as well. For those who are more adventurous I'd highly recommend it. My stepmom ordered a mushroom and truffle ravioli, she really enjoyed her dish and we could smell that heavy, earthy truffle scent from across the table. If it were acceptable, I'd probably dab truffle oil behind my ears as a perfume.
Finally, and most importantly, we ordered dessert. Hands down, La Spiga makes THE BEST (I certify this statement to be true) Affogato. You start by ordering the Tartufo Bianco, a large scoop of vanilla bean gelato, with a coffee/amaretto/sambuca centre, and rolled in crushed meringue. Then order it affogato, meaning the server brings it out and pours a shot of espresso over the whole thing. The seemingly over the top sweetness of the Tartufo Bianco is tempered by the bitterness of the espresso. I love this dessert so much I recommend it to anyone who will listen to me. I'm sure I'll make a separate post about it in the future when I don't lose my head and manage to take a photo of it.
For a nice evening out with friends, family, or a date, I highly recommend Osteria La Spiga. I have consistently had a positive experience at this restaurant, both with the food and the quality service.
Osteria La Spiga, 1429 12th Avenue, Seattle WA http://www.laspiga.com/