I had downtime this Sunday to actually cook. Inspired by Taylor, I decided to try Rogan Josh out. I'll admit it, I was intrigued by this curry's western sounding name. Stated by my most favourite website in the entire world, it apparently is a dish of Persian origin with the name meaning "cooked with intense heat". I don't really know about intense heat, but there certainly is a some intense flavour going on here.
I used this recipe from Food.com and it resulted in an incredibly pungent taste with a bit of acidity in its flavour profile which I can't seem to get where it is from. Maybe it's from the green cardamom or greek yogurt that I put in. I wasn't really expect that. Or maybe I used ground cloves instead of whole. Either way, it turned out much different than I expected. It had a lot of paprika which I wasn't initially sure about, but I can hardly taste it. The super market I go to normally doesn't didn't have lamb/goat/mutton (curse you Fresh and Easy!!) so I opted for the next best thing, beef. I'm beginning to think with the amount of beef stews I have cooked this year I can start writing a book on beef stews of the world.
Allegedly 'TRUE' Rogan Josh doesn't have onions in it according to this ECurry Recipe. The spices used are incredibly different as well with Fennel Seeds, Ginger Powder, and 'hing'. I have no idea what the latter is, and I take that as a good thing. I'm going to revisit this dish and try the Ecurry version out. A lot of my self-taught curry knowledge is from that site. I'm going to have to it justice with lamb next time.
Food.com's Rogan Josh on the Right, Soy Sauce Braised Chicken on the left.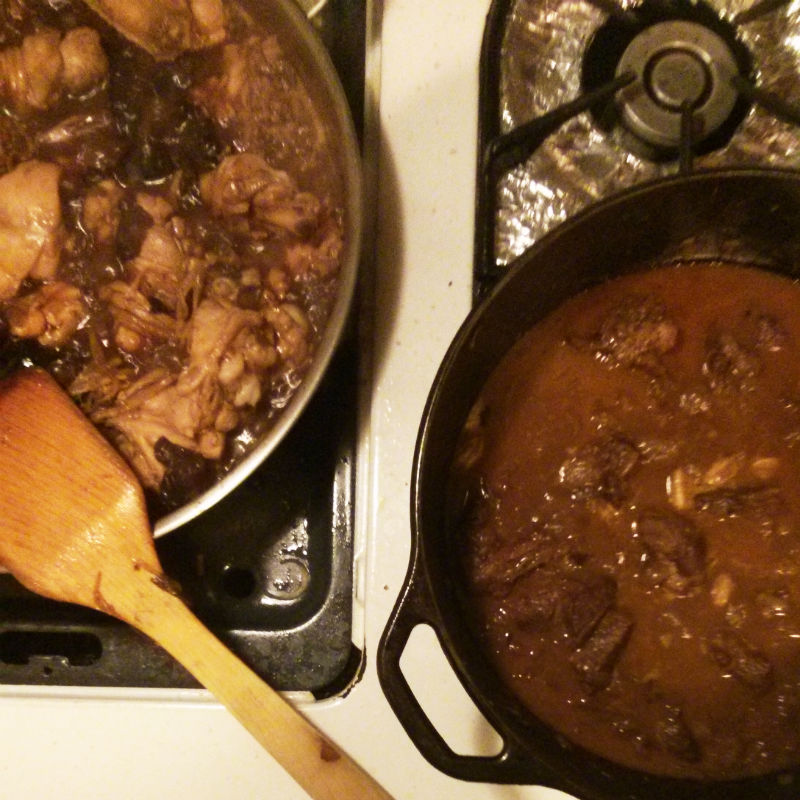 For my other dish of the week (I usually do one for lunch and dinner). I chose Soy Sauce Braised Chicken. In Cantonese it is "Waat Gai" – 屈雞 – 'Bent Chicken' as the literal translation… something like that. I have no idea what the origin of the name is except that tradition dictates that this is a 'homestyle' dish, usually brought out during the winter time (San Francisco is pretty much winter all the time according to California standards) and you can't eat during New Year's as it is not an auspicious sounding name. The Chinese are a superstitious bunch.
My dad used to make this all time and it is one of my all time favourites. I like the nuanced flavours that the wood/cloud ears + gold needle vegetable brings to the dish and accentuates the soy sauce. It's incredibly savoury soy sauce, chicken bones and soy sauce. The ginger and green onion combo brings a very nice fragrance to it. Nowadays I just eat it straight up. Back at home (or now on a workout day), I would eat it with rice, the sauce is so good.
I've never actually learnt how to make it until I moved out and luckily I can produce the same taste. A lot of the flavour comes from the classic green onion, ginger, soy sauce combination. Something you might not be familiar with are these two:
Like a lot of Cantonese food, they're dried first, and then you must rehydrate them overnight to use them. This intensifies the flavour of the ingredient and creates incredible umami bombs – very savoury blast of taste. Primarily the reason that I crave it. You can find these two items in Chinese markets. You don't need to use a lot either because expand a LOT in size. The Wood and Cloud ear is what you find in Hot and Sour soup as well.
Felix's brief recipe:
Chicken – I like using dark meat – fat = flavour! Chop it up with a cleaver with bones on. I used 5 legs.
Green onion
Ginger
Wood Ear
Cloud Ear Fungus
Soy Sauce, Dark Soy Sauce, Oyster Sauce
Sugar
Xiao Xing Wine – Chinese Cooking Rice Wine
Water
Chop Chicken, and marinate with some sugar, xiao xing wine, Soy Sauce.
Slice green onion and ginger. Heat up pan and dump this in until fragrant.
Add Chicken and stirfry it until it browns. Then add the fungi and gold needle vegetable.
Add water, add xiao xing wine, add soy sauce, dark soy sauce (this is mainly for colour), and oyster sauce.
Braise for about 30 mins and then reduce on high heat to concentrate the flavour of the sauce/gravy.
Here's some alternate recipes with some more instructions.  You'll get the gist of it.