A little late coming in midweek, but I put a bit of effort into my food this past Sunday. I bought David Lebowitz's new cookbook "My Paris Kitchen". I've been loosely following his adventures and thoughts for a while now ever since I found his blog when I was looking for a bacon ice cream recipe! I enjoy his writing, and I want to explore a little bit more of French bistro style food so I thought I'd pick it up. It's an entertaining read about life in Paris and certainly has opened up my eyes about the food culture there and what not. It certainly isn't the purist 'do everything the old world way' food culture as I once thought it was, but succumbing to the strength and influence of globalization like all other cosmopolitan cities around the world. There's seems to be a few staples there which sound delightful and elected to give "Mustard with Chicken" a try, coincidentally it is also the cover of the book!
The mustard chicken was very straight forward to assemble and cook. Standard procedures of rendering the bacon, browning the chicken, sauteing the onions, taking it away, deglazing the pan with wine, adding the chicken back in and letting it simmer for a bit. Voila! The taste isn't super mustardy, but it has a nice savoriness to it because of the bacon and onions. It is rather pleasant.
I paired the mustard chicken with celery root upon David's recipe recommendations. I wasn't aware of what it was before, but luckily the produce market down the street had some. Cutting the celery root took a bit of effort since it is rather firm, that is the only hard (pun intended) part about prepping this side dish. The celery root puree is essentially mashed celery root prepared in a very similar manner of mashed potatoes. I didn't have a hand blender or anything of that sort, so I used a hand mixer to whip it together. Luckily the celery root gets super soft so it was easy to cut through. The result is a very somewhat coarse/mushy/creamy white mashed potato like mix with a subtle in the background celery flavour. It paired well with the stronger tasting mustard chicken. Overall, I deem it a success!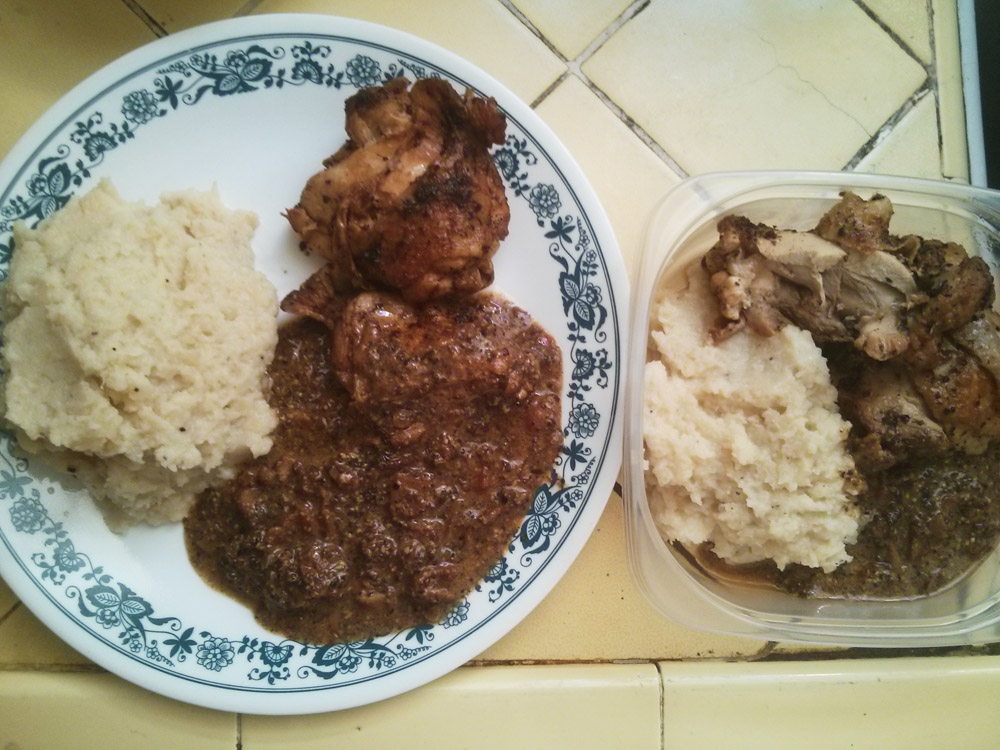 For my other meal, it's been a while since I've had Chinese food. I've been on a Chinese literary kick lately reading "Joy Luck Club – Amy Tan" and "Shark's Fin and Sichuan Pepper, A Sweet and Sour Memoir of Eating in China – Fuchsia Dunlop". I'll be reviewing that when I'm finished the book! I digress.
I decided to make "Salted Fish with Steamed Pork" with an easy stir fried side of vegetables. This is a very southern 'village' dish from what I understand, and is the quintessential Cantonese soul food. It's not complicated and a homestyle dish which anybody can prepare very easily. It is fatty, savoury, and lets out a lot of meat juice which is umami packed. I loved eating it as a kid and I love pouring all the juice over my rice and slurping it up! The salted fish I suspect would be an acquired taste for western palates with its concentrated salt and fish flavours. I don't really consider a staple, but it seems like most Chinese households would have some on hand for some reason even though I've only seen it in two dishes, the other one being Salted Fish and Chicken Fried Rice (arguably my favourite kind of fried rice).
Preparing this is incredibly simple, buy ground pork – find it at your Chinese markets. You'd find two different types, one lean and one fatty. Ideally it would probably be a ratio of 75% fat and 25% lean with coarse ground pork. The fat really gives it the flavour and satisfaction that you want from this dish. This is originally a peasant dish, so more fat, more satiation, more energy! As for the coarse ground pork, that's really more a texture preference since there is something more to chew on when eating it. The only ones I could find were medium ground. Back at home, we had a meat grinder so it was nice to customize the degree of what we wanted it to be. I elected for 33% fat, and 66% lean since I'm trying to get this six pack to show up. It's probably not the best that I'm eating this, ha!
Get a bit of salted fish, dice it finely, add it to the ground pork mixture. Add sliced ginger, generous amounts of soy sauce, white pepper, sugar and some MSG… bam, you're done. Put it in a bowl, and steam it for around 20 minutes or so and there you go.
The veggies I decided to get this week was also something new that I don't eat a lot of. Sugar Snap Pea Shoots. I've had it a few times before at some Chinese restaurants. I decided to give it a go with the standard Cantonese 'raw stir fry'. Heat oil, add some salt, dump garlic in until it browns and throw in the veggies raw, add a bit of stock and cover. It came out pretty good with a good texture, light, crisp and a bit on the firmer side.