It actually amazes me how I still can't write "Boeuf Bourguignon" without referencing it at Google. I probably butcher the pronunciation too.
Well, this week's MotW is the famous French bistro dish beef braised in wine. I've made this SO many times. My aunt one day told me about a deal that she saw at the supermarket – 50% off this white label store brand of wine. I picked up a few bottles for $1.50. Yes it was that cheap. Actually, being from Canada, anything under $10 I consider cheap. I don't even flinch when I buy it at the 'retail' price of $3 whooping dollars. Well, she thought she'd do me a favour since I like cooking with wine and bought me around TWENTY BOTTLES of wine. I was floored. What in the world am I going to do with so much wine? I poached pears, experimented with Coq Au Vin, made tonnes of mulled wine and of course tried many variations of Boeuf Bourguignon.
I first had this when my friend and I decided to go watch Julie and Julia – the film about Julia Child and somebody cooking her recipes. Inspired by the film, we decided to have a French dinner night and it was one of the dishes that she made. I remember it being pretty good. Since then whenever I go to bistros I order it to see how other people make it. It wasn't until I moved to San Francisco with such access to cheap wine that I decided to do it.
I tried out Julia Child's recipe once. I remember it being extremely labourious and required a lot of  different steps. It's good, but damn does it take forever with layering of food and textures. No good for me since I need something relatively quick and something that doesn't demand all my waking hours. I remember even buying small pearl onions and peeling each one by hand. That was not fun. This recipe still holds a firm place in my heart since it's the first one I've ever made. If you have time to do it, definitely try it out. It's more complex and the flavours and textures are definitely more rewarding. But if you want to make it an everyday thing… yea… maybe its not for you.
Later I bought the Les Halles cookbook from Anthony Bourdain. This recipe is SIMPLE. It made a lot of sense to me as Boeuf Bourguignon was traditionally a peasant dish with crappy wine and undesirable cuts of meat. It's straightforward, restaurant tested and it tastes pretty damn good. That's recipe I use at the moment and I'm a big fan.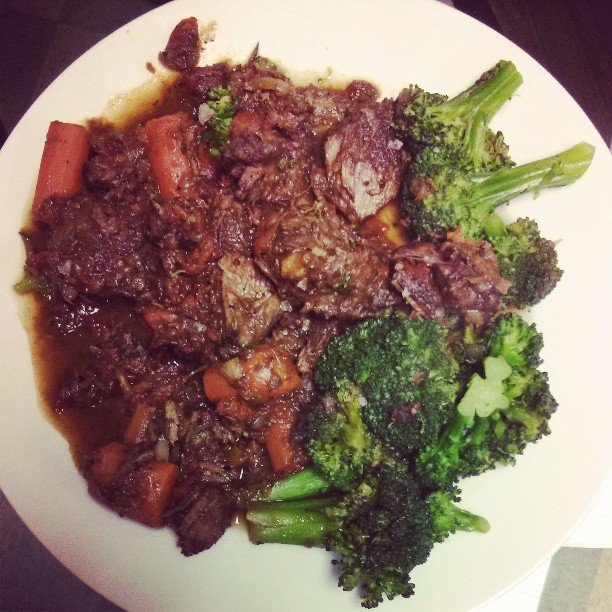 What I do different is… I'm a lazy and terrible cook. Anthony will have my head if he reads this – I started out using fresh herbs and demi glace. I reckon it gives the dish a 10% to 15% boost in flavour though. Since I make these in huge batches, I always end up throwing the fresh Thyme and Parsley out which is a waste. I resorted to using dried herbs which I found still to be ok. And with the demi-glace… I don't have the patience to make stock all day and then reduce. Freezer space is non-existant but that's another story and topic. I ended up using some Beef base.
So yea, I make a cheap bastardized version of it. Sue me.
Also, since I need to need it for the week… it needs veggies. I dump a ton of mushrooms in and double the carrots. I love eating this with some quality country loaf (Hello Tartine!) or some baguettes.
Julia's recipe.
http://www.tablespoon.com/recipes/julia-childs-beef-bourguignon/f7e0a6c5-710d-4c83-89a6-2a4936fec81a
Anthony's recipe.
http://www.washingtonpost.com/pb/recipes/anthony-bourdains-boeuf-bourguignon/7859/