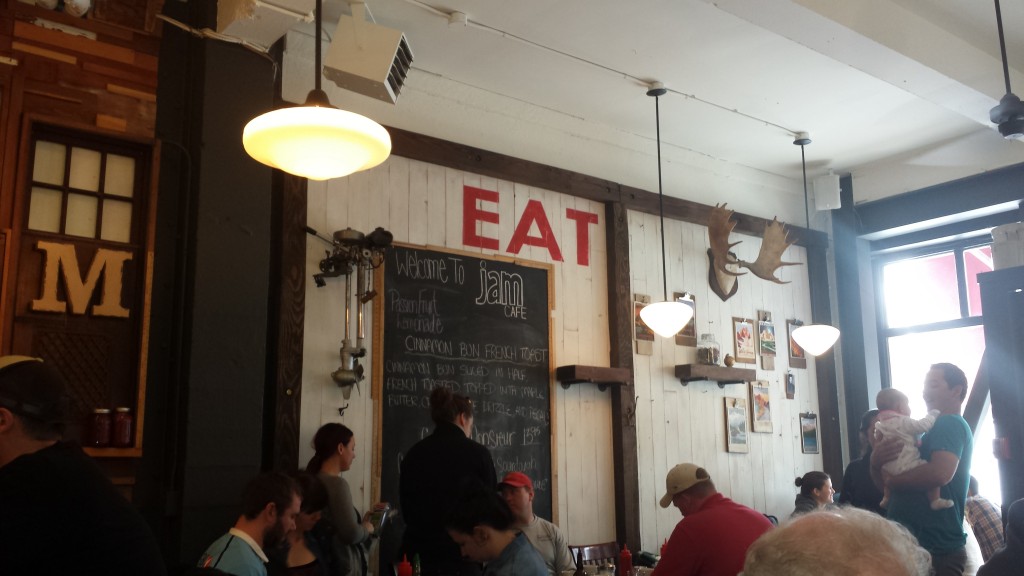 Just went for my third visit to Jam Café, because after two disappointing visits I thought I should give it one final go before completely giving up on it.
Since opening it's doors a couple years ago Jam Café has been a popular breakfast spot for both locals and tourists alike. Victoria, like any west coast city, has a true breakfast culture. Meaning there's a breakfast spot everywhere you turn and us west coasters are willing to stand in line for some early morning grub rain or shine. Everyone in Victoria knows and loves Jam, but I've never had a good experience there so I dragged Taylor along with me to get another opinion. As suspected there was a line out the door but the wait wasn't long, only about 15 minutes. Our server was attentive and friendly and took our drink order right away. I ordered a latte. It wasn't a great latte. The milk was over frothed and the espresso was bitter. I ordered the Chicken French Toast ($14.95) which immediately made me think of chicken and waffles so I just had to try it. We finally received our food after a bit of a wait. My dish consisted of four extra thick pieces of French Toast with a fried chicken breast. The French Toast unfortunately had no eggy taste characteristic of French Toast because the toast was so thick it seems none of egg mixture was soaked into the bread, leaving the bread dry and flavourless. The chicken itself was just okay too. A little on the dry side and not crispy at all. The flavour combinations didn't really work for me either. The Tobasco honey had a pungent molasses flavour which clashed with the pickled cabbage and cilantro garnish on top.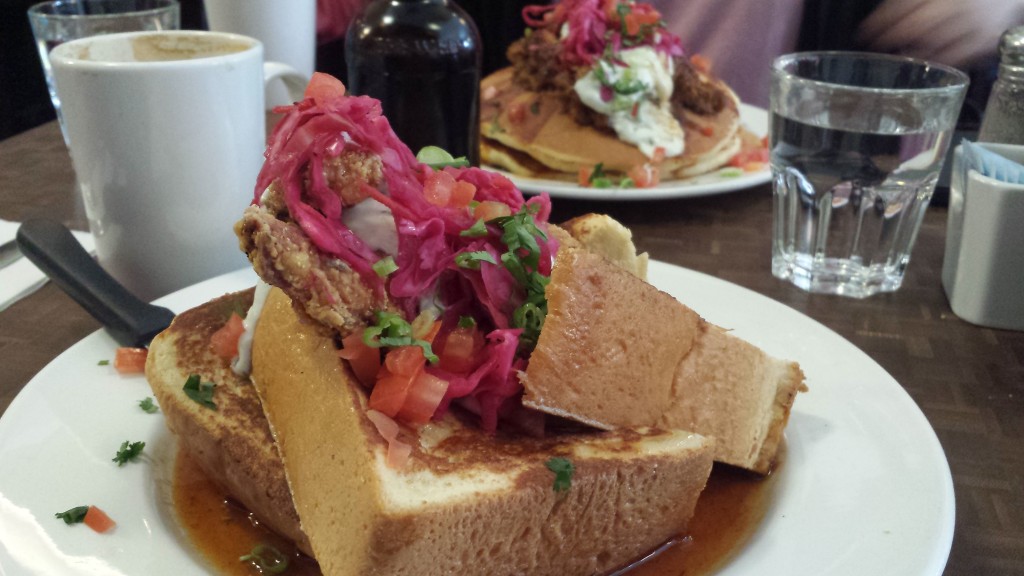 After seeing a recipe for pulled pork pancakes online, Taylor gave the Jam version a shot to see if it lived up to her expectations of what such a dish might even look like. The pancakes were decent, but too big and too thick, and so filling that maybe you could have gotten through a third, or half, before feeling too full. The pulled pork was also just ok, but Taylor felt the need to point out that the pickled cabbage, jalapeno sour cream, and diced tomatoes on top were just too out of place and didn't work with the other flavours. The pickled cabbage especially seems to have been made with a really strange vinegar brine, and the sourness just seemed wrong with the rest of the dish. Jam would've done well to keep it simple, with a couple smaller pancakes stacked with pulled pork in between, and a good bourbon syrup drizzled over top.
Overall I can understand the appeal of the Jam Café concept of taking regular breakfast items and giving them a unique twist, but I think they're missing the mark. The portion sizes are uncomfortably large, the quality of the food isn't very good and the flavour combinations don't really work well for me. I've given this place three tries now, but I'm still left feeling disappointed. Won't be going back any time soon.
Jam Café | 542 Herald Street, Victoria BC