Last May fellow Fancy Frite, Felix Chen, and I travelled to New York so that we could essentially gorge our faces for five days straight. No Statue of Liberty, no Empire State Building just a long list of restaurants that we wanted to check-out while in the Big Apple. This is a city where food trends aren't followed, they're created, it's the starting point for most of the great chefs of the world, and it's the home to 7 three Michelin Star restaurants, 5 two Michelin Star restaurants, and 55 one Michelin Star restaurants (but hey who's counting?) . But there's something else that makes the food in this city so unique and that's it's cultural diversity. Just walk four blocks in Brooklyn to notice a change in demographic, a change in culture, and a change in cuisine. Anything your growling stomach desires is available to you in New York City!
Tip #1: Do your research
According to USA Today there are over 4,300 restaurants in Manhattan, Brooklyn, and Queens combined so time to get your priorities straight. What is it that you're wanting to get out of your foodie experience in NYC? I turn to friend's advice and I turn to the internet. First I called my cousin in Toronto who just recently went to New York on a foodie trip of his own and he was nice enough to share his restaurant list with me. I then researched most of those restaurants by reading reviews on-line and checking out their menu's. I then look at travel sites like www.tripadvisor.com, who ranks restaurants from best to worst based on reviews, to see what others are recommending. For fine dining options it's sometimes a good idea to check out the Michelin Guide to see who they rate as some of the best. For unique eats I like to check out www.tvfoodmaps.com to learn about restaurants that have been featured in shows like "Best Thing I Ever Ate". I should warn you though that if you are a true foodie this part of the planning process will send you through such a rollercoaster of emotions. Don't know what I mean? Go on. Go ahead I dare you to look up some restaurants in New York and see if you can contain your bewilderment and excitement.
Felix and I then made a spreadsheet (I told you we took this seriously) and a list of the restaurants we really wanted to check-out once all our research was done.
Tip #2: Make reservations!
This is New York people! They have a population of 20 million. For infamous restaurants like "Per Se" and "Eleven Madison Park" you should probably look into making a reser about 3 months ahead of time. For other popular restaurants I recommend about a month ahead of time. Some only open their reservations a month ahead of time anyways. Of course for casual dining spots this step isn't necessary.
Tip #3: Explore different neighbourhoods
Even though Manhattan has the highest concentration of restaurants areas like Harlem and Brooklyn have a lot to offer too. We stayed in the Prospect Park/Flatbush area of Brooklyn which has a large Jamaican population and we're glad we did. We ate some incredible Jamaican food and we had fun exploring the grocery store there, which we wouldn't have otherwise had a chance to see had we stayed in Manhattan. From a tourists point of view lets call it going off the beaten track.
Tip #4: Bring cash
Many smaller eating places and food trucks only accept cash so it's a good idea to always have some handy.
Tip #5: Share
If you're planning on experiencing (and by that I mean eating) as much as possible while in New York share as much as possible. You probably don't need 10 donuts do you? Buy one and share with a friend. This is what got Felix and I through our list of restaurants as effectively as we did.
The Eat List
Here are some of the places we checked-out while in New York, these aren't all the places but they are the ones worth mentioning.
Prosperity Dumpling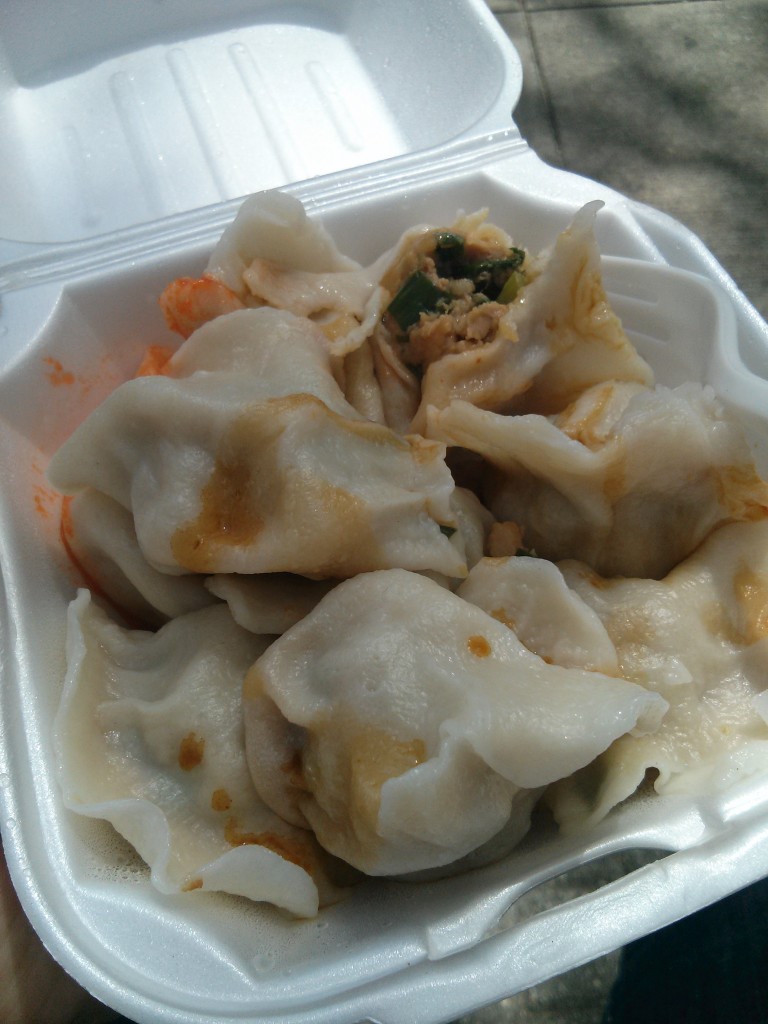 Why not start this list off with a little hole in the wall Chinese place that at the time was #1 in all of New York on tripadvisor. There are literally only two chairs in this place so we ordered to go and ate in a little park down the road. They're famous for their dumplings, their dirt cheap tasty tasty dumplings about $2-$3 for 10. These dumplings are the size of a small fist and as Felix described them "[these] dumplings are legit". How they make money I don't even know. A great excuse to stroll through China Town to check this place out.
Sushi Yasuda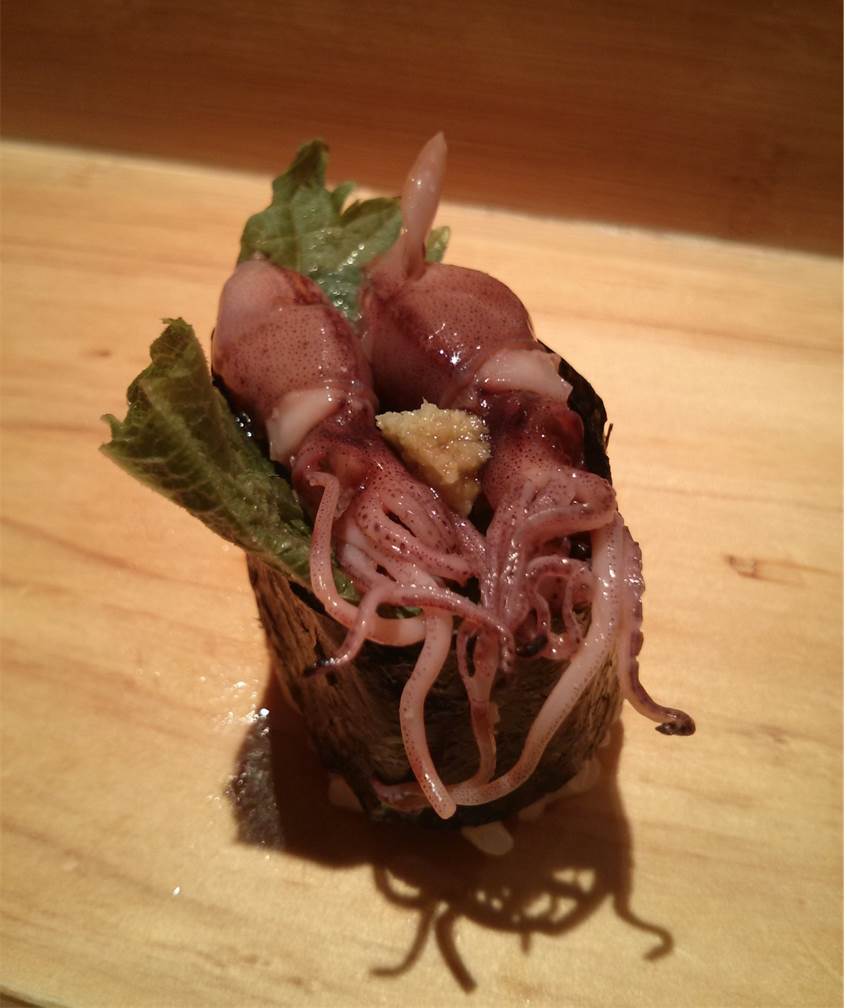 Oh Sushi Yasuda how I love thee. If you've read our 'about' section on this blog you'll see that both Felix and I claimed our meal at Sushi Yasuda to be the best thing we've ever eaten. I made the reservation about 3 weeks ahead of time and I agreed to reserve at the sushi bar (not really knowing what that would entail). From the moment we sat down the service we received from our server was impeccable. In front of us at the sushi bar a sushi chef deep in concentration, the whole thing to begin with was a little intimidating but we soon got the hang of it. We were given a list of fish and shellfish available that day. We asked the sushi chef in front of us to do it Omakase style, which basically means giving the chef total control over what he's going to serve to you, just let him know how many pieces you would like. All fish was served as Nigiri, so raw fish placed on perfectly formed rice with a touch of house made sauce. One at a time the Nigiri was placed in front of us and you can choose to pick it up with chopsticks or your fingers. We used our fingers. Don't dip in soy! This is top quality sushi and to ruin it with soy would be a blasphemy. At that moment my life began to change one Nigiri at a time. Foodgasm after foodgasm in my mouth is the only way I can describe the experience (sorry to be so crude). I liked the mackerel and the trout the best. Felix was blown away by the egg sushi. Each piece runs about $4-$9/ea but it's worth every penny. After trying our 10pcs we requested a few more of our favorites and we were full. My life will forever be ruined thanks to Sushi Yasuda as I can't eat sushi anywhere else ever again knowing what sushi is supposed to taste like.
http://www.sushiyasuda.com/home.html
WD-50
Wd-50 is the creation of chef Wylie Dufresne. It's a restaurant that utilizes Molecular Gastronomy as a cooking technique. If Molecular Gastronomy is a foreign concept to you then definitely try it out. I booked using Urbanspoon about a month ahead of time. There are two tasting menus to choose from and they're always changing. We went with the 13 course tasting menu ($155) and I had a pastrami martini as well. Each dish is a mini trip to Disney Land as molecular gastronomy techniques transform ingredients and disguise ingredients in a way that amazes your mind and your taster buds with every bite. My only complaint was that it was difficult to hear the server's description of each dish over the loud chit-chat in the restaurant otherwise everything was delicious.
Amy Ruth's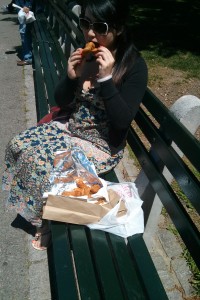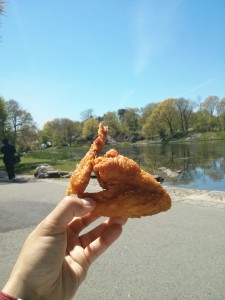 We headed to Harlem one morning for a late breakfast at Amy Ruth's because we read that they had great chicken and waffles. So I ordered just that. I wasn't too satisfied with the waffle itself, thought it was just okay, but the fried chicken on the other hand was amazing. So much so that I ordered 4 pieces of fried chicken to-go. For the next few hours Felix and I walked around central park munching on this fried chicken. It was the best fried chicken I've ever had. Perfectly moist and juicy on the inside and crispy and well seasoned on the outside. The batter wasn't too thick, just enough to remain crispy. We walked around with a piece or two in a paper bag for a few hours and still it was crispy! Now I'm drooling just thinking about this fried chicken.
http://www.amyruthsharlem.com/
Mazzola Bakery
Came here just for the lard bread and man oh man did we have an adventure getting here, but it was so worth it. What is lard bread you ask? Well it's a loaf of bread that will take you straight to your happy place, bread that is laced with cubes of lard (bacon essentially). I managed to save most of mine all the way back to Canada but the same can't be said for Felix. Which just goes to show that for some this entire loaf of bread makes for a great snack!
http://www.mazzolabakeryandcafe.com/
Les Halles
This is best known for being the home base for famous chef and food writer Anthony Bourdain. On any given night this restaurant is buzzing and it's packed. It's a French bistro style restaurant which focuses on French classics. So there is nothing fancy here nothing new age or cutting edge just simple French dishes done well. Because it's so long ago that we dined here I can't remember too well what I ordered. I do remember it being good, but once again nothing too life changing. Seems like a safe bet to me if you're looking for good quality traditional fare.
Burger Joint vs. Shake Shack
Everything about Burger Joint is truly New York. First of all it's a dive burger joint in the lobby of Le Parker Meridien Hotel (a nice hotel). There are no signs marking this establishment aside from a small neon sign of a hamburger. The restaurant is concealed by red velvet curtains and of course the line up to get in is marked off with red velvet ropes. How New York. The inside looks like a hillbilly bar and you have two choices a hamburger ($7.81) or a cheeseburger ($8.27) with the option of a glass of wine of course. In my opinion I thought the burgers were good, but they tasted exactly like my homemade burgers. In other words they tasted like something I could have easily created at home.
Shake Shack on the other hand had the grease and taste of a fast food burger (in the best way possible) so for that reason we both agree that Shake Shack wins this battle. Both places usually have long lineups and seating is a task so be prepared for that.
Donut Plant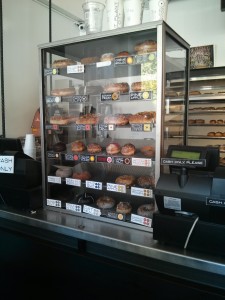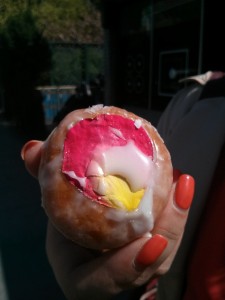 After eating at Prosperity Dumpling we were sort of in the area of Donut Plant so we went to check it out. They have donuts that are a little more elegant and gourmet compared to your average Tim Horton's donut such as carrot cake donuts or peanut butter and blackberry jam filled donuts. We ordered one rose donut and one crème brulee donut. The rose donut, complete with a rose petal on top, was lightly floral tasting, this was Felix's favorite. I preferred the crème brulee donut which had a sugar crust on top and was filled with creamy crème brulee custard.
Food Truck Festivals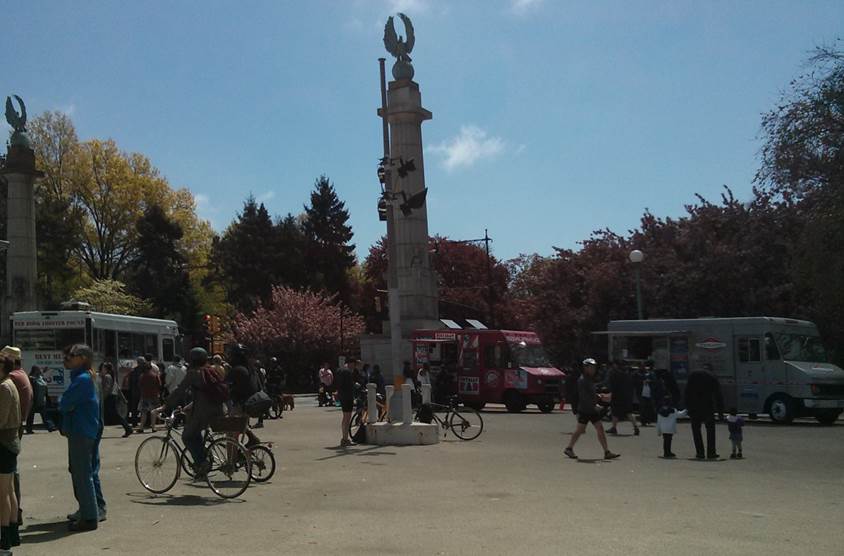 New York has a great food truck scene and I only wish that we had time to check more of them out. If you're pushed for time I recommend looking up any food truck festivals that may be going on while you're in the city. We went to one in Prospect Park, Brooklyn.
These are only a few places we went to while in New York. We also went to a pretty neat cocktail lounge where your alcohol is served in tea cups and your beer bottle in a brown paper bag. We enjoyed Korean food in K-Town at 2am and we had amazing Jerk chicken in Flatbush Brooklyn (from the sketchiest place ever). Places like this are what make New York unique. There truly is no city like it!
Our complete Eat List before narrowing it down
Le Bernardin
Masa
perse – fully booked, expensive
wd-50 – Going for sure!
craft – Average
babbo
jean georges
daniel
aquavit – not so good reviews
Riverpark – Great outdoor eating area
blue hill – good rating, farm to table
gotham bar and grill
wallse
chanterelle – closed
the modern – Sounds delicious, at the MOMA, best prob for lunch
sushi of gari
Union square cafe – Sounds good but also average. Brunch seems interesting
cafe boulud – Breakfast and lunch sound best
ouest – Seems pretty traditional, 4 stars
balthazar – highly recommended
Esca – mario batali, average reviews
Town – can't find
picholine – sounds pretty good, have a dessert set menu
cru – closed
oceana – bar menu could be nice
l'impero – average
annisa – sounds delicious
devi – Indian, sounds good. Maybe lunch? average ratings
sushi yasuda – sounds so good! Good reviews
Veritas – Average
david burke Townhouse – Looks really cute. Cheesecake lillopop tree. Average reviews
David Burke Kitchen – Amazing brunch menu
Table – closed down
Alaine Ducasse at the essex house
Gramercy Tavern
Asiate – Seems ok
Alto – closed
Casa Mono
Jovia – closed
Fleur de Sel – closed
Nobu
Marea – Sounds pretty good, maybe lunch or brunch? They have 5 course dinners
Amy Ruth's – Chicken and waffles! Harlem
Jazz Standard – BBQ and Jazz club
Buddakan – Fancy chinese, apparently good peking duck
Do or Dine – Sounds like so much fun. Fois Gras donuts
Doughnut Plant – Can't miss it
Public – pretty cool sounding sunday dinner menu
S'Mac – Mac and Cheese only
The meatball shop – Apparently really good, open late night
Krescendo – Elizabeth Faulkner!
Prosperity dumpling – amazing reviews. So cheap!