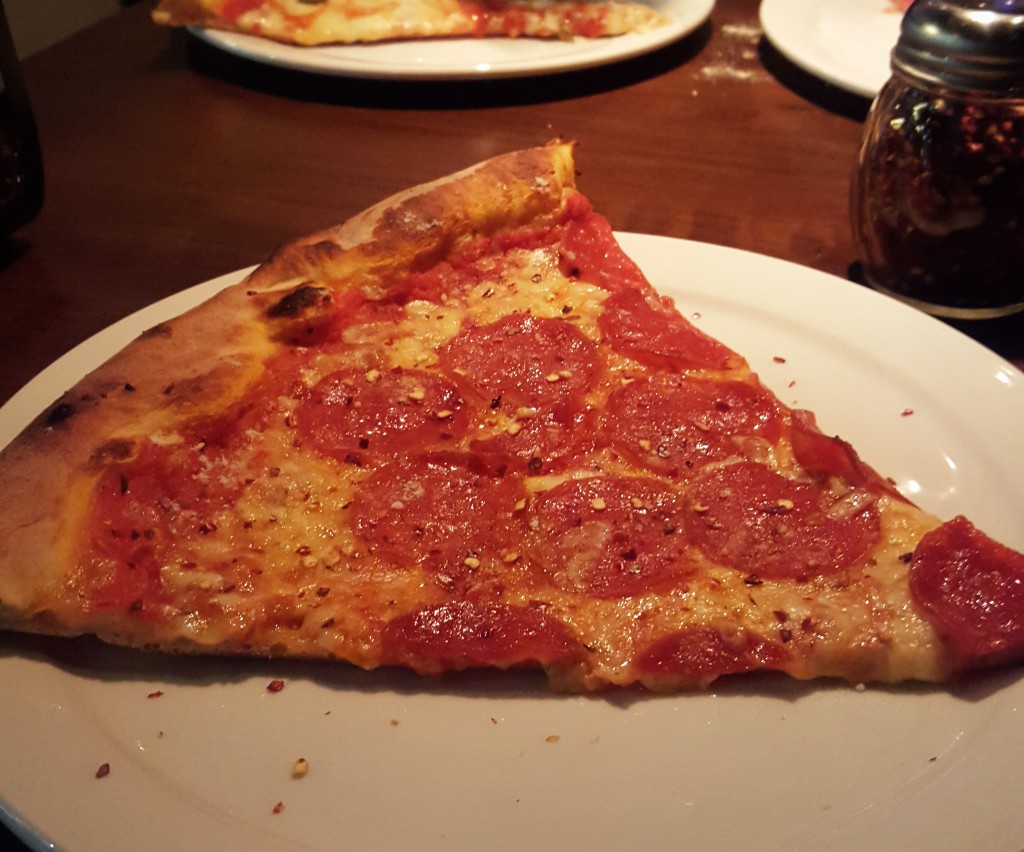 Seeing as I'm heading off to NYC in a few days my travel partner in crime met me at Famous Original for a couple slices of pizza. Famous Original serves up authentic slices of New York style pizza in a casual setting with appropriately utilized exposed brick walls, wood accents and dim lighting. Upon first impression we were really confused as to what the seating protocol was do we seat ourselves? Do we go to the counter to order? Are there servers?
There are four types of pizza available by the slice vegetarian, pepperoni, Hawaiian, and cheese. Whole pizzas can be ordered in other flavors.
We walked up to the counter and ordered a slice each of Pepperoni. We paid as they warmed up the slices for us and they kindly brought them to where we were sitting. I enjoyed my first few bites. The tomato sauce had a great concentrated flavor, the toppings were simple in the traditional NY kinda way, the dough had a nice chew to it with just the right amount of floppiness and sogginess you would expect from a NY style pie. We both decided we needed another slice each so we opted for the Hawaiian which had just come out of the oven. I really didn't enjoy this slice as much. The dough was a lot fluffier and thicker than the first slice and didn't have the same concentrated flavors as the first. Overall I thought this place was okay and it is nice to know there's a place in Vic to grab a thin crust pizza slice on the fly. The value for money is good and I really enjoyed my first pepperoni slice but consistency was lacking for me with the second slice. All the servers were really nice and friendly but their ordering and seating system needs some major work.
I may add to this post later after I do some comparison work down in NY.