I may be tiny, but my appetite for good french pastries is insatiable. From the moment I had my first bite of a Macaron in a farmer's market in Nice, I was hooked on everything France had to offer. Before that fateful day, all I'd known was the occasional westernized croissant. My love of good pastries was reignited when I moved to Seattle, and ventured into Le Panier to explore what they had to offer. Needless to say I was disappointed by the offering of Macaron (they only fill theirs with buttercream, a travesty in my book; I'm a fruit curd purist).
Next was an attempt by my co-contributer Janine and myself on a past visit to Seattle; she had raved about a little place she found near her hotel when she had been in Seattle before with the most divine Macaron, so we went out to find it again. Unfortunately, the little gem had closed down, and thus the search for perfect Macaron continued.
Finally, Crumble and Flake. Born from Pastry Chef Neil Robertson, who hails from a past stint at the famed Canlis, This tiny little bakery pumps out big flavour and authenticity on a daily basis, staying open only until they sell out (which can happen within the first few hours on some days). I approached it by poring over reviews, figuring out which items were key to try. I've occasionally ventured for some other items now and then, just to expand my palate and understanding of these little treats I've often never heard about before getting them at C&F.
I would brave sleet, snow, wind, and rain if it meant beating the line to C&F to get the kouign amann before they run out. There are very few things in life I would say that about.
This place makes me happier than a kid at Disneyland. Screw Mickey, if I could meet one person it would be the pastry chef Neil Robertson, and have him teach me the art of Macaron, kouign amann, and Canele. Maybe the secret to choux pastry as well.
And finally, my daily selection from this particular foray: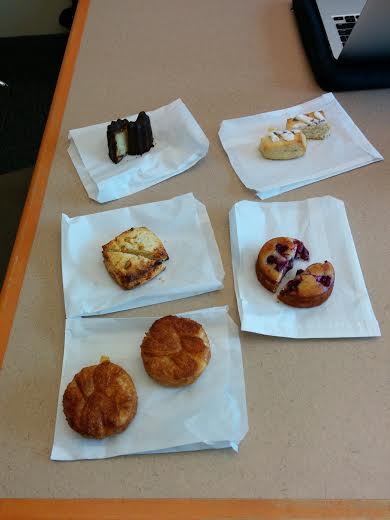 Working clockwise from the top left: Canele, lavender lemon scone, cherry financier, kouign amann, apricot stilton scone.
Canele: an airy, eggy internal pastry with a crunchy, caramelized exterior. It's sort of like biting into…well, I don't know. The internal pastry reminded me of the texture of a clafoutis, the exterior like a tasty candied coating. It walks the line precisely between burnt and deeply caramelized. If baked any more this would be bitter and burnt, but the bakers seem to know the exact moment to take these out of the oven. Can't go wrong with the appearance either, dainty little towers that reveal a cloud-like interior when sliced open.
Lavender Lemon Scone: not bad, though the lavender could be more forward. More like a lemon scone with lemon frosting and some dried lavender blossoms sprinkled on top. Not my favourite scone C&F has ever made. A little on the dry side as well, unusal for their style.
Cherry Financier: These are always delicious; in the summer/fall they often use a stone fruit, usually apricot. It's a satisfying little cake, perfectly moist with somehow a crumbly nature to it as well. The cherries were delicious, they added the perfect tartness to an otherwise sweet (but not overwhelmingly so) cake.
Kouign Amann: What can't I say about these. In the words of Janine, I call these "giggle pastries". You can't eat one without tipping your head back, closing your eyes, and letting out a slight giggle of pure pleasure. Imagine the flakiness of croissant, but baked with salted butter and coated in sugar before baking. The sugar melts over the pastry and creates a caramel crust, not unlike the top of a creme brulee. If I were to binge on one thing for days, it would be this. There is literally nothing more perfect than C&F's kouign amann. Anyone who disagrees can go eat dirt.
Apricot Stilton Scone: C&F always has this one available, and I can tell you why. At first, the flavour combination seems a little too far on the savory side, and even I was mistrustful of the idea of stilton in my breakfast pastries. Screw it. These scones are consistently moist, the perfect size to have one or two, with the slight crunch of a bit of coarse sugar crystals sprinkled on top. The sweetness of the apricot with the tanginess of the stilton are a divine pairing, and I would expect no less from the former pastry chef at Canlis. My ultimate recommendation: eat one of these with a cup of earl grey tea. Bask in the perfection. Repeat.
Every time I venture out for pastries from C&F, it's like I need a private moment to enjoy them to myself. If you haven't already, you must head over one morning and find out for yourself how good it is. But not before me, and if you get there first and buy the last kouign amann, I'll cut you.