I should preface this post with two facts: (1) I've never liked bread pudding all that much, and (2) I've never made it in my life. But, when cleaning out my freezer a few weeks ago, I realized I had frozen half a loaf of some wonderfully rustic Macrina bread, and figured I should use it for something delicious before it got freezer burnt. The only thing I could really think of was bread pudding, I thought the bread would be perfectly suited to that sort of dish, but I didn't have a recipe to go off of and wasn't that certain I'd like it. However, I remembered my mum raving about a recipe she used a while back, and thought I could give it a go too.
The original recipe is for Cajun Bread Pudding from the Best of Bridge. I think anyone from my generation and the one before knows that Best of Bridge is THE go-to for those classic recipes your mum and gran always used. As for the recipe itself, I was bogged down with other errands that day and didn't have the time to make the Cream or the Rum Sauce, though I imagine they are a delicious accompaniment to the pudding; however, I thought it was great on it's own.
Ingredients:
Pudding:
1/3 cup butter, melted
6 cups french bread cubes, day old, lightly packed
3 eggs
1 1/2 cups sugar
2 Tbsp. vanilla
1 tsp. nutmeg
1 1/2 tsp. cinnamon
3 cups milk
3/4 cup golden raisins (editor's note: I soaked my raisins in spiced whiskey for about an hour before adding them in)
1 cup chopped toasted pecans
Rum Sauce:
1 cup butter
1 1/2 cups sugar
2 eggs, beaten until frothy
1/4 – 1/2 cup dark rum
Soft Cream:
2 cups whipping cream
1/3 cup icing sugar
1 Tbsp. vanilla
2 Tbsp. brandy
2 Tbsp. Frangelico liqueur
1/4 cup sour cream
Directions: 
Instructions:
To Make Pudding: Pour a small amount of melted butter in a 9″ x 13″ pan; swirl to cover bottom and sides. Place bread cubes in pan. In a large bowl, beat eggs and sugar until thickened, 3-4 minutes.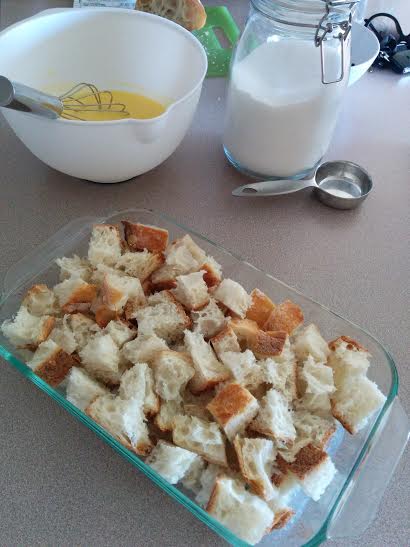 Add vanilla, nutmeg, cinnamon, milk and remaining butter. Beat on low to combine. Stir in raisins and pecans; pour over bread. Allow bread to absorb liquid, 30-45 minutes. Press bread down often to cover all cubes.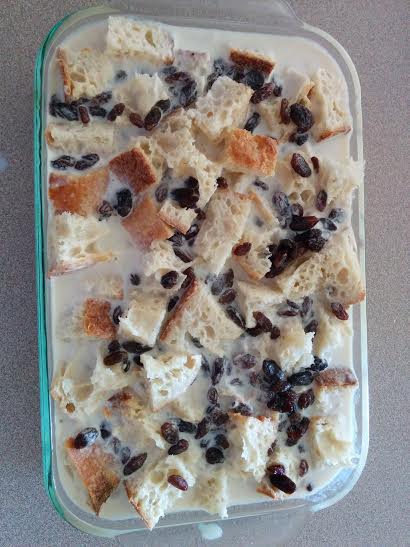 Preheat oven to 350 F.. Bake until crusty and golden brown, 45-60 minutes. Cool and slice into squares.
To make sauce: Cream butter and sugar until light and fluffy. Cook in double boiler for 20 minutes, whisking often. In a bowl, whisk 2 Tbsp. butter-sugar mixture into beaten eggs, then whisk in 2 Tbsp. more. Whisk egg mixture into butter mixture. Cook and whisk over simmering water for 4-5 minutes. Cool slightly. Whisk in rum. (By now, you're probably all whisked out – taste the sauce – you'll know it was worth it!)
To make soft cream: Beat ingredients until soft peaks form, 3-4 minutes. Do not overbeat. Cover and refrigerate until served.
To serve: On individual plates, drizzle a spoonful of warm rum sauce, top with a square of pudding and then add a large dollop of soft cream. Serves 12-14