Taylor's Take: 
At last! I'm up in Victoria for 5 days of food porn with FancyFrite Janine, and man do I feel fat and sassy. In talking about how we would kick off our visit together, I told Janine that obviously we needed to hit up Brasserie L'École, mostly because she wouldn't shut up about the Brasserie Burger as being the most amazing burger on the planet. So, almost as soon as my feet hit Canadian soil, we were off to Brasserie L'École for dinner with a few other friends.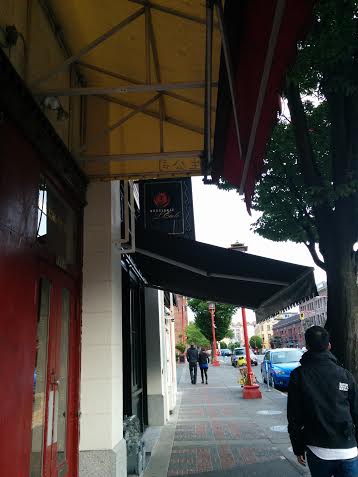 Brasserie L'École is located on Government street, in the latest up and coming area of inner-city Victoria just on the outskirts of downtown. Bordered on one side by Chinatown and a hip furniture district on the other, Brasserie seems to have started the trend of popular eateries popping up in between furniture shops. The vibe inside is of an authentic Parisian bistro, the type where you can either grab a table and sit down for a long, relaxed meal, or pull up to the bar for a bite and a good glass of wine.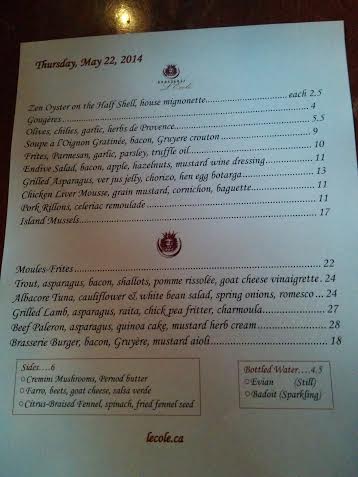 The menu, which changes daily, seems to favour small plates for sharing, but the mains do not disappoint. Of course I ordered the Brasserie Burger, or as Janine calls it, the "Giggle Burger" because you can't help but tip your head back and let out a small giggle of delight after taking your first bite. Most items come with frites, however, as the namesake of this blog would suggest, you can order them "fancy" with parmesan, garlic, truffle oil and parsley. (We loved Brasserie L'École so much we named our food blog after them).
Janine, your giggle burger did not disappoint in the slightest. This burger was perfection, cooked to medium pink in the middle with a healthy topping of bacon, gruyere, lettuce, and mustard aoli. Anyone who knows me knows that I'm not a massive fan of aoli, I think it's a bit of a silly trend that popped up, but damn if this place doesn't make a believer out of me. The basic aoli, which came with the frites for dipping, wasn't heavy and oily in the least. It was fresh, clean tasting, and had a brilliant hit of lemon that almost cleansed the palate in a pleasing way. I imagine this is what they used, but amped up with some grainy mustard, on the burger. The "fancy frites" also blew me away, I think I could just order a plate of those and sit at the bar with a good, bold glass of red wine.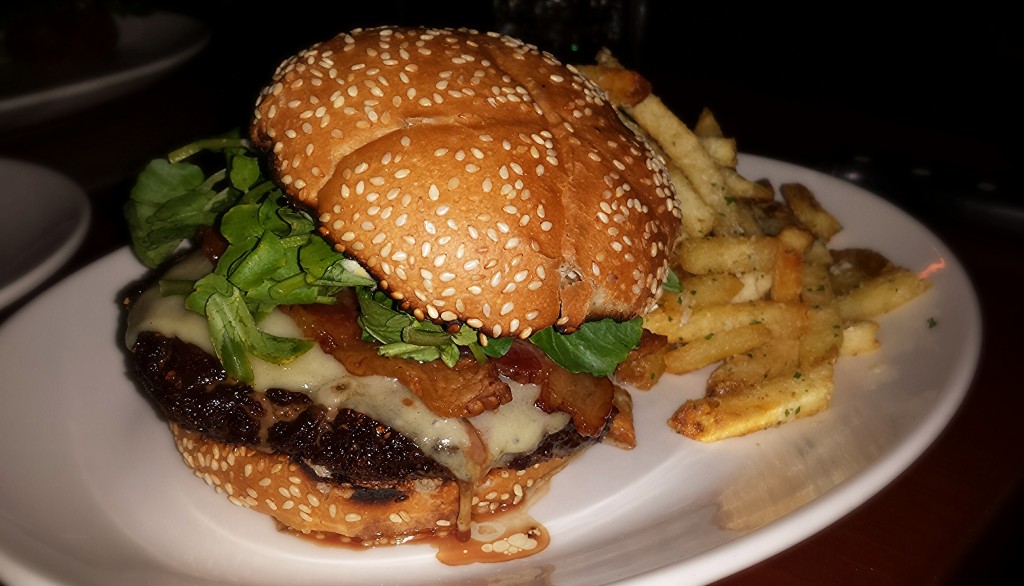 Janine's Take: 
Brasserie L'École is easily one of my top three restaurants in all of Victoria. The food isn't anything nouveau or modern it's just simple French dishes executed perfectly. On this particular night I ordered the 10oz NY steak with fancy frites. The steak, like the burger, is a regular item on the menu. The steak was cooked to my liking of medium-rare and upon taking my first bite I sighed and uttered "Oh my gosh" as the steak began to melt in my mouth. The meat had a true 'beef' taste and it was tender, moist, and juicy. I've been to some legit steakhouses throughout North America and Brasserie's steaks could easily stand up to these steak houses in my opinion.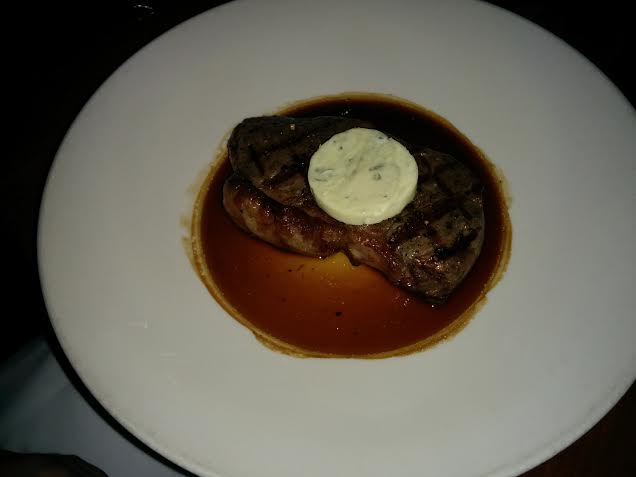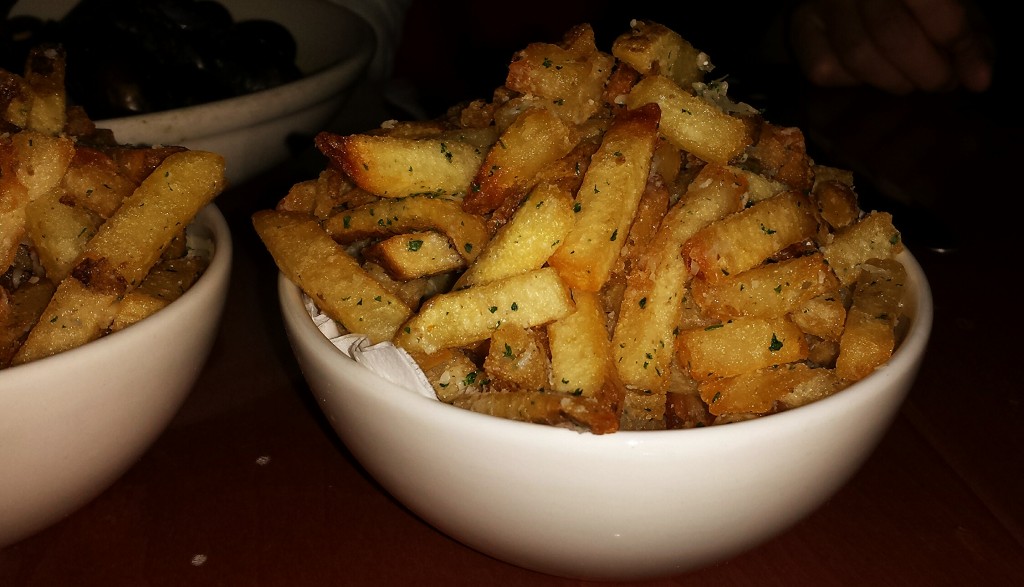 Next we ordered the rhubarb panna cotta. This was a heavenly little dessert. The panna cotta was light and creamy which paired well with the tart rhubarb compote on the bottom. Once again nice and simple but done well.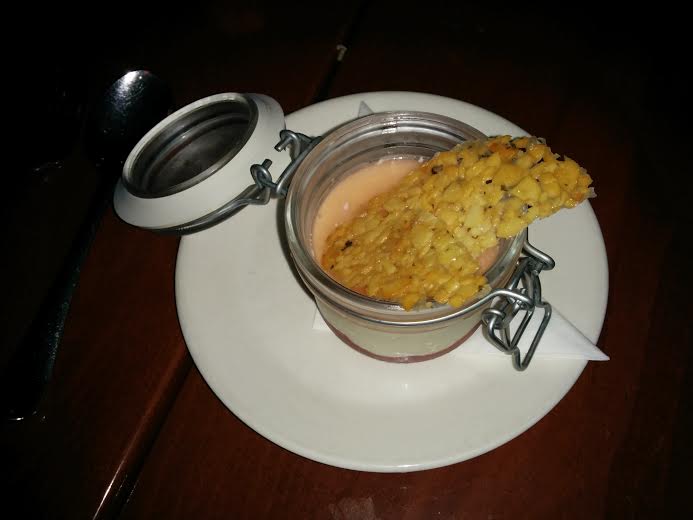 The trick to getting a table at Brasserie L'

École

:
Alright folks here's the tick to getting a table at one of the most popular restaurants in Victoria. Brasserie doesn't take reservations so on any given night you could be told that the wait might be over an hour for a table. The doors of Brasserie open at 5:30. So to guarantee a table line-up around 5:00 – 5:15 in front and you'll be sure to get in. If you happen to arrive around 5:31 look forward to a wait of over an hour to wait for the first turn around of tables but they do a great job of taking down your number and calling you if a table comes up so go and enjoy a cocktail or two at a nearby restaurant as you await your table. You can also arrive around 8pm or 8:30pm as we did and you'll almost be guaranteed to get a table that way.
Brasserie L'École | 1715 Government St. Victoria BC