I have wanted to do this 'Best Bacon' challenge for months now so having fellow Fancy Frite, Taylor, in town was the perfect opportunity. It's common knowledge that here in Victoria Red Barn Market bacon is the best bacon you can get…or is it?!
The Mission
Find out where to buy the best bacon in Victoria. Is it Red Barn Market, is it a local butcher, or is it the grocery store?
The Bacon
Starting early in the morning Taylor and I brainstormed some places we could go to get some bacon. So here's where we decided: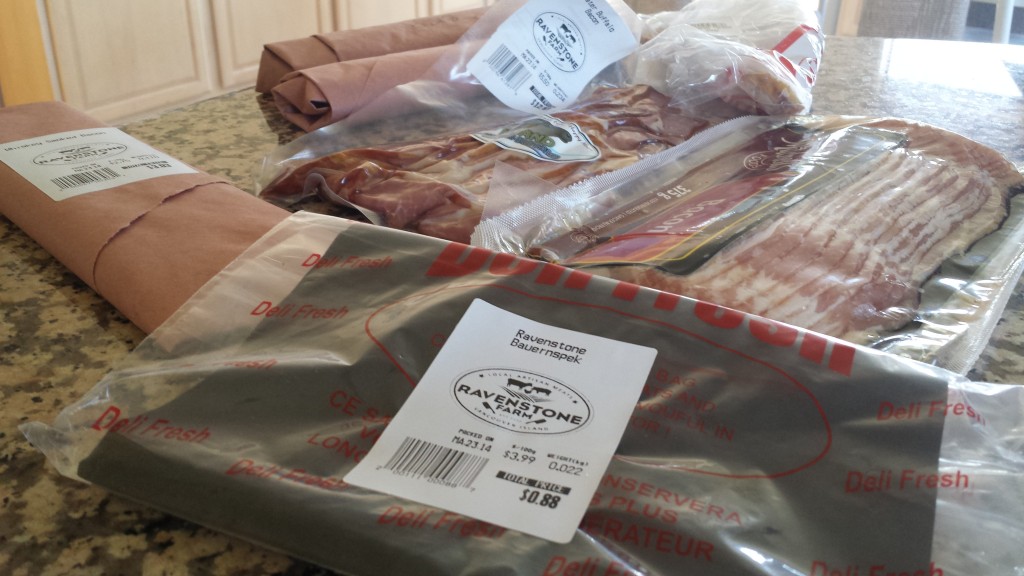 Ravenstone Farm butcher counter at the Victoria Public Market
House made whiskey smoked bacon ($2.75/100g)

Water buffalo bacon ($5.50/100g)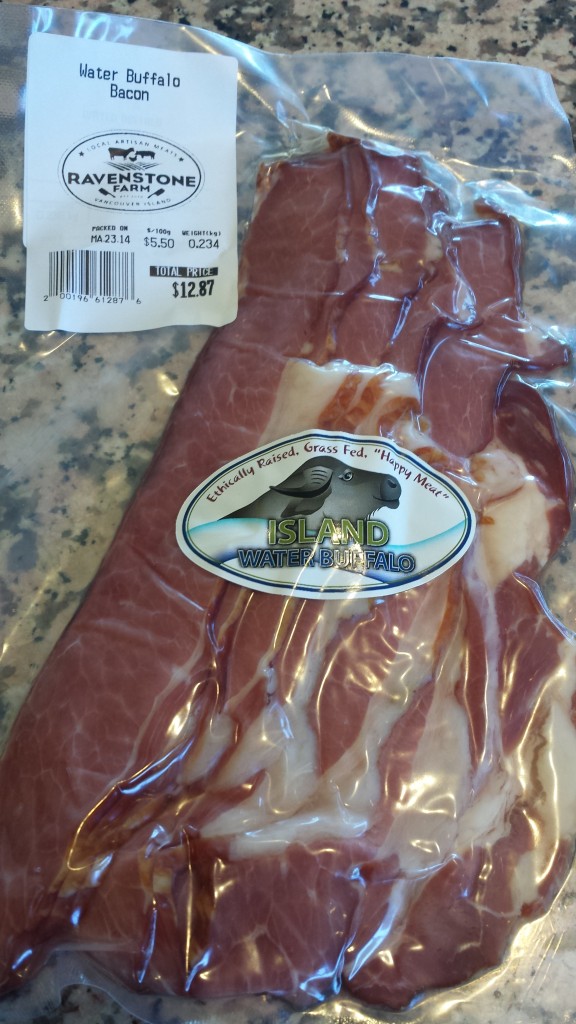 The Whole Beast on Oak Bay Ave.
House made rosemary maple bacon ($2.80/100g)
Village Butcher
Hertel's brand bacon (can also be purchased at Thrifty's or True Value Foods) ($2.42/100g)
Red Barn Market
Red Barn Market bacon ($1.75/100g)
A common grocery store brand of bacon froYam Thrifty Foods
Mitchell's Brand bacon ($1.89/100g)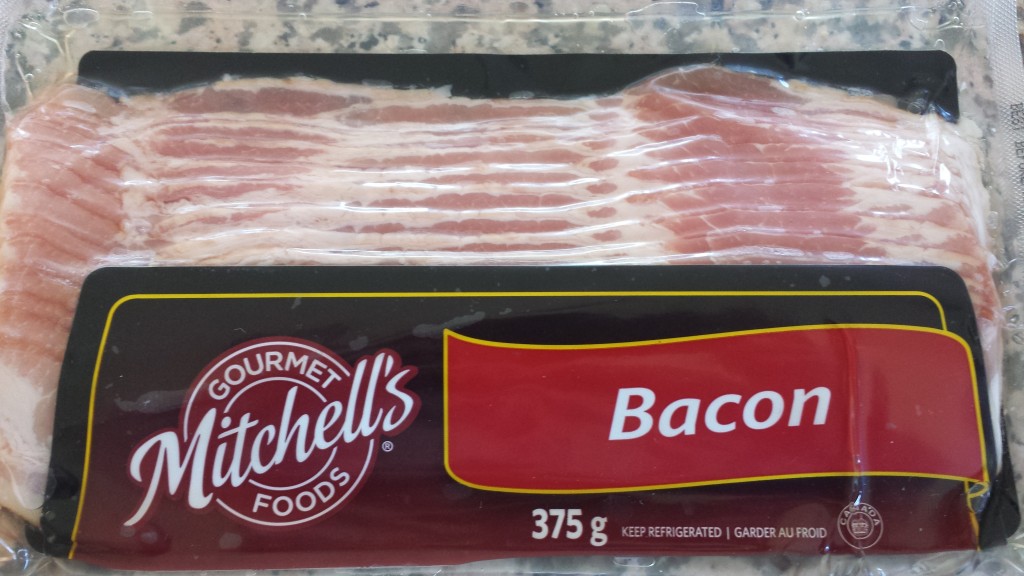 We should mention that all bacon (aside from Mitchell's) was made from locally sourced pork and the water buffalo bacon was from island raised water buffalo.
The Criteria
We understand that for bacon there are so many varying flavour profiles competing against each other so we tried to keep it standard with some specific judging categories.
Price

Fat to meat ratio

Texture (tenderness)

Overall Flavour

Saltiness
The Process
As usual we blindfolded our three very lucky participants to make sure there was no cheating and to highten their sense of taste.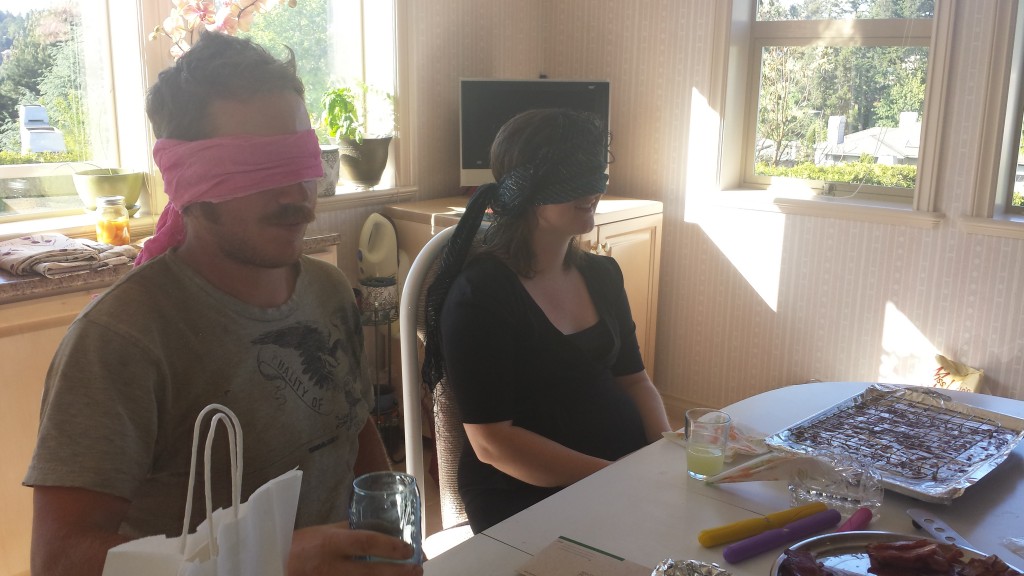 We then cooked all the bacon on a rack placed upon a foil covered baking sheet. We put the baking sheet in the oven set to broil at about 200 deg. Celsius. Cooking bacon in the oven is one of my favorite methods as clean up is easier and less splatter. Also most of the fat drips off so I'd like to think it's a little healthier. For the sake of this challenge we thought that this would be the best way to make sure the flavours don't meld together from the different bacons. We cooked them well but not until crispy or stiff. We then removed the different rashers to a pan and divided them by brand.
Then we let the tasting begin!
We fed each of our three volunteers about an inch long piece of bacon each. They all tasted the same type at the same time. We then recorded their thoughts and comments for each type.
Comments
Ravenstone Farm's house-made whiskey smoked bacon
Fat to meat ratio was good

Texture was chewy with some good crispness

Flavour was slightly gamey and smokey

Saltiness was well balanced

We should also note that there were groans of satisfaction while tasting this bacon
This bacon had a light sweetness to it which balanced out the natural saltiness of the bacon very nicely. There are undertones of caramel and butter flavours which make this bacon quite luxurious in taste and texture.
Water buffalo bacon
High meat to fat content

Not enough fat

Texture was "jerky like", very lean

Flavour was like "bacon jerky". "Campfire smoke flavour"

A bit too salty
This bacon is reminiscent of jerky with its meaty and chewy texture and the low fat content makes this bacon similar to back bacon. The taste is a bit more gamey than pork. It's a bit on the salty side but delicious none-the-less.
The Whole Beast house-made rosemary maple bacon
Fat to meat ratio was good

Texture was good and tender

One participant could identify a herbaceous flavour but couldn't identify it as rosemary.

The other participant identified the flavour of "caramelized smoke".

Saltiness was a bit high.

One participant said it would be great "hangover bacon"
This bacon has a certain je ne sais quoi flavour to it from the rosemary making it a great savoury bacon. Not sure if rosemary and maple make for the best flavour combination though. We seemed to be divided down the middle as to whether or not we liked or didn't like the flavour combination.
Village Butcher's Hertel's brand bacon (can also be purchased at Thrifty's, Country Grocer and True Value Foods)
Fat content was a bit high

Texture was good. Chewy and thick cut

Flavour was smoky. Good ham like flavour

Saltiness was a bit high
This is my go-to grocery store bacon. It's a step up from the common brands like Mitchell's and Schneider's. There are no flavour combinations here just good ol' bacon flavour. Thick cut and smoky this bacon has a ham steak like texture and flavour.
Red Barn Bacon
Fat to meat ratio was balanced

Texture was good

Flavour was sweet and smoky "like maple candy"

Saltiness was perfect said one participant. The other said it was on the lower end of the salty scale.
This bacon has a prominent sweet and smoky flavour that becomes somewhat caramelized as it cooks. The sweet flavour doesn't mean this bacon is ideal for any dish though.
Mitchell's Brand Bacon from Thrifty Foods 
Fat to meat ratio was "homogenous"

Texture was "processed" and chewy

"Flavour was horrible" "tasted store-bought"

Not salty at all
After tasting some of the other bacon used in this test this grocery store brand is bland in comparison. The bacon is cut too thin so it easily would become lost in any dish. Nothing spectacular at all about this bacon.
Overall Rankings and Results
Participant 1
Whiskey smoked from Ravenstone, Maple-Rosemary from Whole Beast tied

Red Barn Bacon
Participant 2
Red Barn Bacon

Whiskey Smoked from Ravenstone
Participant 3
Red Barn Bacon

Whiskey Smoked

Hertel's from Village Butcher
All participants stated that Mitchell's bacon was the clear loser in this challenge
It's no surprise I suppose that Red Barn won 'Best Bacon'. Red Barn's sweet and smoky bacon is good value for money and is packed with flavour. However, we uncovered some close contenders such as Ravenstone's Whiskey Smoked Bacon. This bacon had a great smoky flavour and was voted most versatile. Red Barn Bacon, as flavourful as it is, can be too sweet and may not appeal to the savory palate. We think Red Barn Bacon is best eaten as is or as a side to eggs and pancakes but wouldn't pair well with savoury dishes like burgers etc. So overall there are two winners here: Red Barn bacon and Ravenstone's whiskey smoked Bacon!
There are different meats being used now for bacon and of course we don't mean turkey bacon. The water buffalo tasted great and it will be a popular snack for me because of its meaty and chewy texture. Whole Beast will also be introducing a beef bacon soon.
Compared to all the bacon varieties we tried, the common grocery store brand had the least amount of flavour so it seems that to get great quality bacon at an affordable price then it's best to check out one of our local businesses making great tasting bacon from locally raised pork (or water buffalo).