For my last night visiting the parents back home in Calgary, we decided to forego the home cooked meal and opt to eat out at the nearest restaurant – The Bear's Den – which happens to be great. I've eaten here once before and have been very impressed with the quality of food, and the variety on the menu.
On this particular visit I opted for the roasted Cornish Game Hen, a personal favourite, which I try to order whenever available at a given restaurant. We also started with a shared order of calamari. The calamari was probably some of the best I've had anywhere; it was battered and fried lightly enough that the dish didn't seem heavy, but also lent the squid a nice crispy coating. It was topped with some sort of lemon based aoli that was pretty close to perfect. I would strongly recommend this item to anyone who goes there as a good shared starter.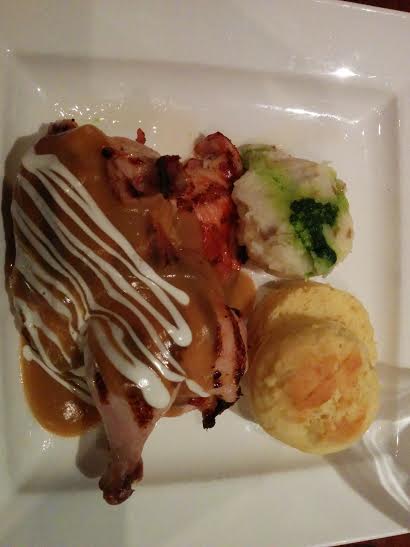 Next was my main, the Cornish Game Hen, which came with mashed potatoes, gravy, and a fresh-baked biscuit on the side. I would say that the biscuit seemed a bit out of place and unnecessary; with all the meat and carbs already on the plate, it didn't really need a bread item. I would have skipped the biscuit and opted for some fresh seasonal veg. The seasoning on the mashed potatoes was great, and the Cornish Game Hen was cooked to perfection; perfectly moist and succulent. I would venture a guess that it may have been cooked sous vide first and then lightly grilled after to put some char on the meat, based on how moist and evenly cooked it was.
If anyone lives around the NW end of Calgary and wants to get out for a nicer meal, I'd recommend The Bear's Den. You can opt for the more casual B Side Bistro, or finer dining in The Bear's Den; either provides great service and a well-thought-out seasonal menu.
The Bear's Den, 254028 Bearspaw Rd NW, Calgary, AB