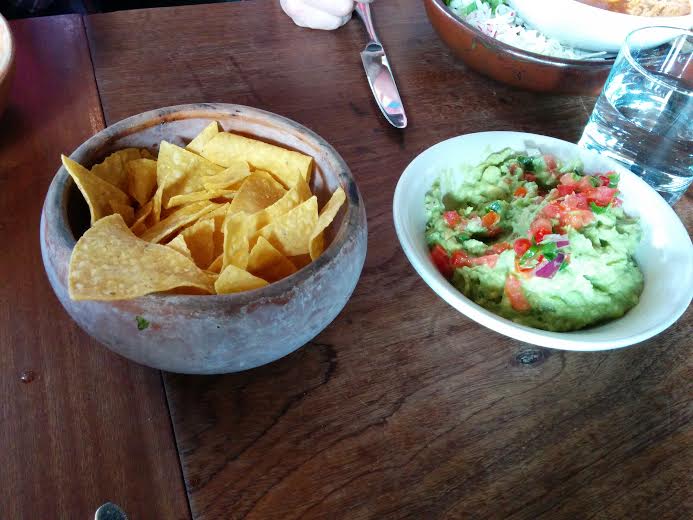 I've been to Barrio a number of times now, the first time I went was with my Dad while searching for apartments before moving to Seattle. I think it's lost a lot of its lustre, as is typical of restaurants who have been open nearly two years when comparing it to how it was when it first opened. In my first few experiences the service was excellent, we were brought a free appetizer of homemade chips and salsa with every meal; however, this time they had done away with that perk requiring you to order chips and salsa or chips and guacamole. I will say the guacamole was a decent sized portion, enough for a table to share as a starter with leftovers to add to your tacos if you wish. Unfortunately our server was quite distracted and inattentive the day we went in most recently, and didn't offer any starters as a suggestion. Upon realizing that we wouldn't get the free chips and salsa we had to call our server back over to our table to place an order for some, which unfortunately ended up coming out with the rest of our lunch order.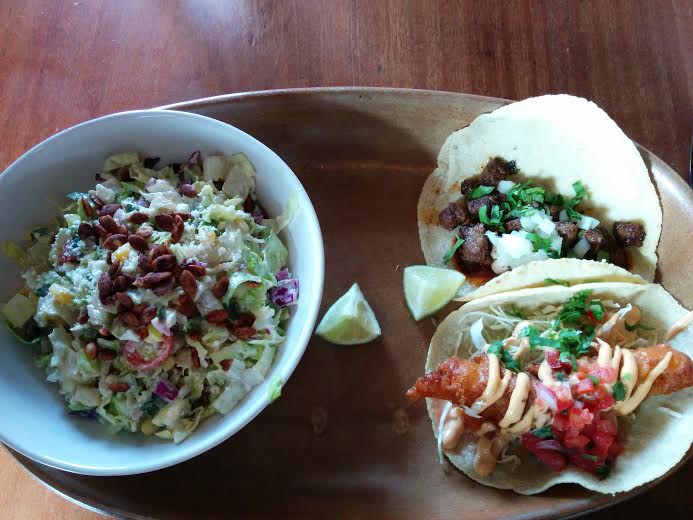 One other disappointment is the elimination of the mexican cola-braised pork belly taco from the menu. This was an item that has kept me coming back multiple times, and I've made a point of raving about it to visitors to Seattle. Since the pork belly taco wasn't on the menu anymore, I opted for one grilled steak taco, one cod taco, and a barrio chopped salad (all part of the taco lunch special – any two tacos on the menu with soup, rice and beans, or the barrio chopped salad). The salad [pictured on the left] was decent, a good mix of ingredients and I liked the avocado and seasoned pepitas on top. The dressing could have been more flavourful, but it was nice as a creamy bite when the tacos got too spicy (I'm a wimp for spice).
The grilled steak taco was ok, but kind of boring. It was just the grilled steak sauteed in whatever sauce they used, with diced onion on top. No aoli or any other accompanying flavours. I wouldn't recommend this one again. The cod however was delicious; battered strips of cod on top of a cabbage slaw, with salsa and a chipotle aoli on top. The flavours really came together and complimented each other nicely, and I really liked the crispy batter (it wasn't soggy at all).
My stepmom tried the chipotle chicken and really enjoyed it, and my dad ordered the al pastor (pork) and thought it was a decent substitute for our missing pork belly. The tacos themselves are hand made in the back kitchen which adds an element of authenticity to their dishes. The biggest disappointment was our service; we had to ask to order an appetizer as it wasn't offered when we first ordered, we had to ask for the bill after watching the server walk by us and ignore our empty plates as he served others, and when we left our plates hadn't even been cleared.
I'd recommend this as a definite place to try in Capitol Hill, perhaps we just hit it on a bad day for service, and their menu does have a number of delicious items on it that I would likely try again.
Barrio Mexican Kitchen and Bar | 1420 12th Ave, Seattle WA 98122
http://www.barriorestaurant.com/